Hot Sale Rice Husk Briquettes Making Machine
Rice is one of the largely consumed crops in the world. That is why every year during the season of harvesting a lot of rice husk is produced. It can be either wasted or transformed into rice husk briquettes or pellets that are used for heating purposes.


Rice Husk Briquettes
Both briquettes and pellets are great sources for heating. Based on different market demands, some choose to buy pellet machine to setup biomass pellet plant to make rice husk pellets for sale. While, some like to make briquettes or charcoal briquettes from rice husk for business or home use. Here mainly focus on the rice husk briquetting process, equipment and cost. If a great deal of rice husk are available in your place, probably, it is time to get started your own business on rice husk and make money from these wastes!
HOT Sale Rice Husk Briquettes Press Machine
Rice husk briquettes making machines are used to convert rice husk into briquettes of high quality. One of the hot sale briquette machine for rice husk is GCBC screw briquette press. This machine is well structured, sturdy, durable, and long lasting. It is easy to use and needs low maintenance which assists the user save money. (Related news: Briquette Machine for Rice Husk Exported to Germany >>)

Rice Husk Briquette Making Machine
Its output capacity ranges from 180kg/h to 350kg/h. This equipment generates dense briquettes that have diameter ranging from 50 mm to 60 mm. The diameter of hole inside the briquettes is 16 mm. In addition, these briquettes can be turn into charcoal briquettes after carbonization process, which provides another chance to start charcoal making business. (Latest project: Sugarcane Charcoal Briquetting Plant Built in South Africa >>)
For detailed technical parameters and price list, just click below quotation button, we will reply ASAP!

Benefits of Using GCBC Rice Husk Briquetting Machine
Using a GCBC-II machine brings lots of benefits. Some of its advantages are: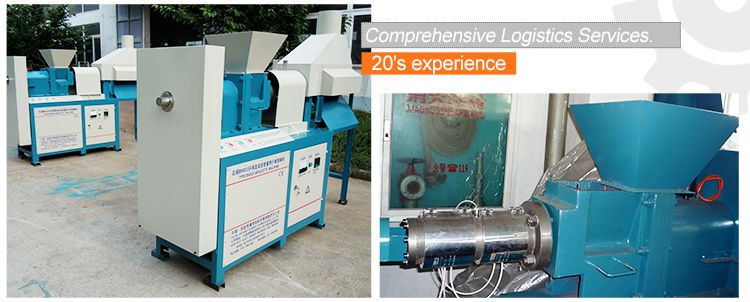 Rice Husk Briquette Press for Sale
To help feed more raw materials into the machine its feed throat is made large and wide.
Screw press is used in this machine which generates dense and high quality briquettes.
Its body is constructed is a way that it reduces its need of frequent maintenance.
If briquettes break after coming out of briquette making machine they do not require to be picked manually. Rather a mesh conveyer is used which separates whole rice husk briquettes from the broken ones.
Raw it can process includes wood shavings, bamboo shavings, straw, rice husk, bark, coconut shell, sugarcane bagasse, etc.,
Please Note: If you are not sure the briquetting effect of your raw materials, you can ask a testing report from our factory, which will help you to make right decisions!

Rice Husk Briquette Making Business
Rice husk briquette making business holds great potential. It is because rice is produced globally to be used as staple food. In the past few decades its production has increased due to an increase in its demand. Countries like China, India, Indonesia, Bangladesh and Vietnam are its top producers. Rice crops also generate rice husk which can be transformed into useful rice husk briquettes. (Latest order: Small Briquette making Machine for Rice Husk and Coconu Shell to Philippines >>)

Countries that are top producers of rice have rice husk in abundance. Due to this reason starting a rice husk briquette making business in those countries can bring lots of benefits. You can buy raw material easily and at much cheaper cost during the harvesting season.
How to Start Your Own Rice Husk Briquette Making Business
Starting a rice husk briquette making business requires strategic planning and preparation. If you are planning to start your own rice husk briquette making business by setting up a biomass briquetting plant then following are the steps that you must do to make your business a huge success.


Setup Rice Husk Briqettes Production Line
Buy or rent the place where you want to start your briquette making business. It should be near the supplier of rice husk. It will save your time and revenue, both. The location should also have 24/7 availability of electricity so you can operate your machines without facing any delay in the rice husk briquettes production.
Look for the reliable and trustworthy briquettes making machine manufacturers. Before purchasing machines to start your business you should first learn what makes a machine worth buying. A good quality briquette press machine will have high output capacity and low energy consumption. It will produce briquettes that are of commercial level and can be sold at a good rate.
Next you should hire a team of diligent workers who are aware of using much equipment. They should also have know-how of improving product quality without reducing output capacity of machines.
Design a marketing strategy to sell your products in the local as well as international market. Give your brand a catchy name and get its logo designed. Sell rice husk in the reasonable price to make your place in already existing market of rice husk briquettes.
How Screw Briquette Machine Makes Rice Husk Briquettes?
180~350KG/H small rice husk briquettes making machine for sales – factory price briquette press for different briquettes making: buy rice husk briquetting machine from briquette machine manufacturer or supplier at factory price, get FREE technical instruction of rice husk briquettes manufacturing process and business plan to set up briquetting plant project in in The Czech Republic, Guatemala, South Korea, Japan, Thailand, Indonesia, etc., at low cost.
Parameter
Unit
Briquettes
Rice Husk
Corncob
Moisture content
%
12.67
13.47
Compressive strength
kN/㎡
1.07
2.34
The heating value
kJ/kg
13,389
20,890
Initial density
kg/m³
138.0
155.0
Maximum density
kg/m³
524.0
650.0
Relaxed density
kg/m³
24.0
385.0