Ring Die Pellet Press
Application:
Medium to large wood pellet production; Large industrial pellet plant; Applied to complete biomass pellet line.
Main Feature: Both the rollers and the ring die operate on the vertical axis, and therefore the inner and outer edges of the rollers cover the same distance across the surface of the die. Therefore no skipping occurs, which means the life of the rollers and die are considerably longer.
GEMCO DIE-TURNED PELLET MILL PRODUCT LIST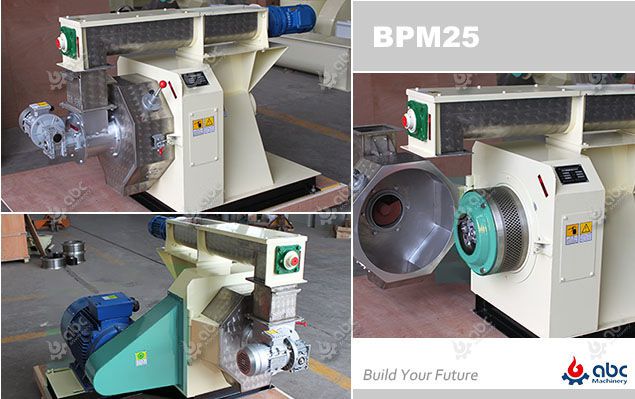 BPM25 Small Ring Die Press
| Model | Capacity (kg/h) | Power (kw) | Dimension (mm) | Weight (kg) |
| --- | --- | --- | --- | --- |
| BPM25 | 200-250kg/h | 22+0.75+0.37kw | 1700*1200*1000mm | 800kg |
Medium Scale Wood Pellet Press - Ring Die Type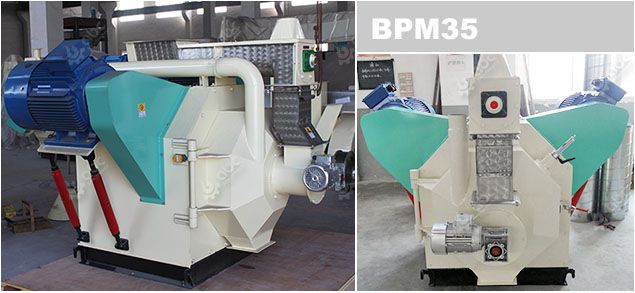 BPM35 Medium Ring Die Pellet Mill
| Model | Capacity (kg/h) | Power (kw) | Dimension (mm) | Weight (kg) |
| --- | --- | --- | --- | --- |
| BPM35 | 500-800kg/h | 30*2+0.75+0.75kw | 2150*1950*1900mm | 2200kg |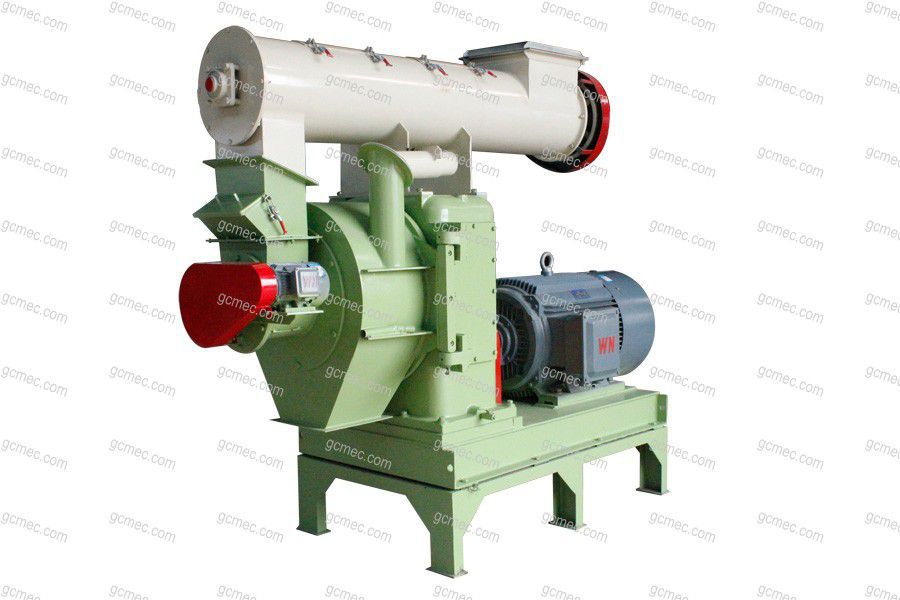 BPM42 &BPM508 Large Ring Die Pellet Machine >>
Model
Capacity (Ton/Hr)
Sawdust / Stalks
Power (kw)
Dimension (mm)
Net Weight (Kg)
BPM420
1.2~1.5 / 1.5~2.0
90+1.5+2.2kw
2500*1100*1900(2300)
3T
BPM508
1.5~1.8 / 2.0~2.5
110+1.5+2.2kw
2800*1100*1900(2300)
3.7T
When pelletize raw materials with high moisture by ring die pellet mill, what is the suggested compression ratio?
It depends on the accurate moisture content. If the moisture content is 4%-5% higher than the requirement of 1:4 ring die pellet mill, then you are suggested to make the compression ratio 1:4.5.
For ring die pellet press, is grinding test-run necessary?
Generally, after go through heat treatment, the surface of ring die hole will produced oxide layer which affects smoothness. Test-run means commissioning with fine sand oil material, and the ring die hole will become smooth after the grinding and has better degree of finish. However, for GEMCO Pellet Machine, the ring die will be reaming after heat treatment. The oxide layer will be removed in the reaming process and the surface perfection of g die finish will also be improved. The reaming effect is much better than commissioning. Besides, in GEMCO, there are expert detections to ensure the ring die quality, so grinding test-run is totally unnecessary for GEMCO Ring die Pellet Press Machine.
I am intrested in one of your round die pellet mill and the cost can u please send me your info.
Detailed info is sent to your email, please check!
Is there any difference between the flat die design or the ring die design and what are the benefits?
Owning a ring die pellet press has significant benefits over owning a flat die pellet press. It requires more energy and increased roller tear and wear to power and operate the flat die machine. Alternatively, the ring die machine is more efficient as it consumes less energy and has reduced friction which ultimately limits roller wear all while increasing the number of dies.
Is it possible for the wood pellet press to make pellets from hardwood?
This ring die design wood pellet press are capable of handling both softwood and hardwood. Even better, our wood pellet making machines that come with dies specifically made to handle different type of material be it wood, rice husks, and dry grass among others.