One belt, One road - Get the Policy Loan for Your Business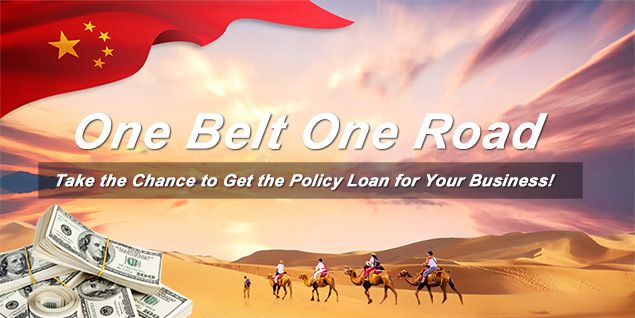 Vision and Actions on Jointly Building Silk Road Economic Belt and 21st Century Maritime Silk Road

The "One Belt, One Road" Project We Have Undertaken

ABC Machinery has undertaken two projects of 1700 TPD cement production line and 50 TPD soy protein production line in Uzbekistan. These two projects have successfully applied for financing loan support. Loans totaled up to 250,000,000 RMB, equal to 38,000,000 Dollar ($38 million).

The Belt and Road Initiative (BRI) is Launched in 2013 which involves China underwriting billions of dollars of infrastructure investment in countries along the old Silk Road linking it with Europe. The ambition is immense!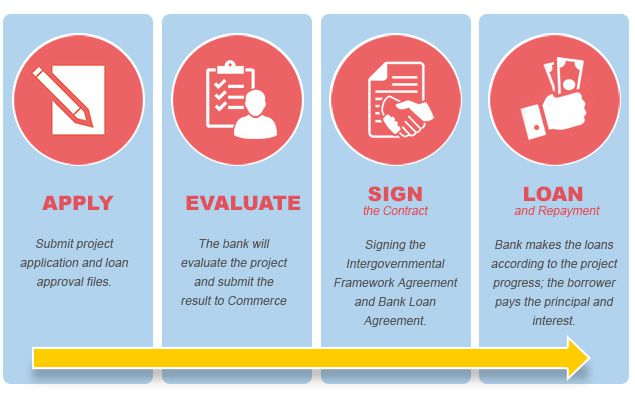 China is spending roughly $150bn a year in the 68 countries that have signed up to the scheme, focused on supporting Economic and Trade Cooperation, Energy and Resources Cooperation, Infrastructure Connectivity and Industrial Investment.

China Will Step Up Financing for Belt and Road Projects
The official document lays out the basic goals of the Belt and Road Initiative: "It is aimed at promoting orderly and free flow of economic factors, highly efficient allocation of resources and deep integration of markets; encouraging the countries along the Belt and Road to achieve economic policy coordination and carry out broader and more in-depth regional cooperation of higher standards; and jointly creating an open, inclusive and balanced regional economic cooperation architecture that benefits all."

According to the action plan, the Belt will have three routes and the Road will have two routes:
The Silk Road Economic Belt
China—Central Asia—Russia—Europe (the Baltic)
China—Central Asia—West Asia—Persian Gulf—Mediterranean Sea
China—Southeast Asia—South Asia—Indian Ocean
The 21st Century Maritime Silk Road
Coastal China—South China Sea—Indian Ocean—Europe
Coastal China—South China Sea—South Pacific
The China Development Bank and the Export-Import Bank respectively opened special loans to support the "One Belt, One Road" project cooperation. According to data from the China Banking Regulatory Commission, as of the end of 2017, 10 Chinese banks have established 68 first-level institutions in 26 countries along the "Belt and Road", including 18 sub-branches, 40 branches and 10 representative offices.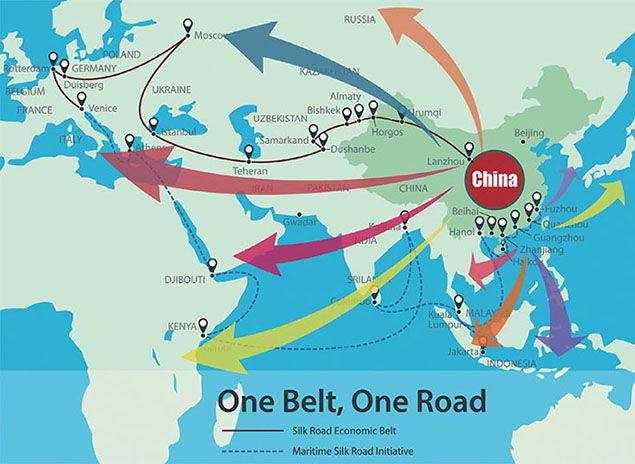 In terms of institutional types, three policy banks and five large commercial banks are still the main force in overseas distribution.
In terms of financing scale, Chinese banking institutions have participated in over 2,700 related projects in the "Belt and Road" construction, with a total credit of over 400 billion US dollars, loans of more than 200 billion US dollars, and relevant loan balances of 200 billion US dollars.

The data shows that 91% of the above bank loans flow to Asia, Africa and Europe, with Asia accounting for 39% and 34% of the total and total amount, Africa accounting for 34% and 23%, and Europe accounting for 18% and 11%. It also includes six loans to Latin America and 10 loans to Central Africa and West Africa.

65 Countries along the Belt and Road
Region
Country
Region
Country
East Asia


China
Mongolia

Southeast Asia


Brunei
Cambodia
Indonesia
Laos
Malaysia
Myanmar
Philippines
Singapore
Timor-Leste
Thailand
Vietnam


South Asia


Afghanistan
Bangladesh
Bhutan
India
Maldives
Nepal
Pakistan
Sri Lanka


Central Asia


Kazakhstan
Kyrgyzstan
Tajikistan
Turkmenistan
Uzbekistan

Middle East and North


Bahrain
Egypt
Iran
Iraq
Israel
Jordan
Kuwait
Lebanon
Oman
Palestine
Qatar
Saudi Arabia
Syria
United Arab Emirates
Yemen

Europe


Albania
Armenia
Azerbaijan
Belarus
Bosnia and Herzegovina
Bulgaria
Czech
Croatia
Estonia
Georgia
Hungary
Latvia
Lithuania
Macedonia
Moldova
Montenegro
Poland
Romania
Russia
Serbia
Slovakia
Slovenia
Turkey
Ukraine


The Asian Infrastructure Investment Bank (AIIB) was proposed by China in 2013, and the initiative of establishing the bank was launched in October 2014 when representatives from 22 countries signed the Memorandum of Understanding (MOU). By the deadline of 31 March 2015 for submission of membership applications, 57 countries have submitted their applications and have become the founding members of the AIIB. As of 31 December 2015, all these 57 countries signed the Articles of Agreement that form the legal basis for the bank, marking the official establishment of the AIIB. Headquartered in Beijing, the AIIB was open for business on 16 January 2016.
The 57 AIIB Signatories
| | | | |
| --- | --- | --- | --- |
| Australia | Austria | Azerbaijan | Bangladesh |
| Brazil | Brunei | Cambodia | China |
| Denmark | Egypt | Finland | France |
| Georgia | Germany | Iceland | India |
| Indonesia | Iran | Israel | Italy |
| Jordan | Kazakhstan | Kuwait | Kyrgyzstan |
| Laos | Luxembourg | Malaysia | Maldives |
| Malta | Mongolia | Myanmar | Nepal |
| Netherlands | New Zealand | Norway | Oman |
| Pakistan | Philippines | Poland | Portugal |
| Qatar | Russia | Saudi Arabia | Singapore |
| South Africa | South Korea | Spain | Sri Lanka |
| Sweden | Switzerland | Tajikistan | Thailand |
| Turkey | United Arab Emirates | United Kingdom | Uzbekistan |
| Vietnam | | | |