Wood Pellets Making Machine Comparison: Flat Die, Horizontal Ring Die, Vertical Ring Die
Different types of wood pellets making machine has different working principles. There are differences in pelletizing process. To improve the wood pellet production efficiency with half the effort, you should choose the most suitable pellet machine according to your raw materials and needs. Then, how to choose the wood pellet machine correctly?
What are the types of Machine for Making Wood Pellets?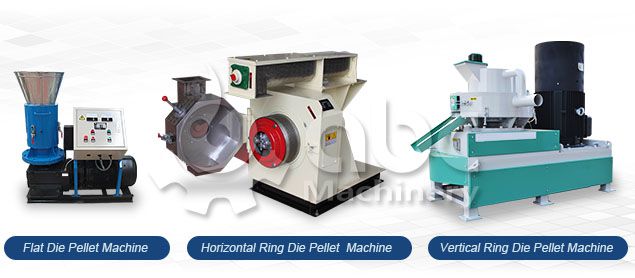 Three Main Types of Wood Pellet Making Machine for SALE
Flat die pellet machine
Horizontal ring die pellet machine
Vertical ring die pellet machine
​
You should know how to make the corresponding appropriate choice among these three types in different production for processing different biomass materials.
Flat Die Pellets Making Machine
Flat die type pellet making machine is based on shaft transmission which do not need a belt. It can be used for processing wood pellets, cat litter, and also livestock and poultry feed for cattle, sheep, chicken, pig, etc. It is featured of simple operation, easy maintenance and relatively cheap price. So it is hot sell for home users and farm users who want to make small scale wood pellets or feed pellets for own use. But this is also flat die pellet machine with large power and high output which can be used in small commercial pellet production line.
Compared with ring die pellet machine, it generally has slightly higher energy consumption and maintenance cost, and slightly lower production capacity.
Horizontal Ring Die Pellets Making Machine
Horizontal type ringd die pellet machine can also process both biomass materials and animal fodder materials. It can be sued for making biofuel pellets or feed pellets. However, in recent years, with the development of vertical ring die pellet machine, horizontal ring die pellet machine is becoming a second choice when compared with vertical type ones. In other words, the main application of horizontal ring die pellet mill will concentrate mainly on feed production field (Hot sale small animal feed pellet mill ), widely used in poultry feed mill, cattle feed factory and livestock farming industry. (Related Equipment: Grass Pellet Making Machine at Factory Price)
Pellet machine with horizontal ring die design is featured of high output, low energy consumption, high wear resistance, and widely application. It can process a variety of full price compound feed according to different requirements. During the feed pelletizing process, the temperature rises appropriately, which can well maintain all kinds of trace elements in the raw materials.
Vertical Ring Die Pellets Making Machine
Vertical ring die pellet machine which is based on vertical feeding and centrifugal technology is the latest type of pellet machine or granulator. Its gear reducer adopts large modulus, helical gear with hard tooth surface. It is featured of spindle strengthening, strong power output, stable pelletizing process, low failure rate, low production cost, low operation and maintenance cost, and simple operation. Now, it is the preferred equipment for making wood pellets for burning purpose. Maybe you are also interested in small sawdust pellet machine >>
Vertical ring die pellet machine has many advantages and better pelleting effect. It is said by the general users that vertical ring die type pellet making machine has higher cost-effective than flat die type and traditional horizontal ring die type.
Conclusion
So you should be the right machine according to your situation, no matter buy the pellet machine for making biomass pellets or fodder pellets. For processing animal feed, flat die and horizontal ring die type is suggested. For processing biomass fuel pellets, vertical ring die pellet machine will be more efficient.

Different pellet machine manufacturer would offer different equipment for making pellets. Addition to choose the right type, it is also important to buy from a reliable biomass pellets making machine factory, so that to guarantee the production efficiency and quality of produced pellets. Stay away from the cheap pellet machine with fancy features but low quality, or you will pay more for the maintenance costs. Moreover, it can directly affect the production quality and result in lost of profit.