Screw Briquette Machine
The final briquettes produced by this screw press have a carbonized layer on the surface, but they are not completely carbonized. If you are planning to make charcoal briquettes, Carbonization equipment is needed. We have carbonization furnace and kiln for your choice. Feel free to get in touch with us for detailed information.


Make Biomass Briquettes and Charcoal Briquettes
GCBA Series Briquette Machine for Sale
The main use of this automated and powerful machine is to produce charcoal briquettes from any biomass and wood waste, briquettes that have a wide range of fuel use. The product is completely safe and efficient, which means that the application can even be on the stoves used to cook.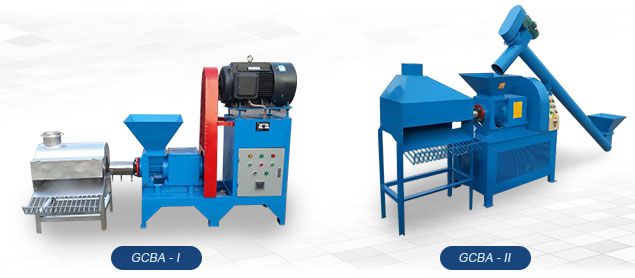 Wood Briquette Machine

Model
GCBA-Ⅰ
GCBA-II
Shapes of Briquettes
Hollow Quadrangular or Hexagonal
Output Capacity
180-210 kg/h
300~350 kg/h
Motor Power
18.5 kw
22 kw
Electric Heater
5 kw
5 kw
Size of Briquettes
Dia.5 0mm
Dia.60mm/50mm
Size of Inside Hole
Dia.16 mm
Dia.18mm/16mm
Density of Briquettes
1.3 g/cm3
1.3 g/cm3
Weight(kg)
560 kg
780 kg
Warranty
12 Months
12 Months
Overall Dimension
1600*1000*1000 mm
1500*1200*1600 mm
GCBC Series Briquette Machine For Sale
One of the most popular machine in recent years is our GCBC biomass charcoal briquette machine. The machine has a wide range of functions allowing you to control the process of making fuel briquettes. The machine, with an automated temperature regulator, is capable of moisture adjustment. With a wide range of materials that the GCBC briquette machine process, the briquettes' shapes can either turn out to be square, circular, or even hexagonal depending on your preferences, with a hole drilled through the briquettes, about 17mm.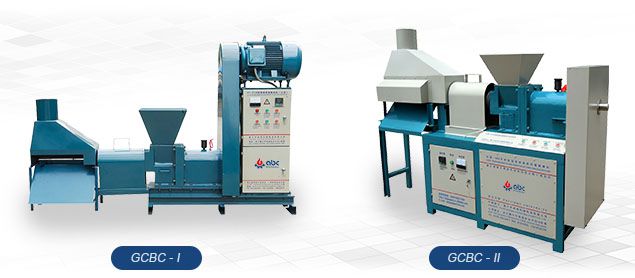 Biomass Charcoal Briquette Making Machine

Model
GCBC-I
GCBC-II
GCBC-IIA
Output Capacity
180-210 kg/h
300-350 kg/h
200-250 kg/h
Motor Power
15kw
18.5kw
18.5kw
Electric Heater
2.2×2kw
2.2kw×2
2.2kw×2
Size of Briquettes
Dia.50mm*L.480mm
Dia.60mm*L.500mm
Dia.50mm*L.480mm
Size of Inside Hole
Dia.16mm
Density of Briquettes
1.3T/m³
Weight
700kg
1000kg
700KG
Overall dimension
2700*600*1600
2000*600*1700
2700*600*1600
The biomass briquette machine has a number of features that set it apart from the other briquette machines in the market.
The fuel briquette machine, a necessity in the functionality of this machine, has a certain system for lubrication meant for the gearbox.
Has an exhaust function to ensure constant air pressure.
The cutting and shaping of the final briquette products is by an automated cutting system for more precise measures of the final product.
There are two heat collars on the ceramic inside of the heating section These two collars are from a copper material to ensure a long functioning time.
The final biomass briquettes has a hole drilled through. If you plan to make biomass charcoal briquettes by further carbonization process, these hollow briquettes are what you should make. Solid briquettes are not suitable for charcoal production.
Set Up a Complete Biomass Briquetting Plant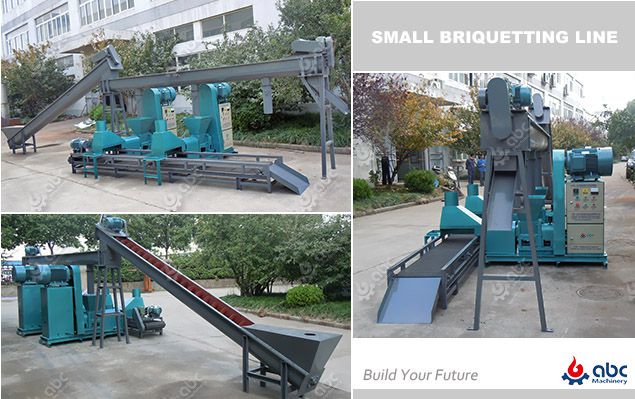 Small Biomass Briquetting Unit (GCBC-I)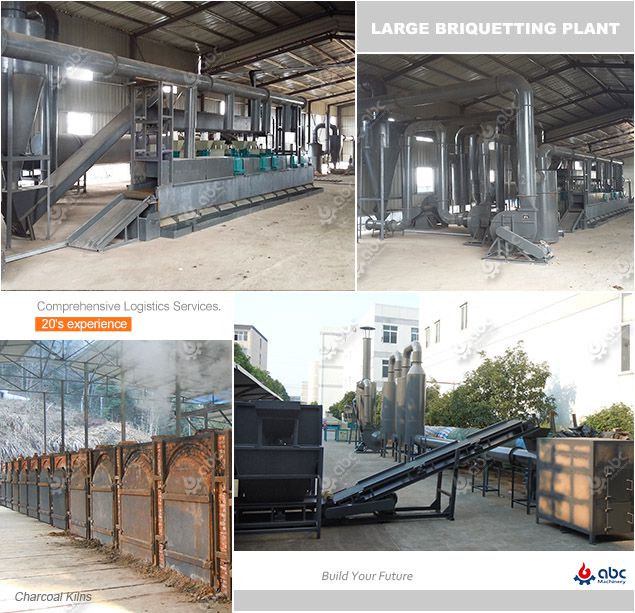 Complete Biochar Briquetting Plant (GCBC-II)
Biomass briquettes made from this biomass briquette machine are a perfection of the coal alternative. They can be further processed into bio-coal or biomass charcoal which is ideal products for BBQ. As research shows, the briquettes have many vital advantages over coal, especially the reduced level of pollution. The briquettes also outmatch the coal alternative in other areas such as the prices and reusability. The production of coal means chopping down of trees and other plants, which is a very poor and improper way of finding energy sources. The briquette alternative, however, is from waste. This comparison should be enough to get everyone on the biomass alternative.