Motor Driven Pellet Mill
Make Small Scale Pellets with Flat Die Pellet Mill
Flat die pellet mill is ideal choice for mini and small scale wood pellet production such as home making pellets. The key parts of small pellet mill is flat die, pellet roller, power source and gear bearings. This page lists all our electric small pellet mill which is driven by motor. There are two types of electric pellet mill: model B and model C. The differnces lay in the motor. For model B type, the electric engine is exposed to the outside, while the engine of model C is fully covered. With covered engine, the pelleting process will be safer and the machine shape is more beautifully.
Final Bamboo / Sawdust Pellets


Rice Husk Pellets , Rice Bran Pellets, Pine Wood Pellets
Choose ring die pellet machine is you plan to make medium or large scale wood pellets.
Parameters of Small Motor Driven Pellet Mill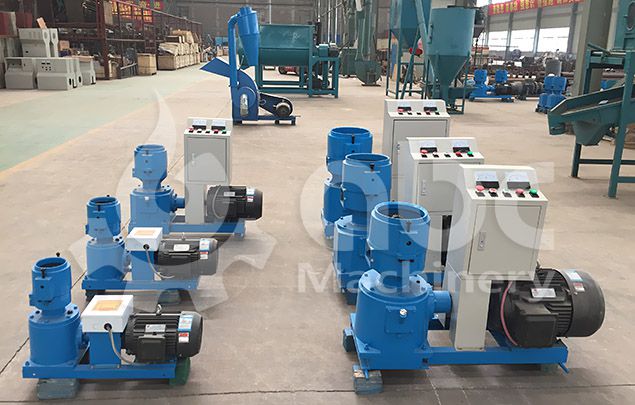 Model B - Front Side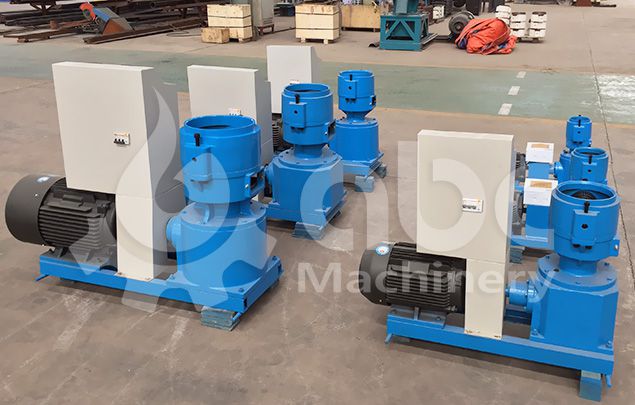 Model B - Back Side
Motor-driven Pellet Mill (Model B)

Mini pellet mill with motor exposed to the outside
Type
Power
Output (kg/h)
Weight (kg)
Package Size (mm)
ZLSP 150B
Three phase 5.5kw
50-100
95/110
800x450x700
ZLSP 200B
Three phase 7.5kw
80-120
200/230
1050x480x930
ZLSP 230B
Three phase 11kw
120-200
290/320
1180x540x1000
ZLSP 260B
Three phase 15kw
160-250
320/360
1240x540x950
ZLSP 300B
Three phase 22kw
250-400
350/380
1300x560x1100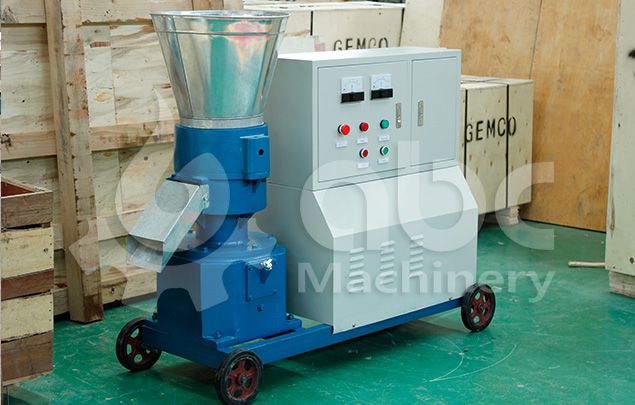 Model C - Left Side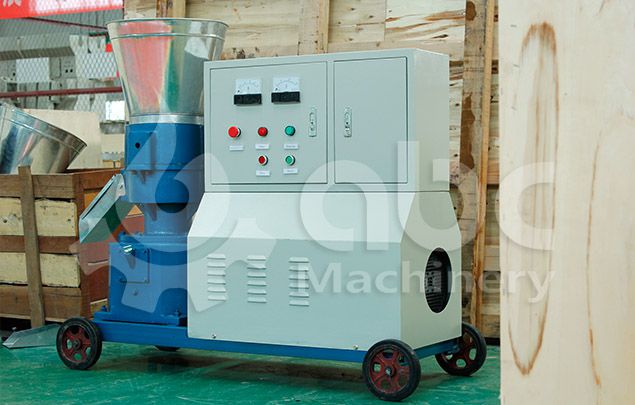 Model C - Right Side
Motor-driven Pellet Mill (Model C)

Electric engine is covered
Type
Power
Output (kg/h)
Weight (kg)
Package Size (mm)
ZLSP 150C
Three phase 5.5kw
60-110
105/125
1000x480x780
ZLSP 200C
Three phase 7.5kw
80-120
210/230
1050x550x830
ZLSP 230C
Three phase 11kw
120-200
290/320
1200x560x950
ZLSP 260C
Three phase 15kw
160-250
340/370
1240x580x1000
ZLSP 300C
Three phase 22kw
250-400
425/465
1300x620x1100
Click here to view flat die pellet mills equiped with other power source: Diesel driven pellet mill, PTO pellet mill, Gasoline Pellet Mill.
Advantages of Motor Flat Die Small Pellet Mill
Easy to operate and maintain;
Small in size makes it portable and convienient to move around;
Lower price than large pellet press.


Small Wood Pellet Making Machine Details
GEMCO Flat Die Small & Mini Pellet Mill is suitable to process various of biomass and wood materials (rice husk, bamboo wastes, wheat straw, rice straw, peanut shell, sawdust, wood residuces, corn stalk, wood chips, suflower seed shell, etc). If you are not sure whether you chosen materials is suitable for wood fuel pellet production, you can send us you raw mateiral for free raw materials test.

Pelletizing Video: How Pellets are Made?
Do we need any more machines to produce the pellets.??
For your information,the pellet machine request the material size is about 3-5mm with about 13-15% moisture content to make pellets. The sawdust size is ok to make wood pellets directly while your wood raw material were in big sizes and need to be crused into small sizes and then make pellets, so, that is why we recommend a Hammer Mill to you.

By the way,how about the moisture content of your wood raw material? If your wood raw material was too wet over 18% moisture content you can dry them by the sun. In view you requested small capacity of the pellets and there is no need to match a Dryer with you. Hope you can understand it.

Does the pellet press do the compressing under heat or just mechanical press?
Our pellet machine is just mechanical press, you just need to put your sawdust into the silo, the roller the sawdust and the wood pellets will come out from the holes of the Die.