Cost of Investing A Wood Pellet Production Project
ABC Machinery is a professional manufacturer and supplier of wood pellet plant with advanced machinery manufacturing equipment, strong development strength and perfect after-sales service. Establishing a wood pellet production plant is a profitable project, do something about it now!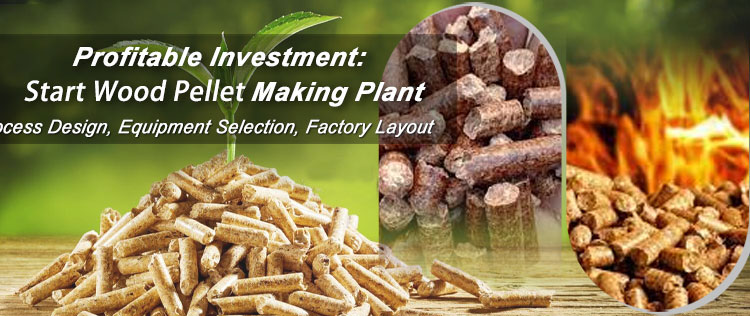 Investing a Wood Pellet Production Plant at Low Cost
Wood pellets, also known as biomass fuel pellets, are the most common type of pellet fuel. Along with the soaring prices of fossil fuels and the international community's elevated restrictions on carbon emissions, the wood pellet industry is on the rise. Many investors have developed the idea of starting a wood pellet processing plant, so how much does it cost to start a wood pellet production business?

Investment Analysis of Starting a Wood Pellet Production Plant Project
When it comes to the cost range of a wood pellet processing plant, it generally includes raw material costs, equipment costs, energy loss costs, labor costs and plant operating costs, and the biggest impact on equipment costs is production volume, so the production volume of your wood pellet making plant will have the biggest impact on your complete wood pellet production costs. Below we will provide some references on the cost of setting up a wood pellet manufacturing plant.
Raw Material Costs
The raw material for wood pellet production should be considered recycled wood or virgin fiber. The average price of wood remains at $55-65 per ton, while the price for virgin fiber is about $70-80 per ton.
In addition, the price of raw material depends on the moisture content. The average moisture content is 40-60%. The higher this figure is, the more it costs to produce the pellets. The reason for this is that a high moisture content brings with it the cost of the drying process. So, recycled wood, which has much less moisture content than virgin fiber, is obviously cheaper.
Taking into account the future capacity of the plant, the investor can calculate the raw material costs involved.
Wood Pellet Making Machinery Costs
Wood pellet production lines consist of several units, the most common combination being a hammer mill, dryer, pelletizer, cooler and packer.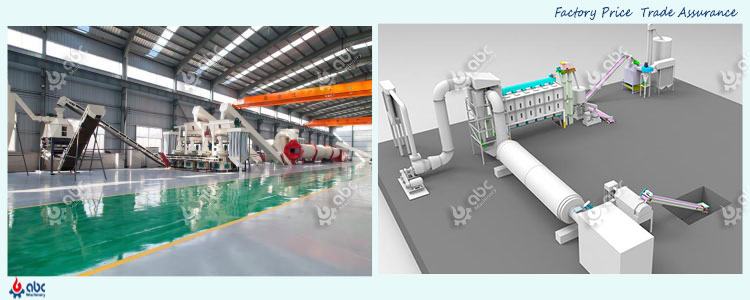 Wood Pellet Production Processing Flow Chart
More importantly, different raw materials require different processing conditions. For example, softwoods or hardwoods require different compression ratios. Therefore, the selection of the right equipment should take this into account. Another important factor to consider is the size of the raw material. Raw materials that are too large to be processed directly through the pellet mill require the use of a hammer mill.
The yield of the pellets should be considered. If the expected yield of the pellets is higher, more expensive equipment needs to be installed. More importantly, a larger capacity plant requires a large amount of plant, which obviously increases the cost of building the plant, including the design costs for engineers and the installation costs for workers.
Therefore, please send us your raw material, production capacity and requirements when you contact us, and ABC Machinery will have experienced engineers to customize your wood pellet production plant for free.

Other Production Costs
According to ABC Machinery's research, the cost of building a wood pellet plant is also affected by other factors.
The average cost is $10 per ton. Repair and life-cycle maintenance costs equate to about $5 per ton. The cost of bulk transportation is $2.50 per ton.
Additional capital costs include the wood shredding plant ($3-4 million), pellet storage and rail loading facilities ($2 million). Additional factors are equally important, such as the cost of labor and capital investment costs that depend on the plant's production capacity. If the capacity is 150,000 tons per year, labor costs will equal about $10 per ton. If the capacity is 100,000 tons, the basic capital costs will amount to 125 USD per ton per year.
The total construction cost of a pellet plant also depends on the region where it is located. European countries are higher compared to the US and Canada due to significantly higher energy costs in European countries.
In summary, the cost of pellet plant construction includes several factors. These include different types of raw materials (its size, moisture content, etc.). It has an impact on the price of raw material and the type of equipment required. Besides, several other factors have to be taken into account, such as the expected capacity of the plant, basic capital costs, labor, maintenance, storage and transportation.
How to Choose a Reliable Wood Pellet Making Equipment?
Setting up a wood pellet production plant is not an easy task, and understanding the production process is only the first step. The cost of opening different size of pellet production line varies from region to region. And every machine manufacturer in the market has different models, so it is better to be guided by professionals to buy the right machine for your production capacity.
For many years, the wood pellet mill produced by ABC Machinery has been awarded the title of "Famous and Excellent Product" and "Quality Trustworthy Product" for many times, and the products are well sold at home and abroad. Our wood pellet making mill and animal feed pellet manufacturing machinery have good quality and high output, and are widely praised by new and old customers for their good effect of pellet output, no breakage and high output.
ABC Machinery has a team of professional engineers who will provide detailed and patient answers to every customer who comes to us and provide detailed guidance and analysis for specific situations. Please feel free to contact us!