800-1000KG/H Chicken Feed Pellet Making Machine Arrive in Mali
Chicken feed pellets enhance the feeding rate of high quality broilers and improve the amount of feed eaten, thus increasing the feed conversion rate. This is why a growing number of people are believing that establishing a poultry feed production plant is a viable investment.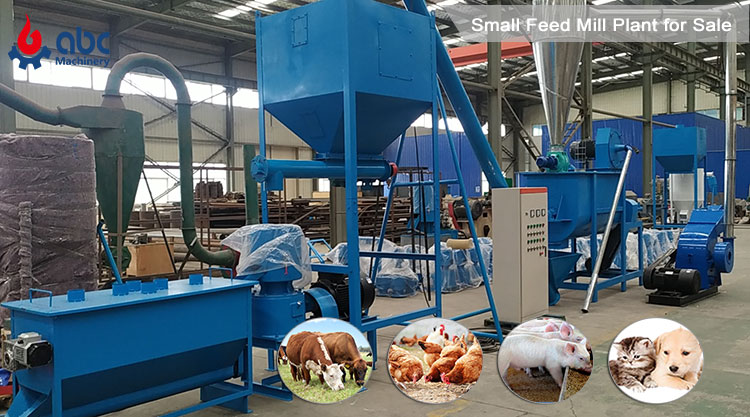 How to Set Up a Chicken Feed Pellet Manufacturing Plant?
A poultry feed production plant will not take up as much space as a poultry farm, yet it will yield a greater profit! ABC Machinery is a professional machinery and equipment manufacturer and supplier with over 20 years of experience in making animal feed pelleting production equipment. If you are interested in how to start a chicken feed plant, we will provide you with free information on site selection, plant design, equipment selection and cost estimation, please feel free to contact us!

Equipment Photos Display: Animal Feed Pelleting Production Line Arrive In Mali
Recently, a complete STLP-400 chicken and cattle feed pellet making plant was shipped to Mali. Our customer in Mali has his own chicken farm and the demand for chicken meat in the local market is growing rapidly, so he considered setting up a chicken feed pellet production plant on the farm to obtain high quality chicken feed pellets for use on the farm and for external sales to start a profitable chicken feed pelleting business.(Related Article: how to make chicken feed pellets at home? )
All chicken feed pellet making equipment is carefully inspected and checked before delivery and shipment. As a leading manufacturer of feed pelleting machinery, ABC Machinery tailors animal feed pellleting process solutions to each customer's specific situation and needs. If you want to get more details about the costs and equipment for setting up a cattle & chicken feed pellets production plant, please don't hesitate to contact us! (Read more: Animal Feed Pelleting Production Line Price in India >>)

Cost-effective STLP-400 Animal Feed Pelleting Plant Invest In Mali for Sale
Before the customer is ready to invest in designing the chicken feed pellet production line project, we will provide some free production flow chart and product parameters based on the information and give some technical guidance.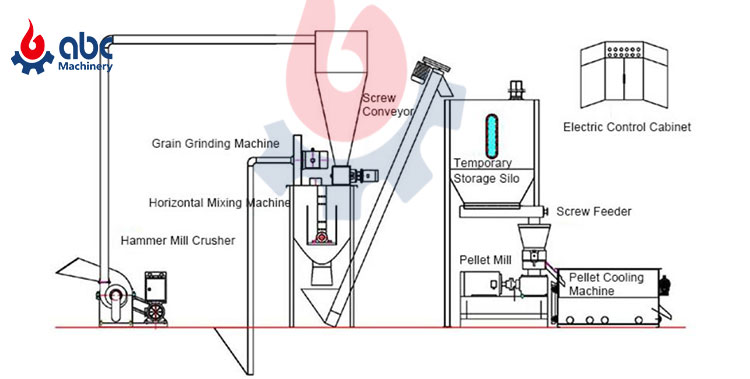 Successful Chicken Feed Pellet Production Line Projects Process
Crushing Machine: Used to crush grains made into poultry or livestock feed pellets to the suitable size for different types of poultry feed. Such as a feed grinder to crush corn and peas.

Mixing Machine: Used to mix different ingredients with fats, additives and medications to ensure feed quality. A good feed mixer will ensure homogeneity of mixing and thus good quality of the finished chicken feed pellets.

Feed Pellet Making Machine:Poultry feed pelletizer is used to produce the final pelleted feed. Good pelleted feeds are called complete feeds because they contain all the nutrients.

High Quality Small Flat Die Feed Pellet Machinery at Home
Technical parameters of animal feed pellet machine
Type

Power

Output

P

ackage size

ZLSP 150B

Three phase 4kw

90-120kg/h

800*350*740mm

ZLSP 200B

Three phase 7.5kw

200-300kg/h

1050*480*990mm

ZLSP 230B

Three phase 11kw

300-400kg/h

1180*520*1020mm

ZLSP 260B

Three phase 15kw

400-600kg/h

1240*540*1070mm

ZLSP 300B

Three phase 22kw

600-800kg/h

1300*560*1220mm

ZLSP 400B

Three phase 30kw

800-1000kg/h

1700*750*1400mm
The feed pellet equipment is the core machinery for pelletizing chicken feed. It can be divided into two types. Flat die pelletizer and ring die pelletizer, according to their structure and design. These two types of animal feed pelletizers have many differences in terms of capacity, price, and working principle. If you are not sure how to choose the right equipment for your poultry or birds, please contact us for a detailed consultation! Click the table below to get more details about the feed pellet mill and the best price!
Cooling machine: For cooling chicken feed pellets. When feed pellets come out of the pellet mill, they are always hot, usually 70-90 degrees Celsius. The cooler will help you to cool the chicken feed pellets before packing or using them.
STLP-400 Animal Feed Pelleting Plant Working Video
STLP-400 animal feed pelleting Plant shipped to Mali - Buy high quality feed manufacturing machines for cattle and poultry: hot sale chicken feed pellet from ABC Machinery, We offer customized design for the whole feed pellet processing plant. If you are interested in our equipment, just contact us directly to get the price list and machine parameters!