Biomass Pelletizer for Oak Wood Exported to Taiwan
Lately, a set of diesel engine flat die biomass pelletizer (ZLSP300A) for oak wood was manufactured for one of our client in Taiwan. This is a special set with customized color. The default color of ZLSP300A pelletizer machine is blue. It is required to spray it into purple as our client believes that purple is his lucky color. The following photos are about the test-running result taken in our factory before delivery to Taiwan. The raw materials for the test-running is oak wood with moisture content 12.3%.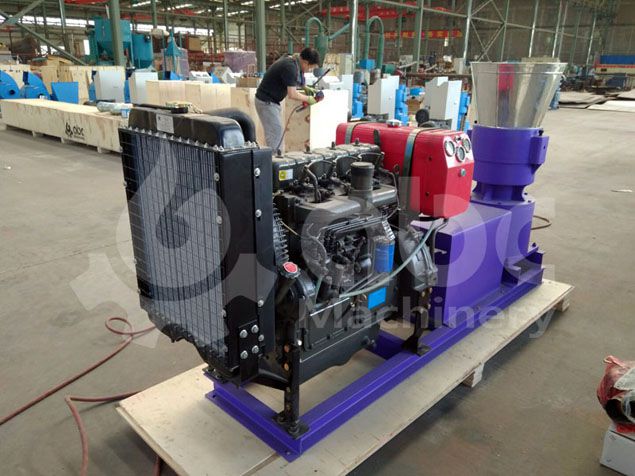 ZLSP-R 300A Biomass Pelletizing Machine for Hardwood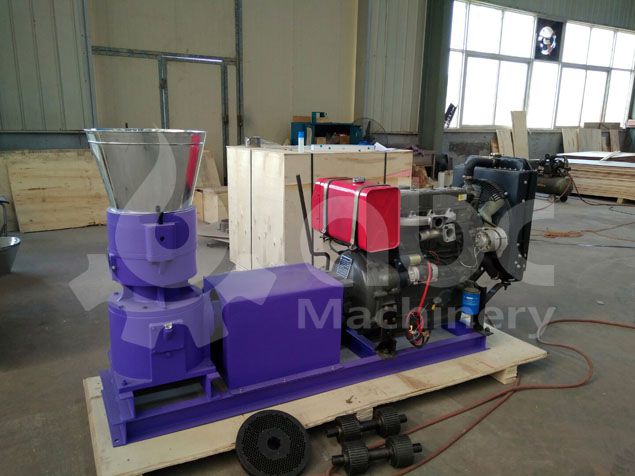 | Model | Power | Capacity | Weight | Size |
| --- | --- | --- | --- | --- |
| ZLSP-R 200A Pellet Mill | 15HP | 80-120kg/h | 320/350 | 1460x950x1100 |
| ZLSP-R 300A Pellet Mill | 41 HP | 250-350kg/h | 850/890 | 1100x700x2480 |
| ZLSP-R 400A Pellet Mill | 55 HP | 350-450kg/h | 1010/1050 | 1300x800x2600 |
Click here to see full parameter of ZLSP-R series biomass pellet mills.
Welcome to contact us for more details if you are interested in our equipment. We can offer best price and quality!
Why make pellets from oak wood?
Oak wood pellets were proposed decades ago, and since then, there is continuously growing number of customers. Deciduous sawdust and noble oak tree are gaining high demand as the source of pellets. Customers also observed that hardwood oak does not cause dark chimney openings like what pine or spruce did. The oak wood pellets are manufactured from sawdust by use of biomass pelletizer, the quality and structure are completely regulated. This is highly significant in the production of a high standard pellet.

An enlargement of the whole or reaming is required because oak sawdust contained very little resin and fusing it to a mold of pellets is absolutely a challenging task. The product is being sold at an affordable price thus adding an attraction to customers to buy this kind of pellet. Pellets produced from pure oak sawdust do not contain binders, fixatives as well as chemicals.
How to Tell the Quality of Biomass Pelletizer for Oak Wood?
The best way to tell the quality of a pelletizer is to see the produced pellets. Oak pellets can be determined as high-quality pellets through their color and shape. The pellet should have consistent color without spots, and its exterior should also appear glossy and firm. The firmer the pellet, the better production technique was used. The significant variables of quality oak pellets are its heating power, water content and ash content.
Oakwood pellets for BBQ
The BBQ pellet companies used a firm hardwood material as their base in producing their pellet. Most pellet firms use either oak or alder as their base, but some prefer alder. Most BBQ pellets comprise of 75% alder base and 25% hardwood as the main flavor. Like, for example, hickory pellets contain 75% alder and 25% hickory, and mesquite pellets also contain 75% alder and 25% mesquite.

Oakwood BBQ pellets are made from 100% wood with no additives, mixes, cheap fillers; it is just a good old-fashioned BBQ wood. The pellets got its light-brown color from oak sawdust. There are also dark-colored pellets, but it is not a low quality as they say frequently.
Oak is a great natural fuel causing the pellet products to contain the high calorific rate of 18,51 MJ/kg, to have longer burning time, which is 30% higher than coniferous wood and lesser ash content of 0.49%. It is necessary to adjust batching to boilers and decrease it by almost a third when replacing the oak wood pellets with hardwood pellets. This is because pellets from oak wood have an extended burning time.
Oak Pellets Vs Pellets from Coniferous Tree Species

Oak pellets and pellets from the coniferous tree have different colors. The darker tint of oak pellets was acquired from the wood's natural brown color. Many people believe that dark-colored pellets are usually of low quality because they must include the bark, but this is not true. Pellets that include bark can be recognized by uneven dark spots. Darker pellets as a whole but no considerable dark spot is not a pellet containing a bark.
Oakwood pellets also have an almost 30% longer burning time. This is another differentiating feature between these two kinds of pellets.