Motor Driven Pellet Mill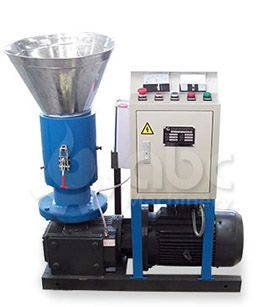 ZLSP 200B R-type Pellet Machine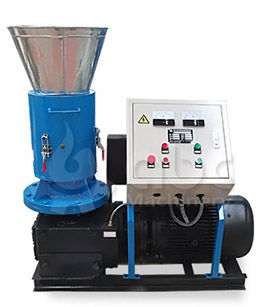 ZLSP 300B R-type Pellet Machine
Technical Parameter of Roller-turned Flat Die Pellet Mill
Flat Die Pellet Mill (Rotating Roller Design) - Electric Engjne
| Type | Power | Output (kg/h) | Weight (kg) | Package Size (mm) |
| --- | --- | --- | --- | --- |
| ZLSP 200B | Three phase 7.5kw | 80-120 | 215/245 | 950x450x1050 |
| ZLSP 300B | Three phase 22kw | 250-350 | 540/575 | 1350x750x1400 |
| ZLSP 400B | Three phase 30kw | 350-450 | 770/810 | 1400x800x1450 |
| ZLSP 420B | Three phase 37kw | 400-600 | 1100 | 1630*620*1400 |
| ZLSP 500B | Three phase 55kw | 500-800 | 1770 | 2300x750x1850 |
Features of The Pellet Mill


Pellet Machine Spare Parts
Long Service Life & Quality Guarantee - (Efficiency, Stability, Durability and Safety)
The flat die and the roller are both made of high-quality alloy steel;
The lifespan of gear box and motor is more than 1 year.
The main shaft can be used for 5 years.
For others spare parts not stated here: 1 year.
Suitable Raw Materials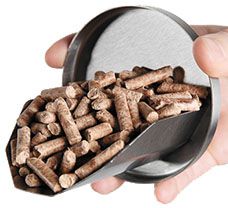 Buy this pellet mill and you can use it for pelleting sawdust, alfalfa, straw, bamboo shavings, peanut shells, rice husk, wood chips, wood shavings and other biomass or wood residues.
Send us some samples of your raw material if you are not sure whether it is suitable for pelletizing. The material test is FREE!
Final Biomass Pellets
The diamter of final biomass pellets can be 6-10mm.
What Is Roller-turned Pellet Mill?
Roller-turned type pellet mill is also a kind of flat die design pellet making machine. Unlikd die-turned pellet mills, this kind of mill is composed of rotating roller and fixed pellet die.
| | |
| --- | --- |
| | |
| Die-turned Typle | Roller-turned Type |
GEMCO Pellet Mill has gained good reputation around the world since it has been put into market. Ring die pellet presses for medium pellet prodcution >>
Working Principle of Roller-turned Pellet Mill
While pelletizing the biomass materials, the die is fixed and the roller is rotating. Under the great pressure between the die and roller, raw material paower will be pressed through the holes in the pellet die. Then smooth and density wood pellets will be cut into uniformed length and extruded out of the machine.
Why Buy Pellet Mill from GEMCO?
No.1 market share in China, more than 170 pellet making projects built in around the world. Convenient for your on-site investigation.
10 patents innovation technology guarantees the quality of every equipment of pelletizing projects for customers, eg. the smart cooling system, the 3 cylinder dryer, etc.
The capacity of pellet mill plant can reach up to 150,000T/Year.
PLC intelligent control. Smart and reliable!