Biomass Briquetting Machinery

Function: Biomass / wood briquetting machine. Used for making biomass briquettes of different diameter and shapes.
Suitable Raw Material: Almost all kinds of biomass or agricultural residues/wastes including peanut shells, shell of sunflower seed, rice straw, bagasse, wood chips, sawdust, grass, bamboo powder, etc.
Feel free to contact us for the lasted price of the machine is you are interested our briquetteing machine.
Application: Small to medium biomass briquetting or wood briquetting; Home & industrial use briquetting equipment.
Main Feature: Long Life of Screw Shaft / Long Life of Inner Former / Heating section /An attractive feature on the forming hopper / Lubricating System / Auto Cutting System. Screw briquetting structure. The shape of final briquettes can be customized by changing different forming parts. The briquettes produced by a screw press is easily handled and stacked.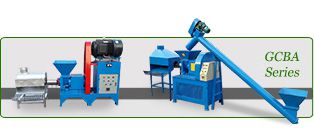 GCBA Series Briquette Machine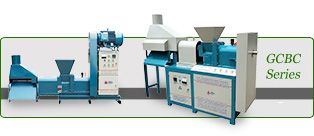 GCBC Series Briquette Machine

Application: This small plant is suitable to make both small biomass pellets and large biomass rob briquettes (by changing moulds); Widely applied to medium and large scale wood briquetting production; Industrial briquetting line.
Main Feature: Compact structure design/ Long Service Life / High Production Efficiency / Low Power Consumption / Good Strength, toughness and Wearability. The diameter of final briquettes ranges from 8mm to 70mm.

Application: Large scale wood briquetting line; Automatic briquette production of high output.
Main Feature: A complete wood charcoal briquette production generally includes crusher, dryer, briquette press, conveyor and package machine. If you are newcomers or don't know which equipment to choose. Send us an enquiry and our engineer will help your build a perfect biomass briquette plan.
I own a biomass company in Greece and am interested in a small scale briquetting machine that can run on either diesel or electricity with capacities of over 300Kgs p/hr. If you are able to assist me please contact me with models and pricing as well as MOQ's.
GCBC-II Biomass Briquetting Machine is recommended. The equipment cost around $7000. Quantity is with preferential treatment. The detailed offer was sent as email attachment, please check it.
Please could you give me a budgetary price for a 1000 kg/hr briquetting machines. - from Sri Lanka
Please find our offer as email attachment, hope it can meet your demand.