Setup Chicken Feed Manufacturing Plant in Brazil
Chicken feed production involves processing of raw materials consisting one or more diversities of cracked, rolled or whole grains into compound feeds which consist of numerous nutrition values. Setting up a chicken feed manufacturing plant in Brazil is a hot deal for investors who like investing in agricultural sector businesses. Poultry feed made by poultry feed processing machine is consumed by either chickens, ducks or other home birds.
HOT Sale Equipment for Chicken Feed Manufacturing Plant
For the ones who want to invest in chicken feed production business, here are some recommended equipment set for you! If you need customized project plan, just tell us your capacity needs or cost budget, then we can help you make the best business plan, process design, high quality equipment and excellent after-sales service.
Small Complete Set of Chicken Feed Macking Machine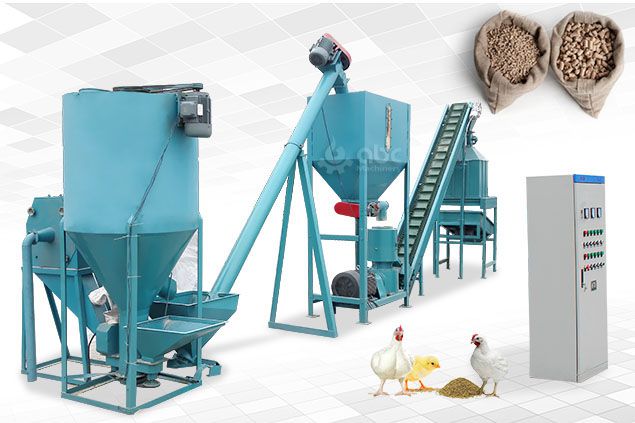 Complete Set of Small Poultry Feed Plant for Sale
The above chicken feed processing machine set is suitable for 600~1000kg/h small scale feed production. It combines crushing machine, mixing machine, chicken feed making machine, feed pellets cooling machine and conveyors together, featured of high level of automation, low labor cost and production cost. We can also offer single poultry feed mill equipment for home users or farmers. Besides, this complete unit can also be customized based on your specific needs or requirments. Just feel free to get in touch for detailed quotation and latest price list!
Medium Scale Poultry Feed Processing Project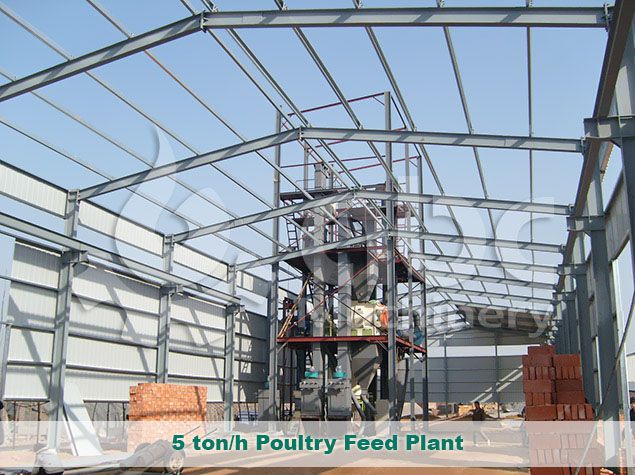 Project Report: Medium Scale Poultry and Cattle Feed Plant
If you are about to start large scale chicken feed making business, you can take this 100 ton/h poultry feed manufacturing plant which adopts ring die feed pellet machine for reference.
Chicken feed processing industry in Brazil
Due to a wide category of birds, chicken feed processing in Brazil is concerned in processing the Starter feed, Broiler feed, Grower feed, and Layer feed. This gives a large portfolio investment which worthy investment. ABC Machinery being technologically advanced poultry feed making machine supplier has many projects of animal feed processing plant that run all over the year around the world. This ensures there is no lead-time wasted during plant and machinery repairs hence the high level of production and sales.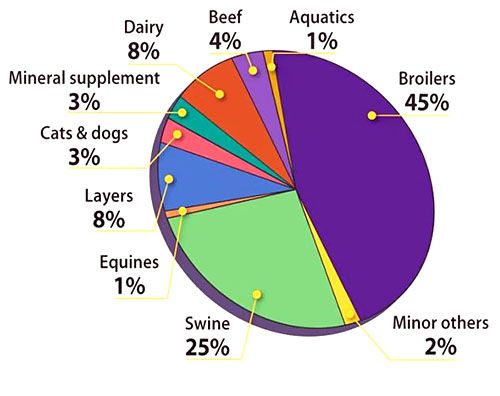 Brazilian Animal Feed Production Market Share
Majority of the feed processing businesses comply with the USA government Industrial policies making them legit. This has encouraged many investors worldwide to invest in chicken feed processing business in Brazil paying them millions as returns for risking their money and time.
Growth Potential of Chicken Feed Processing Market in Brazil
According to the survey done by U.S. animal-based nutrition company, the feed processing industry are valued about $430 billion, with a growth of 13% for past 5 years, which is equivalent regular upsurge of 2.49 % per annum. From the report, the company expected Brazil animal feed manufacturing to rise to 100 Million tons over the decade. In 2017 the total feed manufactured in Brazil was 70 Million tons which is this was a lesser value compared to China's and whole USA's, 187 and 172.9 tons. (Recent News: Poultry Feed Pellet Mill Shipped to Bahrain)
Invest in Chicken feed manufacturing plant in Brazil
When opening or investing in feed processing business there are crucial tips you need to consider. After you address them, you are ready to go.
Determine the demand for your products
This is done by doing all-encompassing market research to look at whether the products intended have a demand. After you find there is a need for feeds then proceed to the next factors impacting your business.
Starting a chicken feed processing company is a costly activity. From land acquisition to machinery requires more funds. If you have enough funds you are ready to start up the business.
Check for best finance and options available
Upon starting the business, there is a need to consider the cash flows to see whether they can sustain the business in the future or not. If not consider loans interests for different available financial instructions and select the best option to cater for processing activities.
Choose an appropriate business site
Plant location can affect feed manufacturing and business success in general. For instance, you need to be near facilities and infrastructures needed for business success. This includes nearness to the market and raw materials, availability of affordable transport, electricity energy, schools and hospital for the employees and children. This also includes the availability of labor and business associates.
Following business policies and regulations
For you to fit in any business you must follow the rules and policies set. By considering the business ethics of feed manufacturing and processing here you decide to comply with them for the plant to exist. Read more about poultry feed production plant setup cost in India >>
From the potential increase in demand for poultry feed, you can take this opportunity to invest in chicken feed manufacturing plant in Brazil and be assured of your investment growth in a short period of time.