Small Feed Pellet Mill Plant (Cattle and Poultry)
Capacity: 600~1000kg/h;
Diameter of Extruded Feed Pellets: 2~8mm;
Usage: This small feed mill unit is widely applied to make fodder pellets for many different kinds of livestock, poultry and other animals, including catfish, pig, cow, cattle, sheep, rabbit, chicken, duck, geese, horse...


Small Livestock and Poultry Feed Mill Plant
Small Cattle & Poultry Feed Pellet Mill Parameters
| Model | Power (Kw) | Capacity (kg/h) | Weight (kg) | Dimension (mm) |
| --- | --- | --- | --- | --- |
| STLP300 | 45.7 | 600-800 | 2464 | 15000*4000*4500 |
| STLP400 | 61.2 | 800-1000 | 2902 | 15000*4000*4500 |
Any questions about poultry / cattle feed manufacturing plant setup, or would like to get a customized animal feed processing project plan, feel free to send us an inquiry! Our service team can offer equipment and cost details, and help on feed milling process design, equipment selection, feed factory layout design, and onsite construction, commissioning and equipment operation training. (Recent News: 1ton/h Pig Feed Mill Plant exported to Nigeria)

STLP300 for Mini Feed pellet Mill Plant

(600~800kg/h)
To start with; STLP 300 is a complete set of poultry / cattle feed making machine that utilizes a power of 45.7 kW, handles a feedstock of 600kg/hour to 800kg /hour on average (best choice for mini feed pellet manufacturing production). This mini feed pellet mill unit for sale is not that bulky to transport to your site of operation since it is about 2464 kg in weight and occupies a small space of 15000mm*4000mm*4500mm. (Related Post: Chicken Feed Making Machine Selection)
STLP400 for Small to Medium Scale Feed Mill (0.8~1ton/h)
The other model of small poultry / cattle feed plant (STLP400) uses 61.2KW power, handling a raw feed stock of 800kg/hour to 1000kg/hour on average and weighs 2902kg. It is designed for small to medium scale feed plant. The dimension of the whole pelleted feed processing plant is the same as for the other model.


Extruded Feed Pellets from Different Raw Materials
Due to the favourable sizes, these two models offer solutions to many farmers since they suite most of their choice and budget while at the same time making reliable pellets for their livestock. Every individual who is interested in start your own animal feed pellet making business will find it a good deal and you can enquire for the quotation these small milling plant now to easy on feeding their animals. (Project Report: 5ton/h Cattle Feed Mill Plant Layout & Design >>)
advantages of the cattle &Poultry Feed Pellet Mill Plant
Because of the compact structure in the design of these machines, they require small space for they installation.
The Installation procedure of this livestock and poultry feed pellet mill plant requires an easy procedure. All the machines are can be utilized immediately after simple installation and connection of the mill parts.
This full set of poultry / cattle feed pellet machine requires only 2-3 workers for once the complete
feed production plant
is set. The Less labor force implies that less cost is needed in running the plant.This result to a good saving deal which at the end of the day give a size able profit.
STLP300 and STLP400 are designed in such a way that they well for not only poultry feed manfuacturing, but also cattle feed manufacturing.
Operation Video: Animal Feed Pellets Manufacturing Process
How to make cattle feed or poultry feed? View the pelletizing video of this small plant. Feel free to contact us if you are interested to know the cost of setting up as small feed production line like this. (Related Post: 2ton/h Animal Feed Manufacturing Process >>)
There are these two models of the pellet mills (STLP300 & STLP 400) that have proven to be very advantageous in many cattle farms. These machines include some series of activities such as grinding, mixing the grinded materials, conveying and pelletizing. These are the machine that can process feeding pellet for animals in the farms such as poultry, cattle, pig, hurry to rabbits and horse or donkeys. These are simply machines that can handle a feedstock of 600kg/hours to 1000kg/hours in normal working condition. One of the things about these mills is the ability to give exactly the recommended final feed pellets size of between 2mm to 8mm. (Related Post: Cattle Feed Business Plan)
These two models have another advantage in that they are multifunction poultry/cattle feed pellets milling machine which are suitable for processing the pellets poultry and animals. As a farmer who want to avoid wastage and get productive mills for your farm, you hurry to inquire for these small plant machines!
Process Flow of the Small Feed Pellet Plant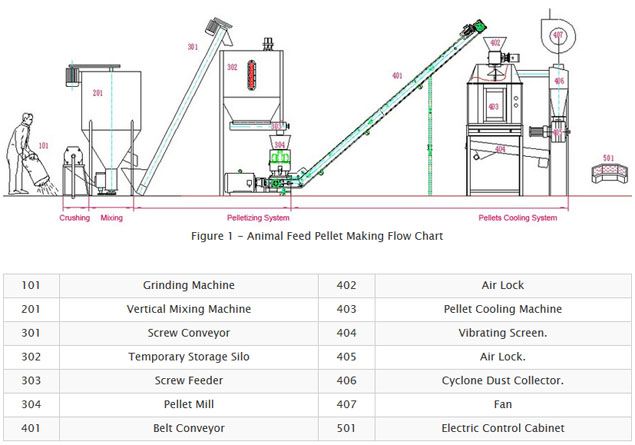 Generally and technically speaking the pellet mill unit will first convert the raw material into a powered form. Then resultant powder mixture is taken in the hopper of the animal feed pellets Machine. At is stage a high pressure is exerted on the material and because of the continuous rotating roller, the mixture passes through the holes in the die of the machine.Since the shape of the holes is cylindrical, the pellets will take the same shape. As the pellets will be coming out from the die, they are cut into the actual desired length. There some very major advantages that many farmers have linked these to products. Mentioning some of these may a good deal for all those pellet making individuals and anyone willing to start the same. Read more about cattle mash feed production >>

Why Make Feed Pellet for livestock and poultry animals?
When it comes to farming, each and every farmer should know the good and proper farming practice that can lead to health and energetic animals. If farming is done in a business manner we should practice it in a way that it will give us returns. One of the golden rules in farming is to know the proper feeding techniques and have the knowledge of how that feeding will be of great help in your farming. You need to know in which state of food to feed your animals. For many years it has been a general golden rule that pellets are more advantages to your animals.


Start Animal Feed Manufacturing Business
Feeding your animals with pellets is scientifically proven to be of significant advantageous since it will help your animals in easy digestion of the food given to them and also help in increasing level of yielding capacity. To extrude these pellets from the raw/crude stocks found in the farm one need to have a sizeable feed pellet machine.
Is the process of producing feed pellet production lines for

chickens, cattle, buffalo, goats

, etc. the same? Can the feed line produce cattle feed and chicken feed at the same time?

Chicken feed is divided into powder and pellets. If there are chickens, a pelletizer is also used. Whether the feed for cattle and sheep is added with grass powder, the process is not exactly the same. A set of equipment to produce these animal feeds will have the risk of cross-infection and some antibiotic infections. In the animal feed production line, after passing through the mixer, the chicken feed is generally added with antibiotics, and the cattle feed is generally not used, so it must be cleaned up.

What is the working principle of the

STLP400 feed production mill

?

The STLP400 feed production line pulverizes various feed materials into powder particles by a pulverizer, and is sent to the mixer through a cyclone dust collector by a fan. The powder that does not need to be pulverized can be directly sent to the mixer through a screw conveyor. Various raw materials In the mixer, it is evenly mixed by the double spiral belt, and then enters the silo through the screw elevator. The materials in the silo are conveyed to the granulator by the adjustable speed feeder, and the finished particles are cooled by the cooling sieving machine for cooling and powder screening. Enter the packaging machine through the belt conveyor, install the set weight, measure the bag and seal the bag, and complete the entire production process.