Organic Fertilizer Fermentation Tank (High Temperature Aerobic Fermenter)
Offer turnkey organic fertilizer processing business plan, customized factory design, equipment manufacturing & layout, Free Guidance on fermentation plant setup. Want to know more about organic fertilizer processing and equipment selection? Contact us now to enjoy one-one service and get detailed quotation >>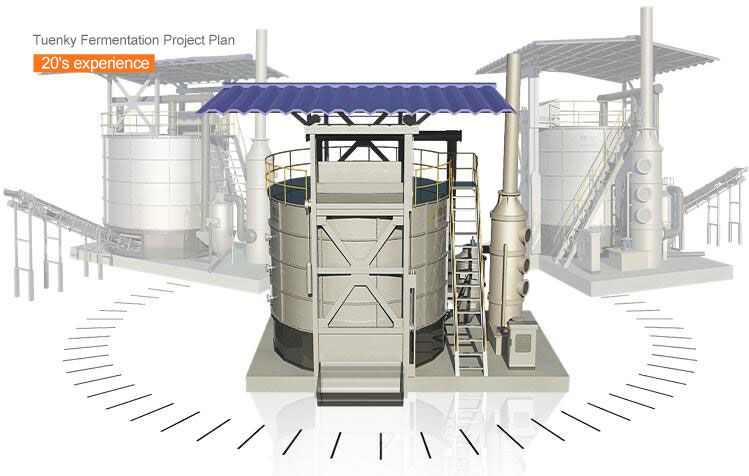 BEST Manufacturer — Offer Customized Fermentation Business Plan & Turnkey Project

The Benifits You Can Enjoy by Using Our Fermentation Machinery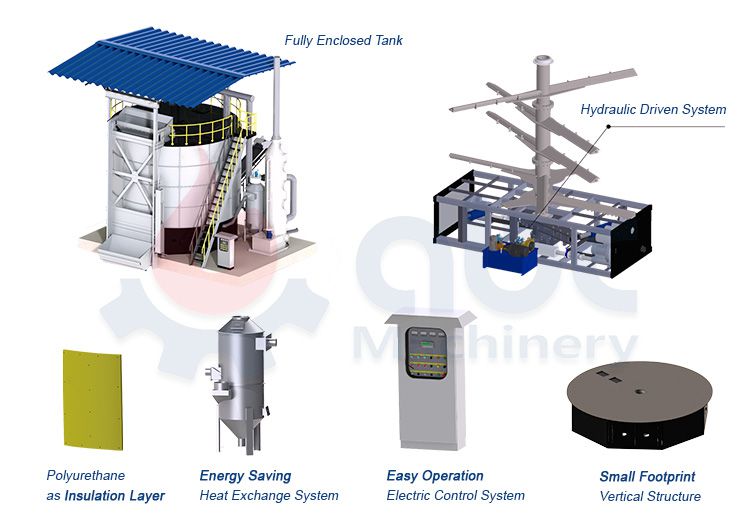 Highlights of the Advanced Organic Fertilizer Fermenting Equipment
Fully Enclosed Tank

: The fermentation process is unaffected by the natural environment, so that the organic fertilizer production can reach the industrial processing standard. Moreover, it can also prevent the waste gas produced by fermentation from leaking out, so that to prevent the secondary pollution.
The tank inside is made of polyurethane insulation layer, making it less affected by the outside and ensures year-round fermentation.
Adopt hydraulic driving system with large thrust, so that to ensure the full load operation of the decayed material in the fermentation tank and ensure the stable operation.
Adopt self-developed heat exchange treatment system to make the hot air in the tank loop ferment to reduce energy consumption and improve energy utilization rate.
The inner wall of the fermenting tank is made of 304 anti-corrosion stainless steel with long service life.
Adopt electrical control system, combination automatic and manual mode, easy to operate, easy to learn, save labor costs.
Adopts the vertical closed tank structure, small footprint. It can be installed outdoors, does not need the workshop.
Model
Conventional
standard
strengthen
Total height (including canopy)
8440mm
Effective volume
102 m³
Power supply
380V/50HZ

Installed power

43.5kw
46.9kw
59.5kw
Operating power
~26kw
~27kw
~32kw
Feeding drive device
Hydraulic drive 3kw
Spindle drive

Hydraulic drive 7.5kw
Range of raw materials can be processed by the Fertlizer Fermentation Machine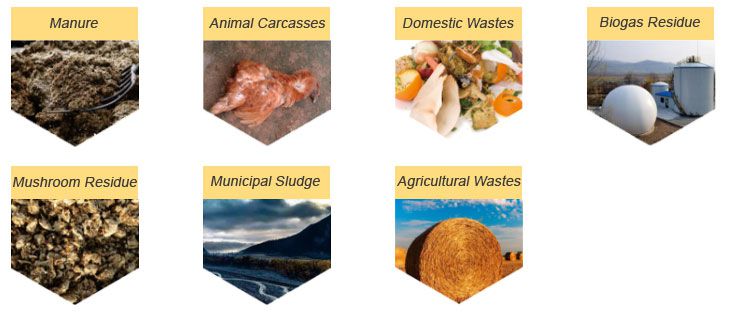 Processing Range of Fermentation Equipment for Organic Fertilizer
Our industrial fermentation tank is suitable to process all kinds of organic fertilizer materials such as animal manure / litter / dung / droppings, straw, soybean meal, agricultural or industrial waste, etc.
Livestock & Poultry Manure: Such as chicken manure, pig excrement, cattle droppings, sheep dung, horse litter and rabbit manure, etc.
Animal Carcasses: Chicken, sheep, cattle, horse, pig, rabbits and other livestock/poultry animals.
Municipal Sludge: Urban sludge, river sludge, sewage sludge, etc.
Agricultural Wastes: such as crop straw, soybean meal, etc.
Biogas residue, vinegar lees, cassava dregs, sugar dregs, furfural dregs.
Domestic wastes and food residues.
Mushroom Residue & Chinese Medicine Residue.
Main Structure of the Fermentation Equipment
The whole fermenting equipment can be divided into 3 parts:
Top Part: Composed of rain shelter, detection platform and exhaust facilities.
Middle Part: Include double-layer heat insulation tank, automatic control system, export device, etc. The inner wall of the tank is lined with 304 stainless steel plate, which can effectively prolong the service life of the fermentation tank and reduce the residue of rotten clinker. The outer wall is made of thickened steel plate to support the tank body
Bottom Part: This part is distributed with hydraulic station, scroll air pump, oil cylinder, heating system and mixing shaft, etc.
Auxiliary equipment of complete fermentation plant includes automatic tipping bucket elevator, waste gas filtration deodorization system and heat exchange system.
Video: How the Organic Fertilizer Fermentation Tank Works?
View the video below to see how the fermentation tank works. Feel free to contact us if you have any questions about fertilizer processing or need any help on making the best business plan! We are here to help you!

FAQs of the Organic Fertilizer Fermentation Plant
What to do when the water content of chicken manure is too high?
If the moisture content of poultry manure is higher than 70%, it can't be put into the organic fertilizer fermentation tank directly. You'd better stir in auxiliary materials or fermented organic fertilizer to make the moisture content below 65%.
How much chicken manure can the fermenter handle per day?
About 12 cubic meters of manure can be processed each day, and the water content should be not more than 70%.
How much organic fertilizer can be produced by the fermenter per day?
The fertilizer production output is determined according to the feed quantity, and the water content of feeding materials. ( eg, if the raw material moisture is 65%, the fertilizer output ratio is around 3:1. That is to say, you can get 1 cubic meter of organic fertilizer products out of 3 cubic meter of raw materials.
How much can I earn to sale one ton of organic fertilizer?
The price of organic fertilizer varies from region to region. Here is some reference: You can get about $100~$300 by selling per ton of organic fertilizer.