The Technology and Profit Analysis of Rice Husk Briquette Machine


Rice Husk Briquette Machine (Technology & Profit)
Biomass is a very rich natural resource on the earth, rice husk is one of the biomass, and the yield is huge.
Turning waste into treasure:
Rice husk contains high lignin and silicon, so it is not easy to absorb water, and it is not easy to rot when applied directly to the field as fertilizer.

A large amount of rice husks are piled up like mountains in rural areas or in grain and rice processing plants and become difficult to handle waste. They pollute the environment and easily cause fires, and have become a major public hazard in society.
In order to make full use of straw resources, countries in the world have made decades of efforts and made certain progress. Among them, the use of rice husks to generate electricity not only solves the pollution problem, but also develops energy.
ABC Machinery uses dry rice husk as fuel for the production of briquettes. They are used as chemical raw materials or adsorbents and can also be used as fuel. For example, for barbecue food, etc.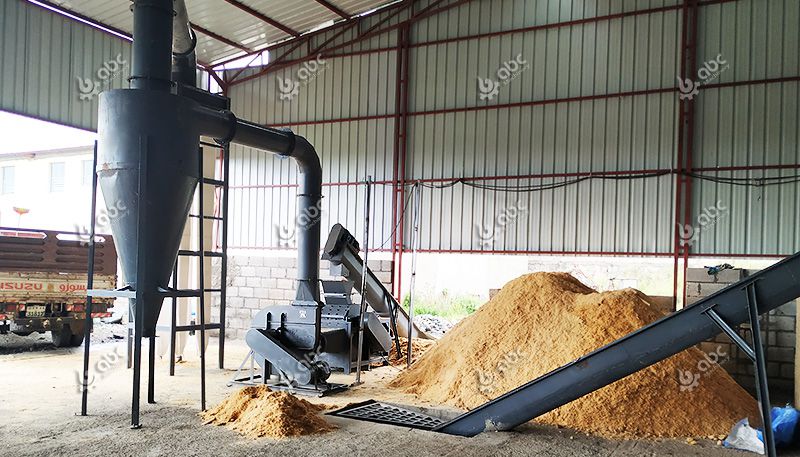 Crushed Part of Rice Husk Briquette Plant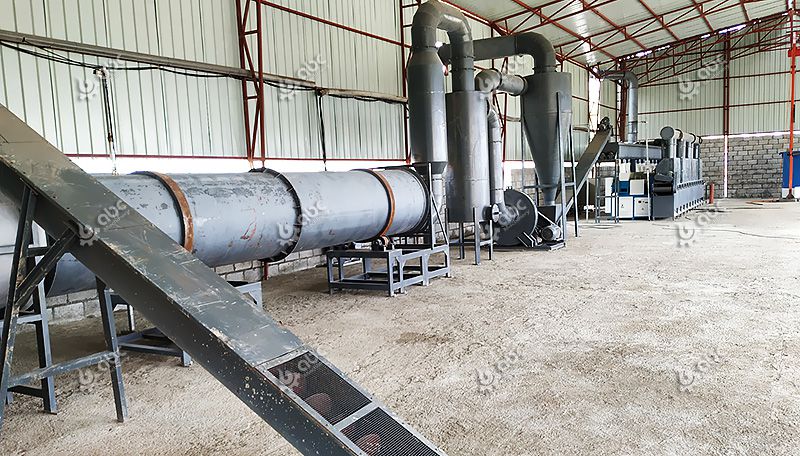 Drying and Briquette Making Part of Rice Husk Briquette Plant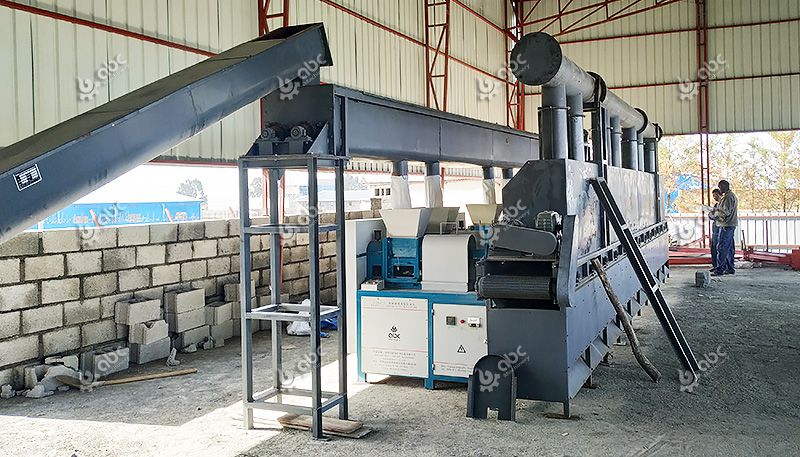 Rice Husk Briquettes Making Unit

Rice Husk Briquette Producing Technologies
At present, there are two ways to produce rice husk briquette making machines on the market, one is forming first and then briquetting, and the other is forming first after carbonization. The quality of the products is the life of the company.


Rice Husk Briquette Process
Two ways to make briquette
If you are making charcoal after forming and then carbonizing, it is the traditional machine-made charcoal. You should prepare the raw materials first and they are mainly all kinds of wood chips and sawdust, all kinds of powdered straws or rice husks or coconut husks, etc., if it is large pieces such as coconut Shells and wood blocks must first be crushed into powder, dried, extruded, and then carbonized.
This requires a complete set of briquetting machine equipment, including grinder, dryer, briquette making machine and carbonization stove. (Note: If the raw material is rice husk, sawdust and other small particles, there is no crusher.)
Another method is to carbonize the product first and then shape it. This needs to grind the raw materials first. Of course, it is not necessary like rice husks and sawdust, and then put it into the briquette machine to directly carbonize it.
Physical and Fuel Characteristics of Rice Husk Briquettes.
Parameter
Length of the briquette
Breadth of the briquette
Thickness of the briquette
Weight of the briquette
Compaction pressure
Carbon content
Hydrogen content
Oxygen content
Ash content
Volatile matter
Fixed matter
Rice Husk Briquettes (Unit)
0.075 m
0.075 m
0.008 m
0.025 kg
2.10 MPa
2.10 %
5.8 %
51.67 %

18.6

%
67.98 %
13.4 %
Rice Husk Briquette Making Machine for Sale
ABC Machinery is a high-tech enterprise dedicated to the R&D, production and manufacturing of ball-pressing, air-drying, and briquette equipment products. The quality of the products is the life of the company. The rice husk rod making machine and after-sales service are the continuity of quality and quantity. The company has a well-experienced and highly skilled after-sales service team covering all provinces in China with service support.


GCBC Screw Briquette Press for Sale

Video of Rice Husk Briquette Making Machine
Benefits of Rice Husk Briquette Making Plant
1. Low cost and high profit. Rice husk is used as fertilizer for agricultural production, recycling is very simple and the price is very cheap. When processed into carbon rods, the selling price will rise, and the income will be several dozen times the original.

2. Convenient for plant construction. Generally speaking, it is advisable to build in a place with sufficient raw materials about 50 kilometers around the factory; in order to reduce transportation costs, processing can be set up in areas where raw materials are concentrated, saving costs and increasing profits.

3. The technology is easy to learn: Due to the improvement of the technical content, briquette equipment for rice husk is easy to operate, and it can be completely independent operation after 3-5 days of training in our factory.
With high-quality products, technical expertise and service items, we help customers create a large amount of profit, and use unified actions to promote the long-term development trend of the briquette equipment manufacturing industry. If you have any questions, please contact us!