Small Sheep/Goat Feed Pellet Making Machine
For sheep/goat, cattle/cattle, chickens, rabbits, fish, pigs and other animals, pelleted feed is more conducive to the digestion and absorption of nutrients. The pelleted feed will have strong paste smell caused by the high temperature and high pressure during the animal feed manufacturing process. And, the feed pellet usually has hard texture, which make it easy to eat by animals. Generally, feed pellets improves the palatability of the feed of animals since it conforms to the characteristics of rodents of pigs, cattle, sheep, etc.. The conversion rate of nutrition absorption of feed pellet is increased by 300%. Feed pellet is non-toxic and sterile, and is convenient for long-term storage and transportation. (Related Post: Animal Feed Production Business Plan >>)


Goat Feed Pellet Benefits
Small Sheep/Goat Feed Pellet Making Machine
Our flat die pellet mill is a new type animal feed pellet making machine independently developed by ABC Machinery through unremitting efforts of the research and development team and a number of technical experts. And we adopt the advanced technology that has priority over the domestic and overseas market. It can achieve the purpose of feeding dry in and dry out, one time pelletizing. (Related Post: 1 Ton/H Sheep & Cattle Feed Mill Plant >>)


Goat Feed Pellet Making Machine
Small Animal Feed Pellet Making Machine Structure
The goat feed pellet making machine is flat die pellet machine that is composed of power supply, gear box, transmission shaft, die plate, press roll, hopper, cutter, hoppe, etc.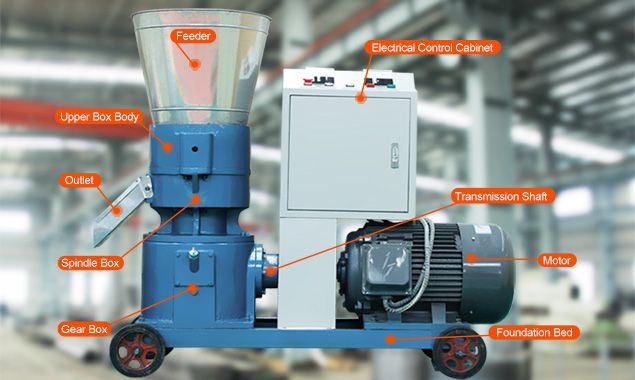 Animal Feed Pellet Making Machine Structure
Electric Control Cabinet: adopts the form of plastic spraying, with enhanced strength and toughness, and the shell will not break. Built-in safety electronic control system, fully compliant with CE standard operating system. The emergency stop button can be used for emergency operation.
Gear Box: made of high-quality cast iron with low noise and good shock absorption. Built-in gear rotation, compared with the traditional belt gear rotation efficiency, long life.
Upper Cabinet: built-in die plate and pressing roller, using high-quality alloy steel, hardness up to 55-60HRC, which can improve the service life. Different raw materials have different die to ensure the pelletizing effects. Different raw materials can be processed by adjusting the die to ensure the pelletizing effects.
Feed Formula for Making Goat Feed
| | | | | | | | | | | | | | | | |
| --- | --- | --- | --- | --- | --- | --- | --- | --- | --- | --- | --- | --- | --- | --- | --- |
| raw material | bran | corn silage | sweet potato | water caltrop | pondweed | herba violae | gaodan grass | duckweed | iodine | licorice | plus enzyme probiotics | chili meal | distillers | schisandra chinensis | linseed oil |
| part | 120-130 | 20-30 | 30-50 | 30-50 | 20-25 | 10-12 | 80-100 | 30-40 | 2-3 | 5-8 | 0.01-0.03 | 8-10 | 5-8 | 10-12 | 10-15 |
Choose BEST Feed Pellet Machine to Start Your Own Animal Feed Manufacturing Business
If you are going to set up your own animal feed pellet making business, choosing a high quality feed pellet mill machine would be the critical process for the sucess of your business. It is known that a small sheep feed pellet machine is about a few hundred or one thousand dollars in the market. And the price of large capacity feed pellet machine will reach tens of thousands of dollars. In fact, the key to choose an economical and durable goat feed pellet making machine is to choose a trustable and reliable feed pellet mill manufacturers. Only in this way can the quality of feed pellet equipment be guaranteed. Here listed some aspects you need to take into consideration when buying a good quality cost effective sheep feed pellet machine. (Related Equipment: Cattle Feed Pellet Making Machine >>)
Equipment Quality: Although the equipment provided by different feed pellet mill manufacturers looks the same, some details can still releave the advantages and disadvantages of the product. For example, it is a great way to check whether the wear parts, such as pellet die, press roll, are made of wear-resistant materials; Whether there are defects in welding parts and painting, and whether the electrical cabinet conforms to the standards.
Test Effect: If available, it is better for customers to the scene to test the machine to see how the pelletizing effect, whether the output is consistent with the manufacturer's description.
After-sales Service: Check selected manufacturer or supplier's service syetem: timely delivery, patient technical guidance, timely after-sales treatment in case of equipment failure, easy purchase of vulnerable parts, etc.
If you are going to start animal feed pellet making business or just buy one single feed pellet mill for your own use, ABC Machinery is a great choice. We not only provide customers with high quality equipment and comprehensive service, but also the most favorable factory price in the market and the customized feed production business plan. If you are interested in, please contact us to get the machine parameters along with FREE quotation!

Small Sheep Feed Pellet Machine for Sales
Simple structure, wide applicability, small floor area and low noise
Powder feed and grass powder can be granulated without (or a little) liquid addition. Therefore, the water content of pellet feed is basically the water content of the material before pelletizing, which is more conducive to storage.
The feed pellet made by this machine has the advantages of high hardness, smooth surface and sufficient internal curing degree, which can improve the digestion and absorption of nutrients and kill common pathogenic microorganisms and parasites, which can achieve higher economic benefits than mixed powder feed
The machine is equipped with various aperture molds of 2.5-10mm, which are suitable for pelletizing different materials to achieve the best effect.
In the same kind of pelletizing equipment, the roller part is the center part of the whole equipment, and the use of high quality alloy steel, the service life of the roller is improved
Suitable to make high quality feed pellets for poultry, livestock and aquatic animals, including cattle/dairy cow, chickens, layers, broilers, fish, shrimp, pigeon, pig, etc.
Small Sheep/Goat Feed Pellet Making Machine Operation Video
Processing Technology of Grass Pellets


Make Grass Pellets For Goat Cattle
The most critical technology for grass pellets processing is to adjust the water content of raw materials. The water content of the raw material must be measured first and then mixed to the required water content. According to the determination, using leguminous forage grass for grass pellet, the optimal water content is 14% ~ 16%; using forage grass of gramineous family for grass pellet, the optimal water content is 13% ~ 15%. (Related Post: How to Make Alfalfa Pellets)
The processing of grass pellet is usually done by animal feed pellet machine. Grass powder is stirred and squeezed in the process of rolling. Under normal circumstances, the temperature of the pellets coming out of the sieve hole is about 80℃, and the water content is generally reduced by 3% ~ 5% from high temperature to room temperature. Therefore, the water content of the grass pellets after cooling does not exceed 11% ~ 13%. Due to very low water content, the grass pellets are suitable for long-term storage without moldy metamorphism. (Related Post: How to Make Grass Pellets?)
Grass pellet processing can be prepared with different nutrient components of grass pellets according to the nutritional requirements of all kinds of livestock and poultry. The size of the pellet can be adjusted to the size of the mill, according to the requirements of processing. Pelleted feed is a feed with comprehensive nutrition and strong stability, not easy to break up in the water, not easy to pollute the water, easy to digest and absorb, save labor and other advantages, so it is favored by the majority of livestock, poultry and aquaculture farmers. (You may also like: Business Plan for Poultry Feed Production >>)