Set Up a Poultry Feed Processing Plant in Mexico


Poultry Feed Processing In Mexico
Poultry feed processing plant is becoming a hot business project to invest in Mexico expacially in recent years. If you are interested in start your own poultry food manufacturing factory in this Country, first of all, you need to know the local poultry feed production market. Here is an article about poultry feed processing industry in Mexico and how to set up your poultry feed mill plant step by step.
Poultry Feed Processing Industry In Mexico
During the last decades, South American countries, including Mexico, began to adopt a new economic policy based on market liberalization. These countries thought they would be more successful by focusing on foreign markets. However, some production sectors, such as animal feed producers, also serve the expanding domestic market. The increase in meat and dairy consumption in Mexico, which feeds a growing population of more than 110 million, made this country the fourth largest food product producer in the world.


Processing Mash Feed, Crumble Feed, Pelleted Feed for Poultry
Project Report: 10 ton/h Poultry Feed Plant
Development Potential of poultry Feed Processing Market in mexico
Mexico is the 5th egg producing and the 4th poultry producing country in the world, when we consider the size of the poultry feed processing industry in Mexico. For this reason, in Mexico, the demand for animal feed industry and the provision is high.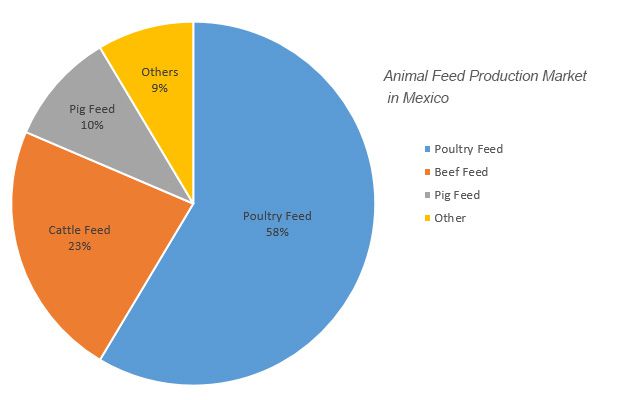 There are 400-450 production facilities in the livestock feed sector in Mexico, with approximately 260,000 employees. Approximately 80% of this capacity is used, and 12% of the country's animal feed production is made in Jalisco province, however, production plants are scattered all over the country. While annual animal feed production in Mexico ranges from 25 to 30 million tons, approximately 50% of it is poultry feed, 25% is cattle feed, 15% is pig feed and 10% is for domestic animals and fish.
Given the companies that produce feed for their poultry and companies that produce feed for third party buyers, it is observed that the companies that produce feed for their own animals produce about 60% of domestic feed production and about 40% of commercial producers. (Related Post: Poultry Feed Production in India)
Start Your Own Poultry Feed Processing Business in Mexico
The industry in Mexico is regarded to be growing at a pace about %2.5 yearly with a size of about 30 million metric tons. With its huge size of production and high employment capacity, this sector contributes significantly to the Mexican economy. Click here to see animal feed processing equipment for commercial feed mill plant >>


Mini Feed Processing Unit for Livstock and Poultry
Finally, here are some tips for you, if you have an intention of investing in poultry feed:
Make A customized Business Plan: First things first! Every startup should have a business plan for you poultry feed processing business. You should establish your step by step guide to what you are going to do for your chicken feed mill. If you are new for this feed milling field, feel free to contact us - a reliable and experienced poultry feed pellet mill manufactuer and we can help you make the business plan step by step.
Raise Funds: Do not loan money for buy the poultry feed machinery. Because, you have to see if you will be able to get the revenues and you should experience the market before going in debt. It will be perfectly better if you use your own sources in the beginning.
Focus on making one type of feed product: Don't try to produce everything, focus on one product type, and be as local as possible for the beginning. It will help you keep pace with your costumers and their needs more easily. Otherwise, you will have to follow all the animal types and all the region, which will let you down in your competition.
Be in close coordination with the poultry farmers in your area, this will help you keep the records of their needs and let you help them when they need you.
The cost for establishing a poultry feed manufacturing factory is closed related to the production output, factory layout design, equipmen included and requirements on final feed products. So if you interested in getting the exact cost for setting up a poultry feed mill in Mexico, welcome get in touch with us! We can offer customized project plan and high quality feed processing machine at cheap factory price!

The Main Grain Consumption Of Poultry Feed Processing Companies
Large-scale animal feed processing companies in Mexico are the main consumers of three main products: yellow maize, sorghum and soy. About 60% of these products are supplied from the US market and the rest are produced in the domestic market.


Maize, sorghum, Soybean for Processing Poultry Feed
Annual feed production is about 22 million tons. These feeds are yellow maize (8.4 million tons), sorghum (7.7 million tons) and soy (3.5 million tons of beans), as well as 2.4 million tons of other grains, mainly white maize. For yellow maize, national production has increased in recent years, but Mexico still meets only 1.4 percent (12 million tons) of national demand, compared to Mexico's self-sufficient white maize. As a result of the policies implemented, yellow maize imports increased from 3.1 to 10.9 million tons, 70 percent of which were used for animal feed production. Imports of sorghum have also decreased by 5 to 2.3 million tons over time. Because the demand of the animal feed industry, which consumed 85 percent of sorghum on the market, has changed both for maize and for sorghum. In the early 2000s, the industry used 70 per cent of sorghum and 30 per cent of yellow maize, but these rates changed over time in favor of yellow maize. The Mexican government provided subsidies for the companies and encouraged the use of white maize. This encouraged companies to buy grain from the state of Sinaloa, the main maize producer, to reduce the marketing problems that occur every year.