How to Choose Suitable Chicken Feed Making Machine?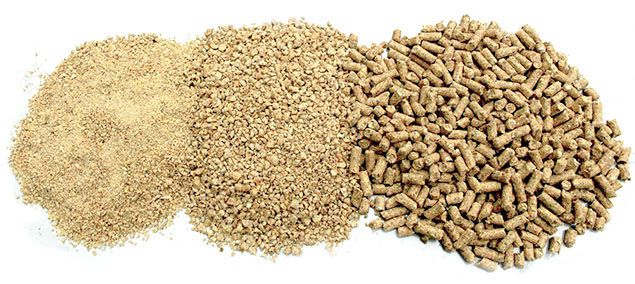 3 Common Types of Chicken Feed Products
Chicken are omnivores meaning they will eat almost everything they find. They can eat a snake, toads and other less exciting foods like rotten fruits, vegetables, and grass. They also feed on seeds and grain. They need the increase in nutritional requirements so as to increase their egg production. Healthy chicken requires sufficient amount of protein and carbohydrates with vitamins and adequate supply of water. So, what is the right diet for chicken? How to make the best chicken feed? Let's take a look at various types of feeds and their benefits to chicken. By knowing all these you can also be clear which kind of chicken feed making machine is suitable for your situation! (Related Project: 1 ton/h Poultry Feed Pellet Production Plant )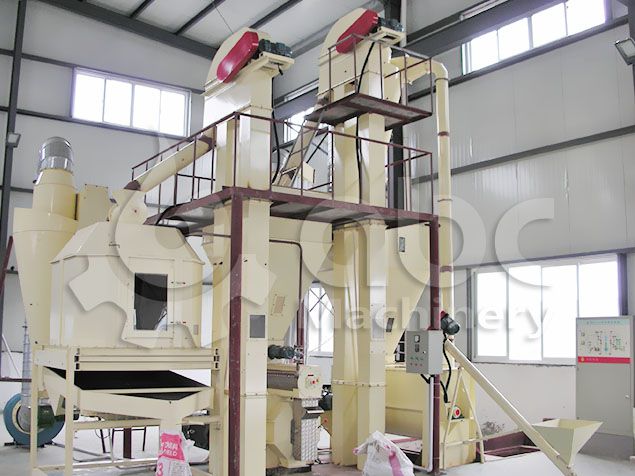 1-3 ton/hour Animal Feed Feed Making Machine for Sale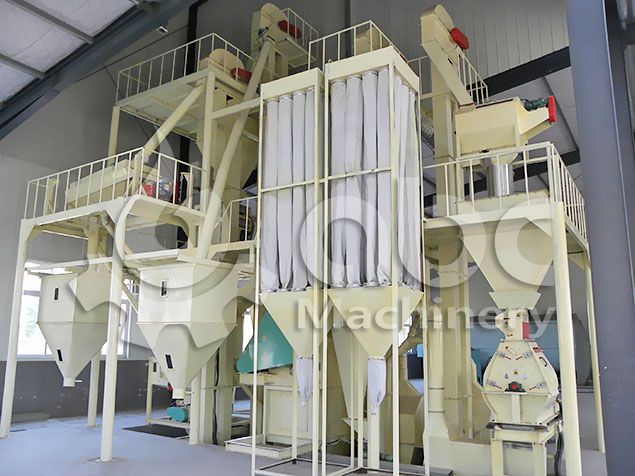 2-3 ton/hour Chicken Feed Making Machine Unit

Make Mash Chicken Feed


Feed Mash (left) Vs. Feed Pellets (right)
It's the loosen version of the chicken feed made by simply crushing and mixing. It's nutritionally complete feed that is in ground form. It's the finest variety of chicken feed commonly available and its texture is similar to that of potting soil. It's used for young chicks since it's easy to digest. This type is fit for chicks during the first 1-6 weeks. This kind of feed normally has the highest amount of protein which helps the newly hatched chicks to grow healthy and quickly. Some people make it into a porridge-like feed by mixing it with hot water so that it wastes less. This method, however, results in faster expiration of the feed. The downside of mash variety is that it has a very fine texture that results in a lot of wastage. Seting up a complete feed mash production line is not that complex.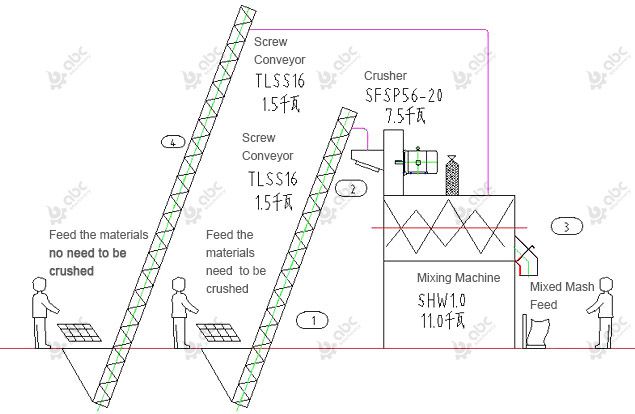 1 ton/hour Mash Feed Making Project Plan
Tell us your needs and we can help you make the best business plan with the most suitable chicken feed processing machine.

Make Crumble Chicken Feed


Feed Pellets Vs. Feed Crumbles
Crumble feed is generally produced by crushing, mixing, pelletizing and broking. Compared to mash feed it's easier to manage. Its texture mainly resembles that of oatmeal. This type of feed supports the growth of chicken after the first six weeks until the hens start laying eggs. When a chicken starts laying eggs there is also change in nutritional needs. Most people use the crumble to bridge the gap between mashes and pellets feed while others claim that their chicken loves the crumbly texture of the feeds.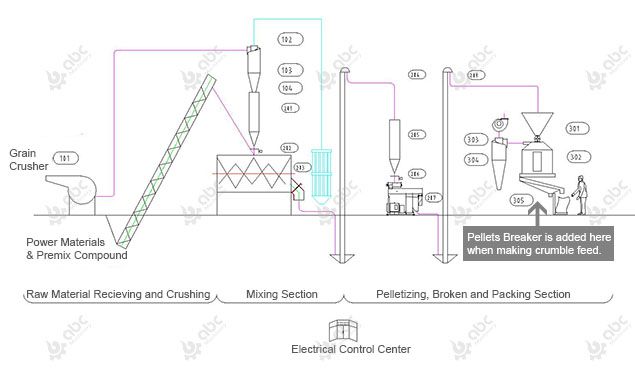 3 ton/hour Poultry Feed Pellet / Crumble Manufacturing Plant (Equipment Layout)
Make Chicken Feed Pellets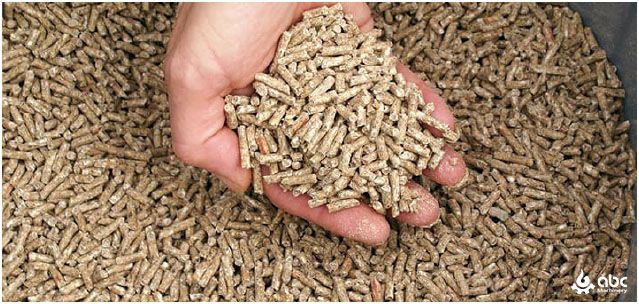 Feed Pellets for Broiler Chicken
Our Feed Mill Project
As a reliable and experienced supplier and manufacturer of feed processing machine, we can offer both single feed production machine and customized complete feed milling project. You can take the following two projects for reference. For more information about the included equipoment and detailed cost, feel free to send us an inquiry!

Feed pellets are made through the process of crushing, mixing and pelletizing. This type of feed is the most common type available. They are specially designed for productive hens. This feed has the right proportion of mineral, energy, and protein for the chicken since laying eggs depletes their energy. It takes around 24-25 hours for a chicken to create one egg, so your chicken should have their pellets all day long. Egg laying chicken requires calcium which is used in making of eggs. Oyster shells are often used since they are a source of calcium. If a chicken's digestive system is empty she can't manage to make any eggs, so ensure your chicken goes to rest with full crops at night. The good thing about the pellet type of feed is that it's less wasted due to its shape. It's easier to store, manage and serve.
---
Common Equipments for Industrial Feed Processing Plant
---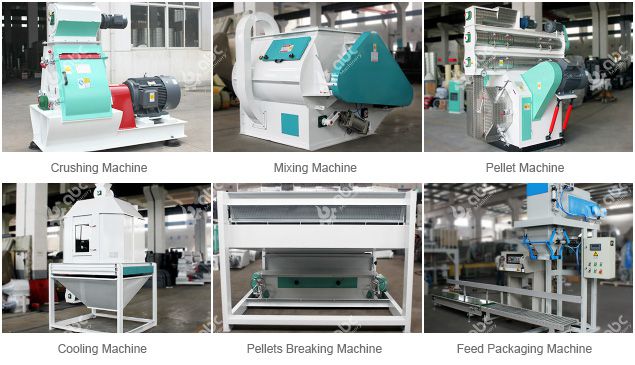 Both fine and coarse particle sizes serve different functions in chicken feeds. There should be an appropriate proportion of both ingredients use so as to enhance chicken's production performance. Their feeds must be kept clean and dry since contaminated feed can easily infect the chicken. Damp feed encourages the growth of fungus. Diseases in chicken can be easily avoided by ensuring proper maintenance and storage of the feeds. Also, ensure the feeders are well cleaned. A feeder is a device used to deliver feeds to the chicken. Feeds can be delivered through various types of feeders such as troughs and jar feeders. (Click here to get detailed info of ring die type animal feed pellet mill >>)