ZLSP 120Q Feed Machine
Feed Machine Parameters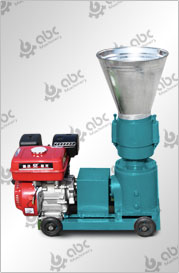 | | |
| --- | --- |
| Type | ZLSP 120Q |
| Driven by | Gasoline Engine |
| Power | 7.5Hp |
| Output | 60-100 kg/h |
| Weight | 120/140 kg |
| Package Size | 900x500x730 cm |
| Material | Corn, maize, wheat bran, rice, beans, leftover etc. |
| Application | Widely used for making poultry, cattle, cow, chicken (broiler or layer), fish, pig, sheep/goat and other kinds of animal feed pellets. |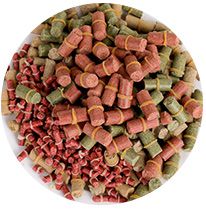 Fish Feed Pellets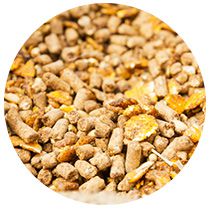 Chicken Feed Pellets
Cattle Feed Pellets
GEMCO is the brand name of animal feed making machine manufactured by ABC Machinery. This feed mill equipment is widely used for making fish feed, cattle feed, pig feed, and chicken feed. So some people also call it fish feed machine or cattle / chicken feed making machine. Actually, it has a much wider application field such as making feed for cattle, chicken (broiler and layer), pig, duck and many other livestock. The diameter and size of final pellets is adjustable. You can decide the size and ingredient depending on the eating habits of each animal. If you raw materials are mainly fodder grass or alfalfa hay, have a look at how to make grass pellets for feed.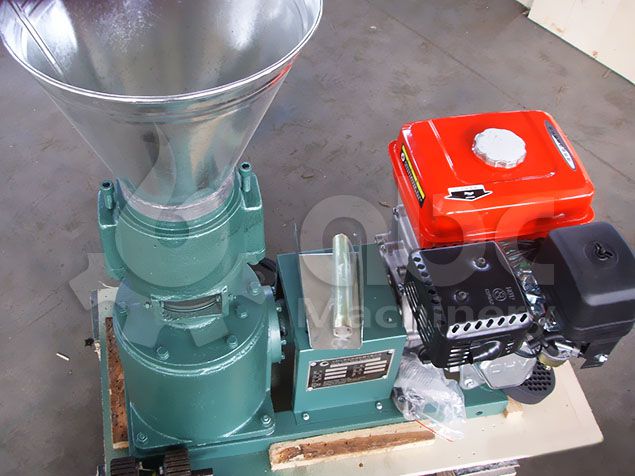 Details of the GEMCO Small Feed Pellet Machine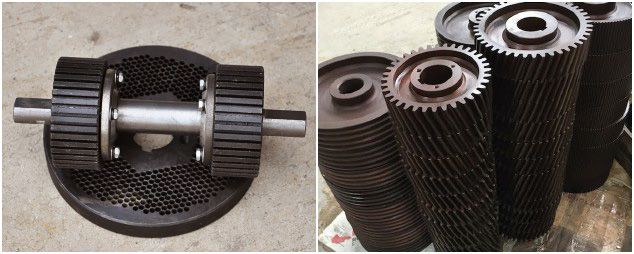 Pelle Die and Press Roller (Spare Parts)
This small animal feed machine is driven by gasoline engine. It is movable and convenient to use in the open air without electricity. Flat die poultry feed making machines have small size, simple structure, low noise and are very easy to operate even if for new beginners. It is adequate for home use and individual use.
Process of Making Pellet Feed for Fish, Cattle and Chicken

How Fish / Cattle / Chicken Feed Pellets Are Made in Pellet Machine?
ZLSP 120Q gasoline feed machine can process powder or mash materials into pellets directly, without adding any addition. After pelleting, the feed pellets will be easier to storage, cleaner and healthier than traditional feed stuff. High temperature generated during the pelletizing process can not only kill most pathogenic microorganism and parasite, but also help increase the digestibility and absorption of nutrition contained. Read more about how to setup a small cattle & poultry feed plant >>
Flat Die Mini Feed Making Machine Working Principle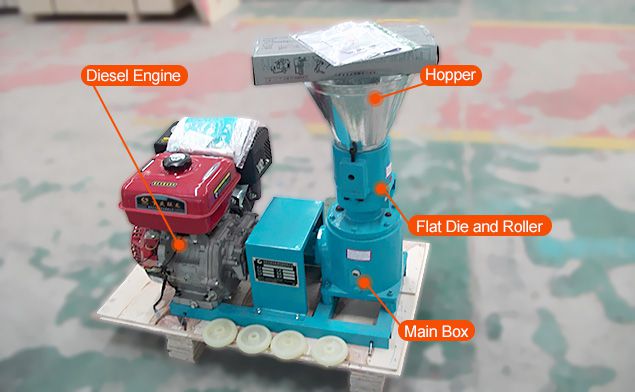 Feed Making Machine Structure
The gear box drives the main shaft and the die and have friction with the roller, and the resulting friction temperature (between the die roll and the die) can reach about 80°C. The material is then through the high temperature action, under the action of the press roll, through the hole in the die plate, and forms high quality pellets and discharged out from the outlet. Please note the length of the pellets can be adjusted by the position of the cutter bit.
The flat die equipped with the mini poultry feed machine is processed and manufactured based on the data from experiments of a large number of raw materials. Most of the raw materials can have a better effects to make pellets. However, if there are particle dust and low rate of pelletizing of your raw materials, in order to get the BEST pelletizing effects, please adjust the compression ratio according to the your raw material.
For mini poultry feed machine price, please contact us directly to get the full detailed specificatsion and costs of small poultry feed mill machinery. In addition to gasoline, we also have motor driven, diesel and PTO powered mini animal feed mill machine to fit your needs!

Start Making Your Own Livestock & Poultry Feed Pellets at Home


Make cattle feed, fish feed and chicken feed
The production output of feed mill equipment is varied based on different fodder materials. The capacity of our small feed machine for personal uses ranges from80kg/h to 450kg/h. (Detailed parameter list of our small feed machine for sale >>) The output listed in the parameter list is base on the feed formula of 65% corn / maize powder, 20% oilseed cake and 15% rice bran.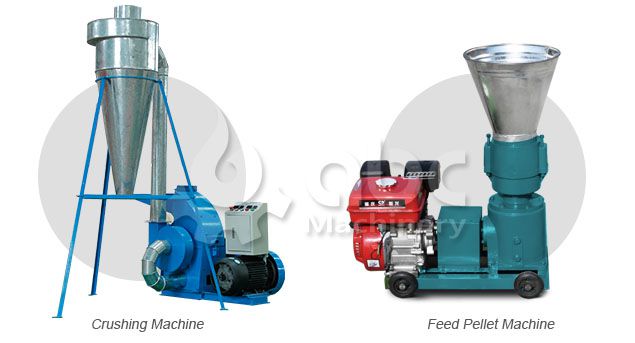 Feed Crushing: The raw feedstuff materials, such wheat, beans, oil cake, broomcorn, maize should be crushed into small particles or powder by using grain crusher machine.
Feed Mixing: Mix the feed materials according to your animal feed formula. It can be done by machine or by manual.
Feed Pellets Making: Put the feed mixture into the feed pellet machine to turn the powder fodder ino uniform pellets.
Cooling: Cool the feed pellets to room temperature and they can be used or storaged.
So, if your raw materials include large particles shuch as whole grain, long fodder grass, you are suggested to buy the small crushing machine along with the feed pellet machine to make your feed pellets manufacturing process easier. Besides, you can also enjoy a lower price to buy two equipment at a time!
Related Post: Animal Feed Processing Equipment for Complete Production Line

If you are looking for chicken feed making machine or fish feed making machine of small scale, ABC Machiner should be your first choice and we can ensure to offer the best wholesale price and all the feed processing machines are sold directly from our factoy - GEMCO! Just feel free to contact us for detailed quotation list!
Feed Pellet Machine Video
Choose The Right Feed Machine Supplier - GEMCO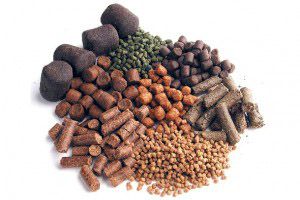 GEMCO is a top feed processing machinery supplier and manufacturer in China, specialized in feed production machines for many years. We focus on technology research and development. Our pig feed making machine, floating fish feed making machine, chicken feed mill and cattle feed machine can maximize the function and provide great profit and convenience for you. Only continuous innovation can promise high quality products! Buy from GEMCO, and we promise to offer you the most favorable feed making machine price, feel free to contact as for more information!