Choose a Pelletizing Machine for Dairy Feed Business
Dairy animals such as goats, cows, buffaloes, camels, etc. need to be fed nutritious food so that they can produce a good amount of milk every day. Dairy feed pellets have all the essential components mixed in them that are needed to make nutritive milk.


Dairy Feed Pellets Making Business
Feed pellet machines are used to manufacture dairy feed of different diameters (2 to 10mm usually) and size. A variety of raw materials such as rice husk, corn, wheat bran, etc. can be used to make nutritious pellets. The choice of raw material depends on the type of animals and their dietary needs. With the continuous improvement of the intensive production level of dairy cow breeding industry, dairy cows feed has been faced with a good development opportunity and starting dairy feed pellet making business is definitely profitable around the world. (Read more: Poultry Feed Business in Nigeria >>)
Cost-effective Pelletizing Machine for Dairy Feed Production
Animal feed processing equipment for dairy feed come in different sizes, designs, working mechanisms and price. You can buy one that suits your requirements and budget. Usually, large scale pelleting plant have more equipment and produce more pellets as compared to the small scale animal feed processing equipment. (Read more: Sheep/goat Feed Pellet Making Machine for Sale >>)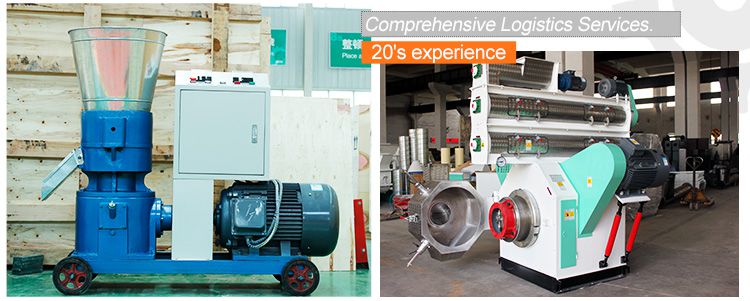 Pelletizing Machine for Dairy Feed for Sale
Generally, dairy feed making machine have two types:
Both are different in having a die of a different type. Since the die of dairy feed making machine is wearing part, animal feed machine manufacturers usually suggest to buy the spare parts with your pelletizing machine for dairy feed to reduce the cost of shipping. Generally, a large scale dairy feed pellet machine can produce 1 to 15T of pellets in an hour while a small machine can produce up to 1T in an hour. For detailed technical data and price list, just send your request to us directly, then we can quickly send you FREE quotation!

Benefits of Using a Dairy Feed Pelle Mill Machine
Dairy feed pellet making machines are a great source to convert waste material into nutritious animal feed. You can use a variety of raw materials in it to make any animal feed as per your needs or you can set up your own complete feed mill plant to start your animal feed manufacturing business. Pellets produced through it are hard and dense which makes them more usable. It is easy to use and needs only little maintenance with time. (Read more: How Much Does a Pellet Mill Cost?)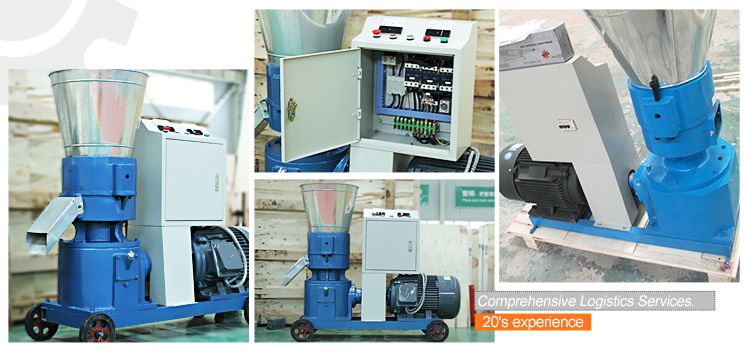 Small Dairy Cow Feed Pellet Making Machine
How to Make Dairy Feed through a Dairy Feed Pelletizing Machine?
Using a feed mill machine to make dairy feed does not need much skills and expertise. You can use it to make pellets that can be either sold in the market to make money or fed to your farm animals to lower the feeding cost. Following is the procedure of making feed pellets through a dairy feed pelletizing machine.

Dairy Feed Pellet Production Process
Purchase raw material from the market.
Reduce water content from the material through drying.
Convert solid raw material into a powder form by crushing them through a crusher.
Based on the nutrition needs of the animal, you can add more ingredients to it and mix it evenly.
The raw material is then fed to pellet making machine through a feeder. Then it will be converted into pellets with the help of rollers and dies. They will put extra pressure on the material and compress it to be changed into dense and hard dairy feed pellets.
Collect pellets that are coming out of the outlet of the machine.
Dry the pellets with hot air to make sure that no extra water stays behind. Now use a cooler to reduce the temperature of dried pellets and store them in a bag to be used later.
ABC Machinery can provide complete set of feed processing machines. In addition, we are also responsible for site planning, process design, equipment installation and operation training. Our purpose is to help customers build efficient animal feed pellet plant projects with low cost! Welcome to contact to have direct communication with our experienced engineers!
Small Pelletizing Machine for Animal Feeds
Cost-Effective Pelletizing Machine For Dairy Feed – Buy High Quality Feed Pellet Machine For Animal Feeds Making: HOT sale pelletizing machine for dairy feed offered by animal feed pellet machine manufacturer or supplier, guide on process of dairy feed pellet production and how to start dairy cow feed pellet making business with limited cost in Tanzania, Egypt, Morocco, Ghana, South Korea, etc.
Raw Materials for Making Dairy Cow Feed Pellets
Cereals
maize, barley, oat, wheat, triticale, rye and sorghum.
Seed from oleaginous crops
soy, flax, and sunflower.
Seed from legumes
broad beans, field bean and protein pea.
F

ora

ge
flours of permitted forage essences.

Dried beet pulp