What is Feed Pellet Machine?
Feed pellet machine is also named as pellet feed mill, fodder pellet mill. It belongs to animal feed processing equipment, which can directly extrude corn, soybean meal, rice husk, straw and grass into small pellets.

How to reduce animal feed costs and meet the nutrition needs of all kinds of livestock and poultry becomes the chief problem of the feed industry.
Straw biochemical technology means through crushing, fermenting and pelletizing, soften the lignin inside and turn straws or stalks into high quality fodder pellets which are easy to digest and have high nutrient value. Fermentation can make the fodder soft, sweet and increase the content of sugar, fat, crude protein, amino acid, arginine, cysteine and histidine, produce B, D, E and other vitamins and growth factors. Then, by mixing with other materials and pelletizing, you can get premium animal feed pellets. By this way, you can reduce crops dosage, save feed costs and increase incomes. GEMCO Feed Pellet Machine is your best choice!


Animal Straw Feed Pellets
The Classification of Feed Pellet Machine

ABC Machinery offers different types of feed pellet machines to fit different feed pellet production capacities.There are flat die feed mills and ring die feed mills. According to application, it can also be divided into small household pellet feed machines, poultry feed pellet machines, small poultry feed mill, fish feed pellet making machine, rabbit feed mill press, pig feed pelletizer and corn straw pellet press. According to production, it can be divided into mini type, small type for home use and large type for industrial use. If you are going to buy an ideal feed pellet machine, there is always one type suitable for your request BEST. For any questions or the latest price, please feel free to contact us anytime!

Global Market of Animal Feed Pellets
Even though pelletizing technologies originated in Europe in the 1930s, developing countries take a major market share in the feed pelletizing agents market.There is huge market demand for animal feed pellets in India and Southeast Asia as the ingredients, labor, and land available at a cheaper cost. In addition, North America and Europe are competing for a major share in the market.
We can see from the chart below that the global animal feed pellet market demand is also growing rapidly in the next few years. Therefore, it is a profitable business to purchase several feed pellet production lines and establish your own animal feed pellet factory.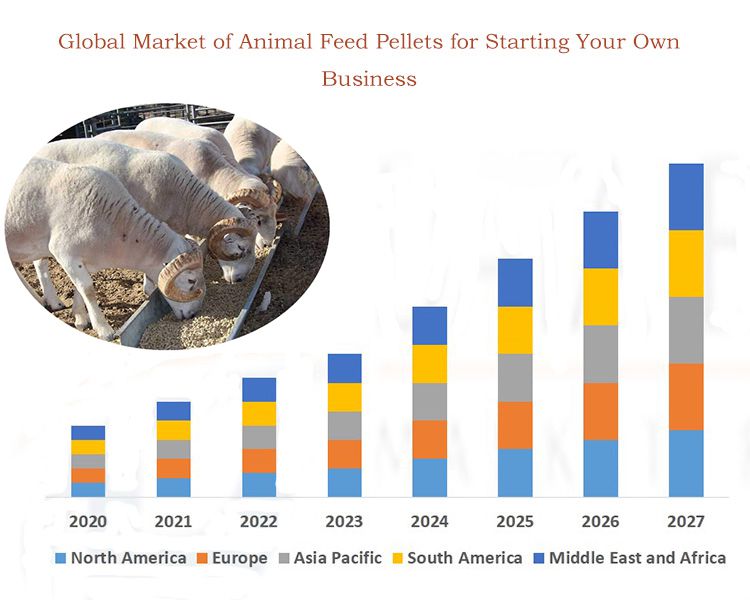 Pellet Pressing Machine in Animal Feed Pellet Manufacturing Plant
The Uses of Feed Pellet Press Machine:Animal Feed Pellets Press is widely used in large, medium and small aquaculture, grain feed mills, animal farms, poultry farms, individual farmers and small and medium-sized farms, or large, medium, small feed mills.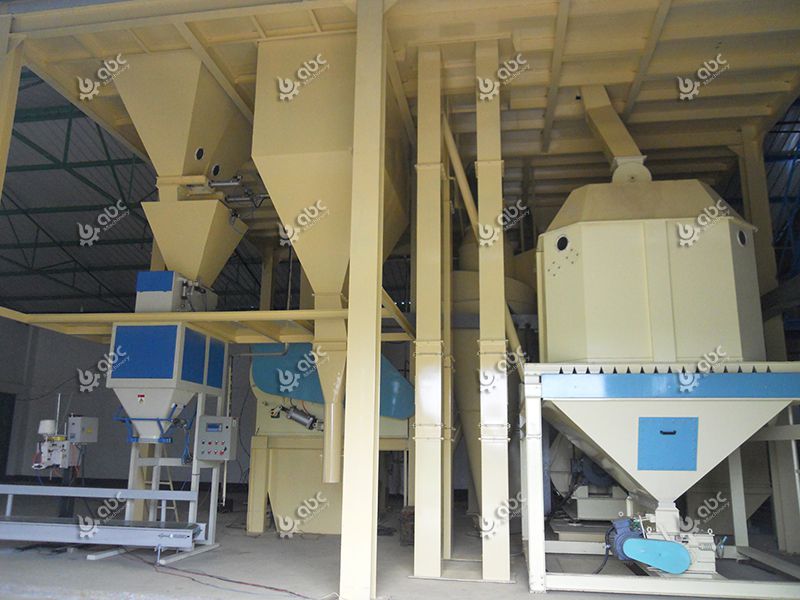 6~8TPH Feed Pellet Production Line
Video of Complete Feed Pellet Production Line
How to make feed pellets for different animals? – buy high quality feed pellet machines for feed pellet making: ABC Machinery's hot sale feed pellet mill offered animal feed processing machine manufacturer or supplier, guide on process of animal feed pellet production and how to start animal feed pellet making business with limited cost in Tanzania, Egypt, Morocco, Ghana, Uzbekistan, Lithuania, Nigeria, Tanzania, etc.
Generally, a complete feed pellet production line is made up of feedstock crumbler, hammer mill, dryer, mixer, feed pellet mill, cooler, packing scales and more. But, all the equipment should be chosen based on the properties and pellet process of your raw materials.
If there are any questions about setting up a small oil press production line, please let us know! We also supply brickettes machine and wood pellet mill for making bio-fuel. View our website gcmec.com or send us an inquiry for detail information.