4ton/h Animal Feed Processing Equipment Uzbekistan
Project Item: 2-4ton/h Small Feed Processing Plant
Factory Location: Uzbekistan
Date to Start Construction: Augest 14th, 2018
Date of Completion: September 17th, 2018
Main Feed Formula: Wheat, maize (corn), rice bran, oil-seed-meals of sunflower seed and cotton seed, etc.
Main Processing Flow: Feed crushing, feed mixing, feed pellets making, pellets cooling and bagging.
This complete set of livestock feed processing machine was shipped to Uzbekistan in May. Our engineers arrived at the construction site on Augest 14th. After about 2 months of project construction and debugging, on September 17th 2018, a small poultry & livestock feed mill has complete and start normal feed production in Uzbekistan. The feed mill runs smoothly ever since.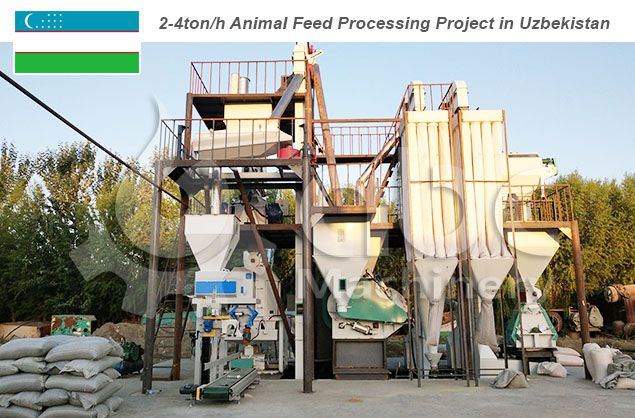 2-4ton/h Animal Feed Processing Equipment in Uzbekistan
This is just one of many feed processing facilities that we have exported to Uzbekistan. With decades of experience in desiging and manufacturing feed machine including feed crusher, feed mixer, feed hammer mill, feed pellet machine and complete feed processing plant, ABC Machinery is sure to be your best choice when planning to start poultry or cattle feed processing business in Uzbekistan. Due to competitive price, reliable quality and perfect after-service, ABC Machinery (brand as GEMCO) has achieve high customer satisfaction and market recognition in Uzbekistan. Our company has passed the ISO9001 Quality System and CE Certification. Our equipments has been sold to over 50 countries. Choose ABC Machinery, choose a better way to boom your animal feed business in Uzbekistan! (Related Post: 5ton/h Cattle Feed Plant Project Cost )
Photo Display of the Small Feed processing Plant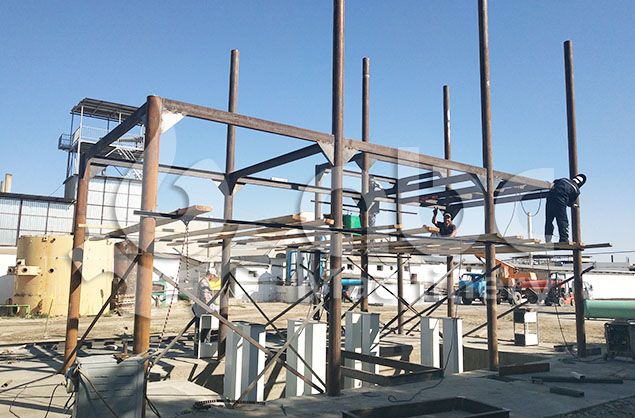 Poultry & Cattle Feed Plant under Construction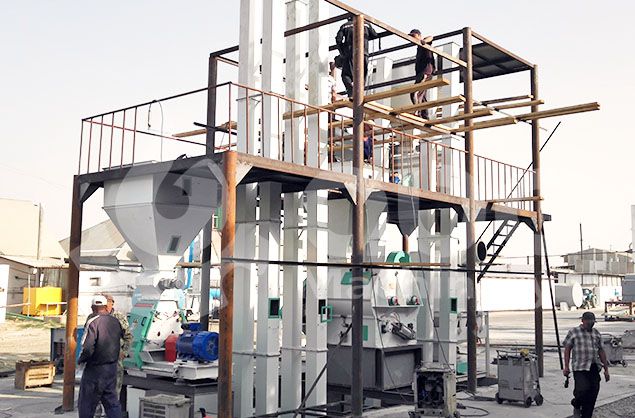 Feed Equipment Details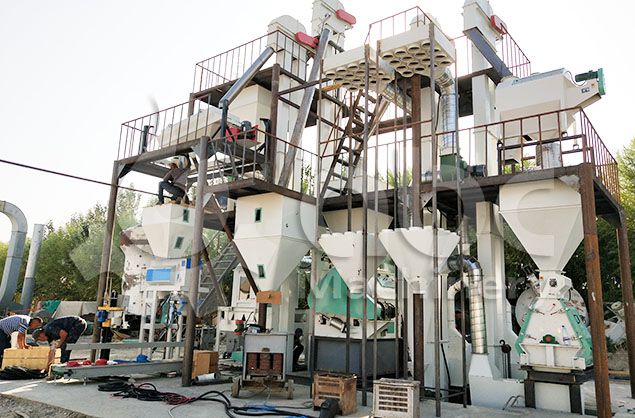 Livestock Feed Processing Factory Setup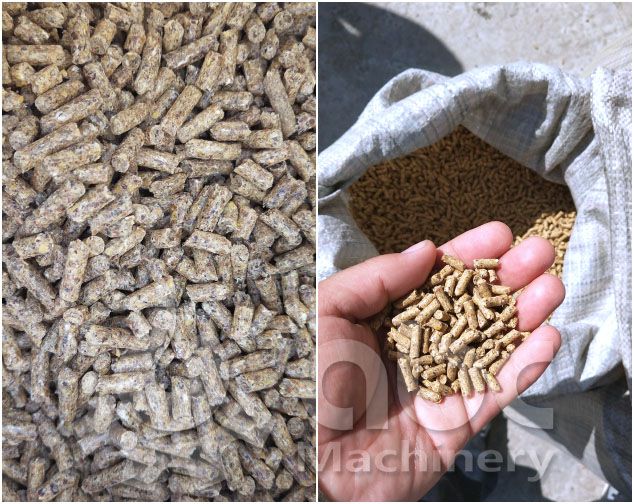 Make Feed Pellets for Chicken, Sheep or Cattle, etc.
Video: Small to Medium Scale Animal Feed Pellet Manufacturing Plant

Animal Feed Production in Uzbekistan
With a population of about 32 million, Uzbekistan is seen as a populous nation in Central Asia. Sustainable agricultural development and food security is always an important strategic issue for the Uzbek government. The contribution of agriculture to Uzbek GDP has reached about 20% (rand the 3rd) in recent years. And agriculture is becoming one of the fastest-growing industries in this country. (Read more about how to make the best livestock feed production business plan >>)
Animal Husbandry and Feed Business in Uzbekistan
Stock farming (including poultry & cattle) accounts for more than 40 percent of Uzbekistan's total agricultural production. Livestock production including meat, milk and egg has grown by 21% in the past five years, which includes 27% of cattle and sheep, and the local poultry production has doubled. There are more than 400 farms existed and over 100,000 animals farmed in Uzbekistan.
Through the above market analysis, it is obvious that there is great potential and profit to start animal feed manufacturing business or open feed processing company in Uzbekistan. Small scale feed processing factory is a very popular project item to invest in.
Read about Indian Animal Feed Production Market >>

Crop Pattern in Uzbekistan
Wheat
43.2%
Cotton
40.8%
Feed / Fodder Crops
8.2%
Vegetables
4.5%
Others
3.3%
Animal Feed Processing Methods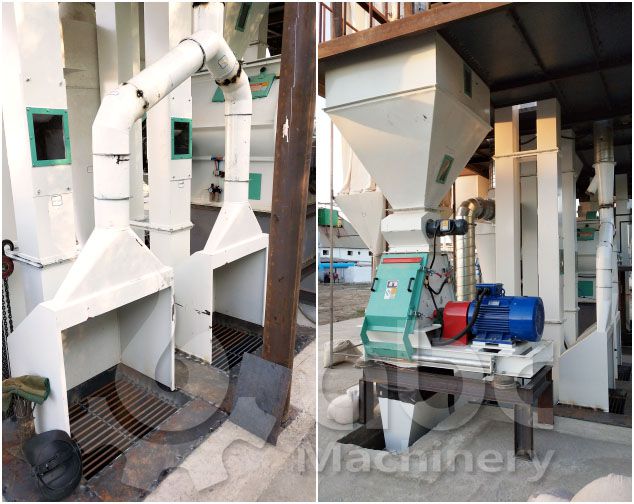 Fodder Inlet (left), Feed Crusher (right)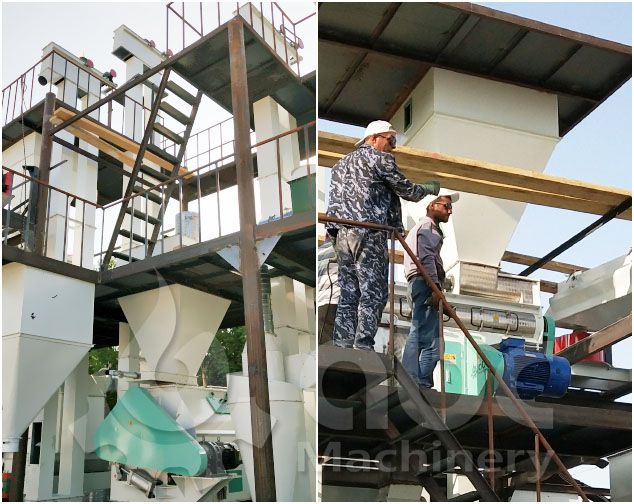 Feed Mixing Process (left), Feed Pellets Making Process (right)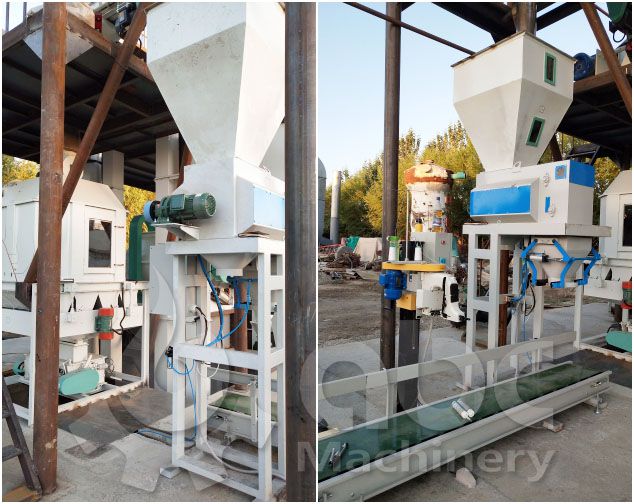 Feed Pellets Cooler and Bagging Machine
The following is the basic process of animal feed pellet production. Just feel free to send us an inquiry to get more suggestion on animal feed manufacturing process design!
Cleaning Section: To guarantee high quality feed products, proper cleaning machine is selected depends on your raw material situation, to remove impurities (bad grain/seeds, stones, mud, etc) in the raw fodder materials.
Crushing Section: In most cases, the raw materials are crushed separately before mixing. It is very important to set the most suitable crushing fineness based on your production purpose - the feed pellets are used to feed what kind of animal? Poultry or cattle? For which stage of animal growth? (For grain and oil-seed-meals, the crushing fineness is generally around 01.mm, while it should reach 0.1mm for crop straw.)
Mixing Section: The crushed feed ingredients will be mixed together. Microelement additives, and protein feed are also added in this process.
Animal Feed Pellets Making: The mash feed will be compressed to uniform pellets in animal feed pellet mill. Steam is injected in this process.
Feed Pellets Cooling & Bagging: The produce poultry or cattle feed pellets are cooled to room temperature, and then be sieved and packaged in the bags of whatever size you want.
How to Choose Animal Feed Processing Equipment in UZ?
Tips for selecting the most suitable animal feed processing equipment for your feed mill in Uzbekistan
Nowadays, pellet feed has been used by more and more farmers. So, the the utilization rate of animal feed pellet machine is also increasing than ever. However, how to choose an ideal feed mill machine has been bothered many raisers, farmers and more. A lot of raisers do not understand the principle of feed machinery, especially the animal feed pellet machine, so they usually buy the animal feed pellet machine from a small manufacturer at will due to the cheap price. However, the feed production efficiency is usually worse than expected, which definitely affects the economic benefits of the farm directly thereby. Therefore, in view of the various "failure" experience of the majority of farmers, we hereby summarize the main points about you should pay attention to when buying the feed pellet making machine.
Main Types of Pelleted Feed Processing Machine for Sale
At present, several animal feed pellet machine types are available in the market, which can be divided into three types: Flat Die Pellet Machine, Ring Die Pellet Machine, and feed extruding machine. (Contact us now to get the best small cattle feed machine price!) Feed extruding machine is mainly used for make floating feed for fish and shrimp, so it is a good reference for fish farmers. So, which feed pellet machine should be chosen for livestock raising on land? There are 3 aspects you should notice!
Choosing from Pellet Feed Needs - Production Capacity
Generally speaking, flat die pellet machine is suitable for small and medium-sized farms, because its output does not need too much, so flat die pellet machine output almost can meet the feed production needs. In addition, the large feeding port of the flat die pellet machine is perpendicular to the granulating part, which is quick and convenient to granulate, and can also be manually added to facilitate the feeding. It is worth mentioning that the pellet feed made by the mechanism of flat die pellet machine is of great hardness and smooth surface, without adding water or oil, which is very suitable for farmers with small demand.

Choosing from Raw Materials Used for Making Pelleted Feed
The content of grass powder in feed raw materials is relatively large, so it can be considered to use simple straw powder granulator or flat die pellet machine, which is mainly based on its laying-off level. If you need to use the ring die pellet machine, it is necessary to be equipped with forced feeder and uniform speed feeder and other equipment.

Choosing from Dust Control
Compared to flat die pellet machine, the sealing ring die pellet machine is better and can't produce too much dust. Ring die pellet machine is usually connected with boilers or steam engines provided by the farmers or equipped in the animal feed processing plant to mix water vapor to the feed, which not only can improve the maturation degree of feed, but also can improve the luster of the feed.
In summary, the price of flat die pellet machine is less than that of ring die feed pellet machine. When choose the ideal animal feed processing equipment, it is better to consider all sorts of factors adequately, instead of making a decision carelessly just for the cheap price.