Guide on Animal Feed Pellet Production Line


Feed Pellets Production Technology for Poultry and Livestock
Compound feeds are mostly employed in the animal feed business as pellet feed and mash feed. In recent years, due to its simple transportation and good economic efficiency, animal feed pellets have become an increasingly popular choice among animal feed investors. (Related Post: What is Feed Pellet Machine)
Animal Feed Production Technology Plays a Vitally Significant Role in Animal Feed Milling Plant
Therefore, for investors planning to set up their own feed processing plant business, It is the best choice for companies with many years of experience in producing and selling animal feed pellet production equipment! That is to say, if you are interested in animal feed production, please choose a feed production machine suppliers who has experience and production technology for your purchasing.

What Are the Factors Affecting the Quality Feed Pellets Production?
Animal feed pellet quality can be affected by various factors, mainly from the formulation of animal feed pellets as well as the feed pellet production process and technology. The following are some of the main factors that affect the quality of feed pellet products.
Feed Ingredients Components and Formulas
Components and formulas vary in their ability to pellet and generate long-lasting pellets. Even the nutritional composition of the same feed ingredient varies depending on its origin. For example, corn is one of the main raw materials for feed, different regions of corn, sugar content, amino acids and protein will vary.
Different Production Processing Technology
Raw material cleaning, powdering, batching, mixing, pelleting is the five main processes of feed pellet processing, each step has a key point affecting the quality of animal feed pellets, if the raw material cleaning and storage conditions, the fineness of the crushing requirements, the precision of the batching system, the mixing uniformity of the mixer and pelleting process debugging or puffing effect and other management measures are not strictly enforced, will cause differences in the nutritional status of feed products.
Completely Animal Feed Pellet Production Line Process and Technology
Animal feed pelletizing systems are made up of a variety of machinery, such as crushers, mixers, pelletizers, coolers, packers, and so on, all of which are designed to accomplish the granulating operation as efficiently as possible. We will provide more detailed details on each machine's function eventually.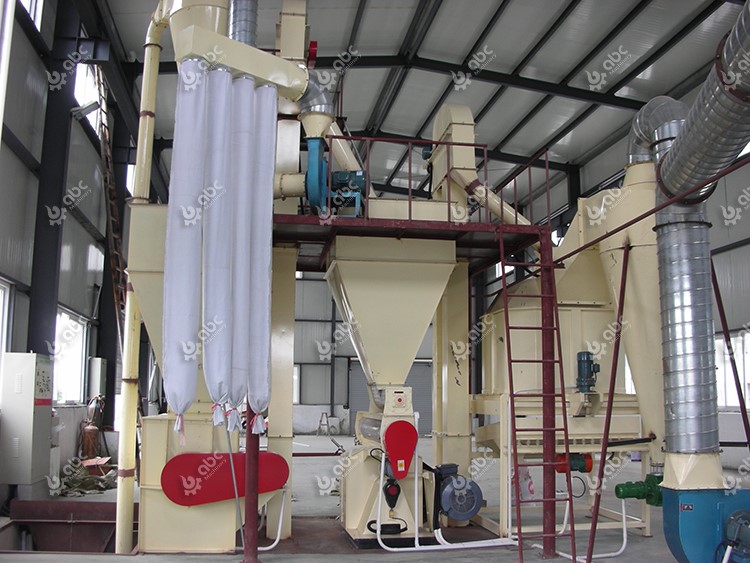 Complete 1-3Ton/Hour Animal Feed Pellet Unit
Horizontal hammer mills, roller mills, and vertical hammer mills are all forms of crushing machinery. The vertical hammer mill is the primary development model, according to comprehensive metrics. Using combinations in the process to meet demand has become a trend in feed manufacturing.
The following are the primary elements influencing the performance of the existing feed mill crusher:
the physical properties of raw materials

feeding system rotor turning and feeding direction

the choice of crusher screen aperture

hammer blade selection
The primary goals of mixing and processing equipment research are to enhance mixing uniformity, reduce mixing time, and increase output per unit of time. Horizontal screw belt mixers, horizontal paddle mixers, and horizontal twin shaft paddle mixers are some of the most regularly used mixing equipment.
Feed Pellet mills are not designed to crush or digest blends.
It is fed into the pellet mill bin, located above the pellet mill. The mash is fed into the pellet maker by gravity. Gravity feeds the hot, squeezed mash into the cooler. The flowing air cools and dries it for 3–6 minutes. The dust collected by the dust collector is returned to the pellet mill to be squeezed and compressed again.

Cost-effective Aniaml Feed Pellet Making Production Line
Motor-driven Feed Mill (Model B;Motor exposed to the outside)

| Type | Power | Output (kg/h) | Weight (kg) | Package Size (mm) |
| --- | --- | --- | --- | --- |
| ZLSP 120B | Three phase 3kw / single phase 2.2kw | 60-100 | 80/100 | 750x320x680 |
| ZLSP 200B | Three phase 7.5kw | 200-300 | 200/230 | 1650x820x1200 |
| ZLSP 260B | Three phase 15kw | 400-600 | 320/360 | 1180x540x1000 |
For more detailed information and to customize your own feed pellet mill, please click here:Motor-driven Feed Equipment>>>
Dosing and Packaging Process
There are two methods for producing dosage and packing.
Hands-on operation: bagging, placing, and weighing and slitting

Weighing on an automatic dosing scale - hand bagging and packing - conveying and sewing
Feed Pellet Production Processing Video
We are proud to have experience in animal feed pellet processing equipment for family farms or corporate groups. If you are interested in purchasing an animal feed pellet line, please feel free to contact us for a detailed processing solution and the latest equipment prices and business costs.