Extrusion Feed Processing Plant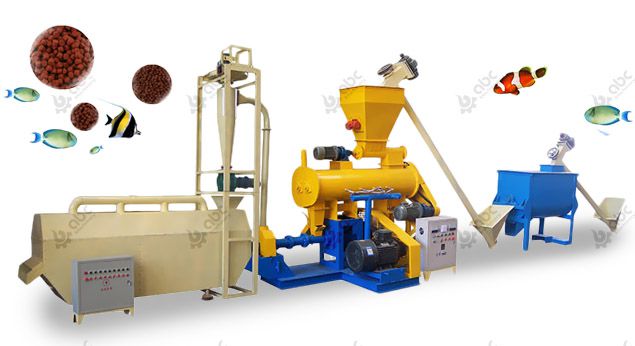 Small to Medium Scale Feed Extrusion Line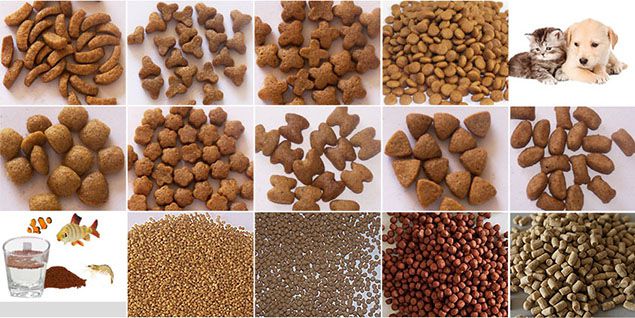 Make Extrusion Feed for Aquatic animal and Pet
In the feed extrusion process, the feedstuff actually go through the condition of high temperature, high humidity and high pressure. When the feed pellets are discharged from the pellet die holes, the pressure is dropped from high pressure to about 100kPa, and the moisture in the feedstuff immediately transforms from liquid to gas and distributes out of the feed. As a result, the feed materials expand and form the so-called extrusion feed.
Dry-tye Extruder and Wet-type Extruder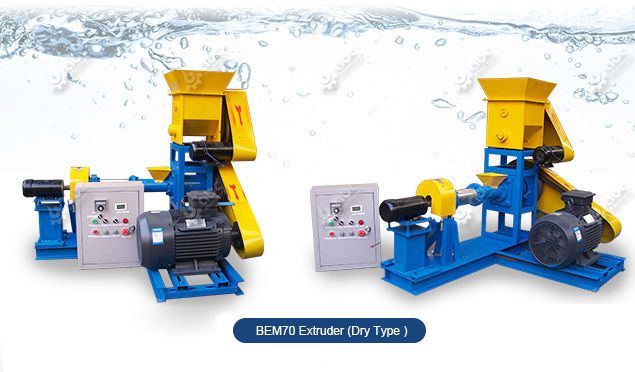 Our extruder machines are designed with auto feeding system, auto temperature control system and electric heating device to improve production efficiency. Besides, it is eay to control the feed floating time by adjusting the puffing degree.
The dry type extruder refers to the ones without conditioner, just as shown in the above picture.
Dry Type Feed Extrusion Machine Parameters

Model
Capcity
Screw Diameter (mm)
Main Power
Package Size (mm)
Weight
BEM40-C
30-40 kg/h
φ40
5.5kw
1400*1100*880
310kg
BEM50-C
60-80 kg/h
φ50
11kw
1450*1120*900
360kg
BEM60-C
120-150 kg/h
φ60
15kw
1470*1150*900
386kg
BEM70-B
180-200 kg/h
φ70
18.5kw
1500*1320*950
640kg
BEM80-B
200-300 kg/h
φ80
22kw
1800*1500*1000
790kg
BEM90-B
300-400 kg/h
φ90
37kw
2300*1640*1000
950kg
BEM120-B
500-600 kg/h
φ120
55kw
2330*2000*1200
1850kg
BEM135-B
700-800 kg/h
φ133
75kw
2330*2030*1200
2050kg
BEM160-B
1000-1200 kg/h
φ155
90kw
3100*2650*1800
3600kg
BEM200-B
1800-2000 kg/h
φ195
132kw
3100*2850*1900
4322kg
---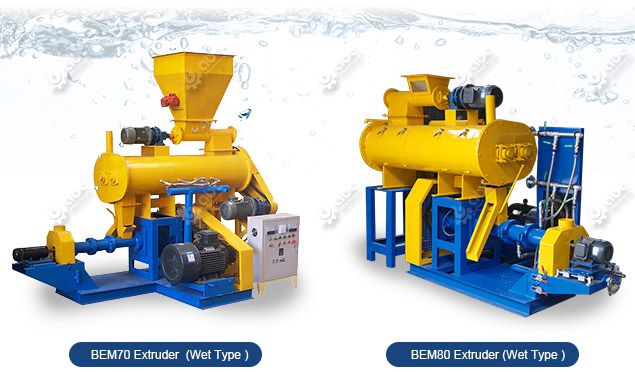 The wet type feed extruder is designed with a conditioner. Compared with the dry type ones, wet type extrusion machines have higher production capacity. This is also wet type extruders are suggested in most large scale production line.
Wet Type Feed Extrusion Machine Parameters

Model
Capcity
Screw Diameter
Main Power
Power of Conditioner
Package Size (mm)
Weight
BEM60
180-200 kg/h
60 mm
15kw
0.75kw
1600*1150*900
540kg
BEM70
300-400 kg/h
70 mm
18.5kw
1.1kw
2000*1600*1200
860kg
BEM80
500-600 kg/h
80 mm
22kw
1.5kw
2300*1600*1500
1148kg
BEM90
500-600 kg/h
90 mm
37kw
2.2kw
2600*1800*1500
2000kg
BEM120
700-800 kg/h
120 mm
55kw
2.2kw
3200*1950*1500
2100kg
BEM135
1000-1200 kg/h
135 mm
75kw
3kw
4000*1980*1500
2250kg
BEM160
2000-2500 kg/h
155 mm
90kw
4kw
-
4400 kg
BEM200
3000-4000 kg/h
195 mm
132kw
5.5kw
-
5100 kg
Aquatic Feed Processing Plant
The processing of aquatic feed is far more demanding than that of livestock and poultry feed processing, since aquatic animals such as fish and shrimps have small gastrointestinal tracts and poor digestion and absorption. This also why it is particularly important to select the right equipment for setting up aquatic feed processing plant.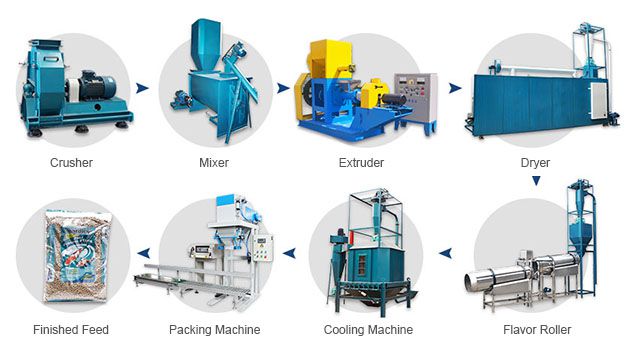 4 Things You Should Know Before Starting Your Feed Mill
To choose the right aquafeed processing equipment, you must understand the characteristics of aquafeed firstly.
Small particle size: Due to the short digestive tract of aquatic animals and related physiological characteristics, in order to speed up digestion and absorption, aquafeeds should have a smaller particle size than livestock and poultry feeds, such as salmon and prawns, the feed size should be 80 ~120 mesh.
High protein content and low carbohydrate content: The protein content of livestock and poultry feed is generally less than 20%, while the protein content of aquatic animal feed is mostly 30-40%, and the protein content of turtle and catfish feed is as high as 65-70%.
High adhesion and water resistance: For some kind of fish feed, shrimp feed, the stability in water should be maintained for more than 2 hours.
Aquaculture feed production is strictly prohibited for cross-contamination. Some raw materials need to be aseptic processed. When selecting extrusion feed processing equipment, make sure it has little residue and is easy to clean, especially when when producing shrimp and squid feed which is not allowed to simultaneously produce other kinds of feed to prevent cross-contamination.
To start fish feed processing business and produce high quality aquafeeds, choose a reliable and stable feed processing machinery should be the very first step. Besides, you must rely on feed nutrition scientific, reasonable processing techniques and combine them with advanced. ABC Machinery is an experienced manufacturer and supplier of feed machine and feed plant. We offer more than equipment, but also technical support and guidance.
Extrusion Feed Vs Compressed Feed
Extrusion feed is made by feed extruder, while compressed feed is made by feed pellet press.

Common Points: Both the extrusion feed and compressed feed have the advantages of good palatability, avoid picky eaters, easy to transport, help digestion, reduce waste in the feeding process, etc. But extrusion feed also has some unique advantages listed below.
Extrusion Feed Superiority: Starch gelatinization in the feed is high, the protein is more easily digested, and the utilization rate of the animal feed is improved. What's more, expanded feed has excellent floating property, and it is more convenient for the observation of the feeding condition. Besides, the water pollution can be controlled to the maximum extent. These are also the main reasons for the widespread use of extruded feeds.
For more advices on fish feed and pet food extrusion production or customized solutions on starting an extrusion feed plant, just send us an inquiry and you can enjoy our "one to one" service!