1-2ton/h Small Animal Feed Manufacturing Process Design
1t/h-2t/h small animal feed manufacturing process is specially designed for meeting the demand from our clients, which can process the animal feed pellets with the size varying from 1.5 mm to 12 mm based on the requirement of the customers. It is mainly used for making animal feed pellets on cattle or poultry farms, in small animal feed factories, and for invetors to start animal feed business.


Best Animal Feed Manufacturing Process Plant Design
As one professional animal feed manufacturing equipment manufacturer and supplier, ABC Machinery can not only offer the small scale animal feed process, but also provides turkey feed milling project plan for making animal feed pellets, mash feed and crumble feed with multiple sizes.(Read more: small cattle feed manfuacturing plant >>)
Main Machines of 1-2TPH Small Animal Feed Manufacturing Process Plant
The 1-2 ton per hour animal feed production plant is specially designed and manufactured for one of our clients, which is suitable for producing both poultry feed and livestock feed, including cattle, sheep, cow, pig, birds etc., while some equipment choices may vary. Before running your own animal feed production plant, view the factory layout of this small feed processing plant for reference. Here is the main necessary equipment for the small animal feed processing plant. (Read more: chicken feed production process>>)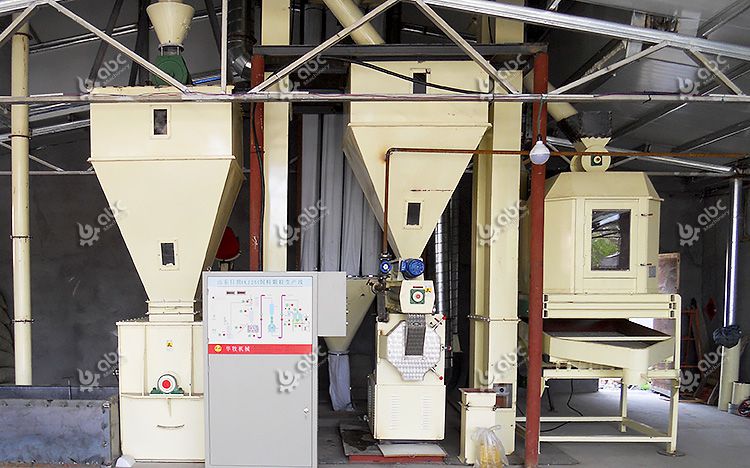 Main Equipment of the Small Feed Pellet Mill Plant
Animal Feed Manufacturing Process Design Display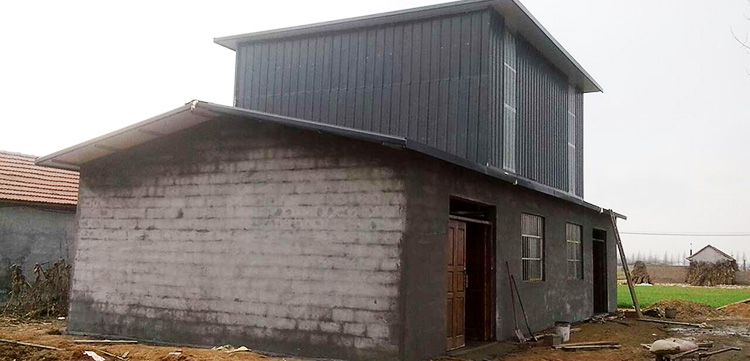 Forage Processing Workshop



Feed Milling Factory Construction



Animal Feed Production Factory Design



Layout Design
If you are a farmer and want to buy a small chicken feed making machine for your own use. Welcome to contact us to get a complete and customized animal feed manufacturing business plan with detailed cost information!
Video of Small Animal Feed Manufacturing Process
Here is the running video sent from our customer, if you have any questions about the small scale animal feed production process, please contact us for more information!

Customized Animal Feed Production Process Design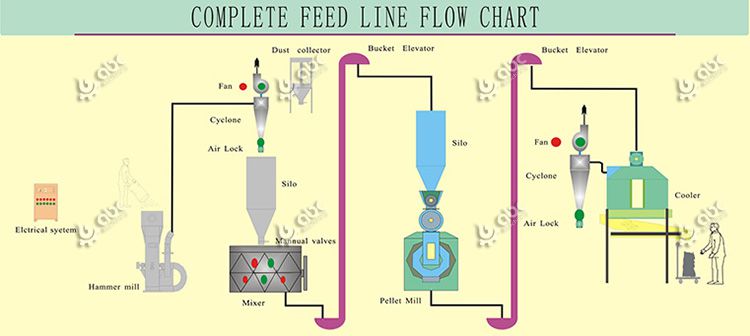 Livestock / Poultry Feed Manufacturing Process Flow Chart
The manufacturing process of animal feed can be divided into several stages, and there is one specialized feed processing equipment for each stage of the production process. According to the raw materials conditions, the making process can be added or reduced, we customize the production line for our clients! (Related article: 5ton/h animal feed plant layout and design>>)
Step 01: Raw Materials Reception and Cleaning Process
The first stage involves receiving and cleaning the raw material such as grain, beans, grass or fish meals used for making pellet feed.
Step 02: Feed Crushing Process
The material is then passed into the hammer mill, where it is ground into a size which is suitable for making feed pellets.
Step 03: Feed Mixing Process
The crushed fodder materials are then passed through a feed mixing machine, where different ingredients are added to the feed raw material to ensure that the finished pellet contains all the required nutrients.
Step 04: Animal Feed Pelleting Process
The pelletization stage is the most important stage in the animal feed mill, since the feed powder is converted into pellets of the desired size and shape. Compared to the flat die feed pellet machine, the ring die feed pellet machine has a larger capacity. See more information about our animal feed mill equipment for sale >>
Step 05: Feed Pellets Cooling Process
The feed pellets are produced at a temperature of 88 degree centigrade and have a moisture level of 17-18%. For cooling, drying and storage, the moisture level should be reduced to 10-12% . Hence the feed pellets are passed through the pellet cooler, where they are cooled to a temperature which is close to room temperature, dried to reduce the moisture levels.
Step 06: Feed Pellets Packaging
After the animal feed pellets are produced, a semi automatic packing machine is used to put the pellet feed in bags so that they can be stored or transported to the end customer. A computerized machine will measure the feed of a specific amount for each bag, and it will be pneumatically discharged to the bag for packing. The bag with the pellets will move on a conveyor to the area where machines will automatically stitch the open tops of the bag, so that they can be transported.

Advantages of Making Animal Feed Pellets

Making Feed Pellets for Cattle or Poultry Animals
Many farmers are keeping poultry, like duck, chicken, broiler, hen, goose, pigeon, etc. for their meat, eggs, and other products, and they have to feed them regularly with pellet feed, since it is available throughout the year. Hence there is a lot of demand for feed manufacturing machines which can be used for converting raw material into mash feed or pelleted animal feed. Some of the raw materials which are used for the feed mill are maize, grain, MBM, straw, grass, alfafa, molasses, it depends on the availability of the material. The capacity of the feed mill should be selected based on the demand for the material. (You maybe also interested in: how to make chicken feed? )
Setup Your Own Animal Feed Production Factory [Free Guidance]
To start a small animal feed manufacturing process, you should know about the most important elements, which are the cost and the equipment selection.
Cost analysis of Setting Up Animal Feed Manufacturing Plant
What's The Cost To Start an Animal Feed Productio​n Business Plan? If you are about to start poultry or cattle feed business in India or other countries. Most farmers or businessmen would like to know how much money is needed to invest in the first place. In fact, the cost of setting up livestock feed mills is closed related to various factors including feed formulation, production output, feed production process design, feed milling machine selection and factory layout. Here we can give some references list for you: (Read more about setting up animal feed manufacturing company in Inda>>)
| Feed Pellet Production Scales | Cost Reference |
| --- | --- |
| 1 ton/h feed milling machine | $10,000~$20,000 |
| 3 ton/h animal feed process company (both making mash feed and pelleted feed) | $60,000 |
| 5 ton/h cattle feed process line | $70,000~$80,000 |
| 10 ton/h feed manufacturing plant | over $100,000 |
Note: When it comes to project investment cost, you need to consider raw materials, workshop rent, equipment cost, project installation and commissioning charges, production cost, labor cost and so on.
Feel Free to Send Us An Inquiry to Get a Customized Project Plan with An Exact Cost List!

Best Feed Manufacturing Equipment Manufacturer--- ABC Machinery
Easy Operation: The animal feed manufacturing company only requires a couple of workers to operate it. Adult people who have the basic feed processing knowledge can operate it very well after training. So, it also helps to reduce the running cost of your company.

Wide Application: This poultry feed mill production line is also suitable to manufacture pellet feeds for livestock, fish and other animals.

Low Investment Cost: Its compact size takes up less space and the installation and commissioning is relatively easy. Therefore, except the investment for the equipment itself. The extra cost for the pellet production line is really small. (Related article: pig feed making machine price>>)
The animal feed manufacturing process design and equipment provided by ABC Machinery has many advantages that attract customers from Mexico, America, Italy, India, Nigeria, Ghana, South Africa and more countries. Any questions about the animal feed manufacturing process, please contact us freely!