Cattle Feed Manufacturing Machine in Operating Vehicle
This Mobile Cattle Feed Manufacturing Machine in Operating Vehicle is taking the market of animal feeders by storm as it is capable of feeding multiple cattle, sheep, horse or the other livestock. The production capacity of the mobile feed mill ranges from 8oo kg to 1000 kg, which is enough for feeding the multiple livestock at the same time.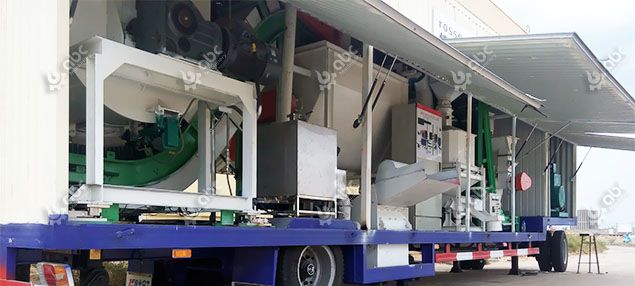 Mini Cattle Feed Mill in Vehicle


Equipment Details
It is easy to operate and a single person can operate it to feed the cattle solely. This small complete cattle feed manufacturing plant is also easy to carry so it can be move from one place to another, using lorry vehicles like tractors. Also this machine set uses very low amount of electricity so this is the major merit as compared to the other animal feed machinery in the market. For farmers this movable cattle feed mill gives various benefits from low use of electricity to feeding multiple animals. Just send an inquiry if you are interested to get the latest promotion price of this set of feed processing machine.

About Cattle Feed Manufacturing Process
The process of conditioning is generally included in medium to large industrial scale feed production, which is necessary in order to produce quality livestock feed pellets. For instance the feeds are moistened to remove dust content and further soaked so as remove hard seeds from the feeds as well as dissolving toxic and alleviating bitterness. The raw materials for making cattle feed is also crushed in order to increase the surface area through which animals can swallow easily thereby aiding in chewing and digestion. Moreover in order to effectively conditioning the animal feed, it is also roasted and steaming which further improves its palatability especially roasted barley is used to attract pigs. (Our Project: 1 ton per hour Sheep & Cattle Feed Mill Plant )


Make Pelletized Cattle Feed
Pelletizing of cattle feed is critical in ensuring there is reduced wastage and fussiness among livestock thus enabling the feed to have high nutrient and easily digestible. Fermentation is the final step over which animal feed undergoes in its conditioning process which ensures that difficult to digest feeds such concentrated feeds pellets are properly fermented for easy digestion. This process usually improves the nutrient quotient of an animal feed by supplying important minerals to the cattle. Click this link to see one of our 5 ton Cattle Feed Plant Project .

The use pelleted cattle feed is quite advantageous as opposed to using other types of feeds. This is because these pelleted feed are convenient to carry, store and package. Moreover they are high stable in terms reducing the chances of them being spoilt which in turn increase the health of animals in the farms because they contain highly nutritious compounds. Using feed pellets also reduces wastage.