1TPH Animal Feed Pellet Production Line in Uganda
Project Name: Animal Feed Pellet Production Line
Project Location: Uganda
Production Output: 1~2 ton per hour.
Application: Chicken feed / fodder.
Feed Formulation: Maize, soya, soya cake, sunflower cake, wheat bran, premix, fish meal, soybean oil, bone meal.
Click here if you are interested in set up a Mash Feed Production Line.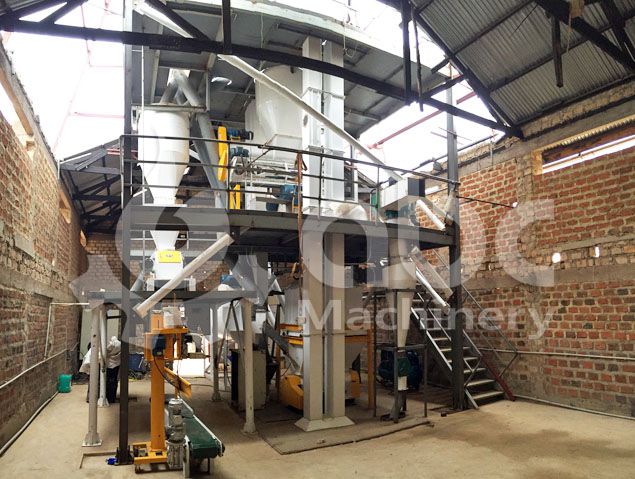 Full View of the Project Plant Inside
This animal feed production line is designed and built for one of our client in Uganda, who was planning to start his own chicken feed manufacturing business. The brief information of the project is listed above. Welcome get in touch with us, if you are interested to get more details or would like to know the equipment price and project cost. We are always glad to serve you!

Photo Display of the Animal Feed Pellet Production Line
The following photos were token at the current project field during the constructing and commissioning process. (Related News: 3-5 ton per hour Animal Feed Production Plant Exported to Mali)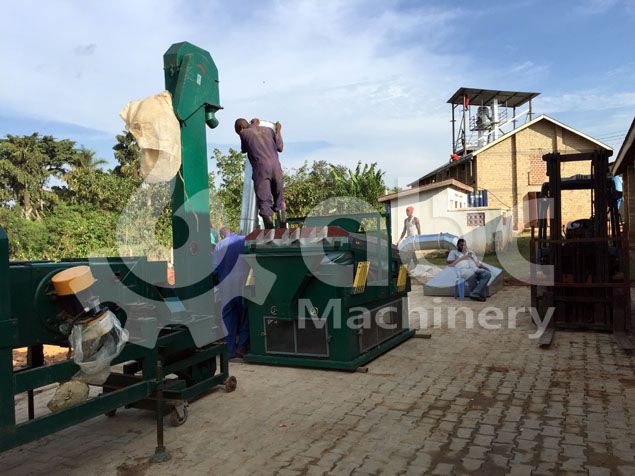 Grain Processing Equipment outside the Feed Factory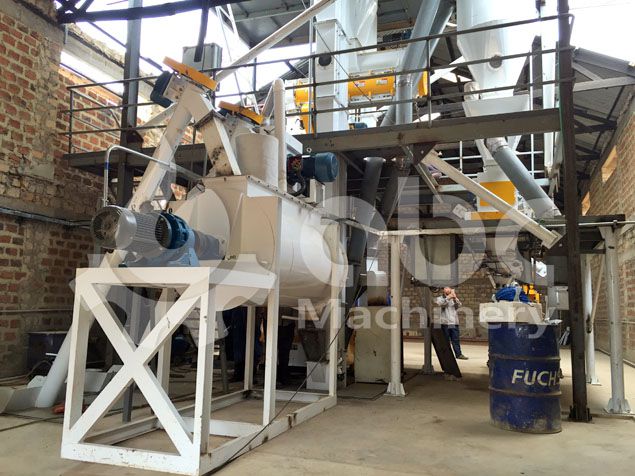 Feed Processing Equipments Inside the Factory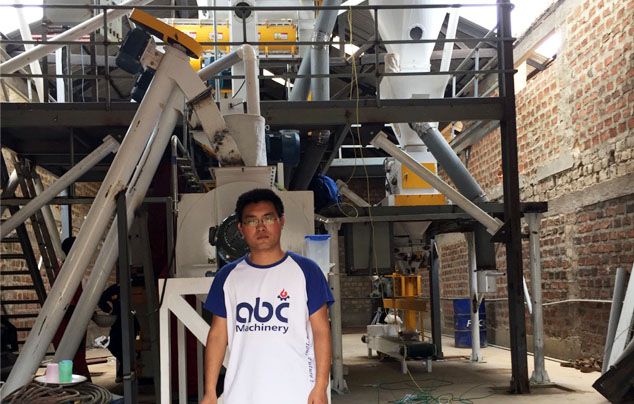 Our Project Manager of this Project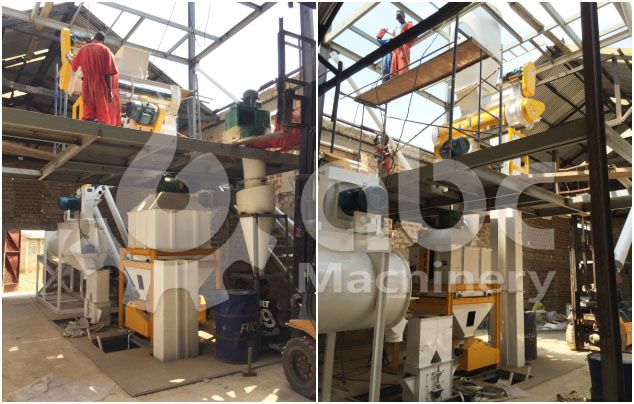 Details of the Main Equipments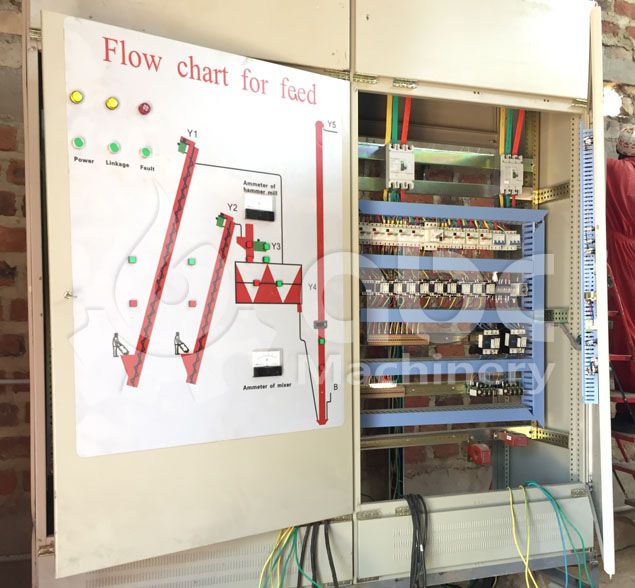 Electrc Carbinet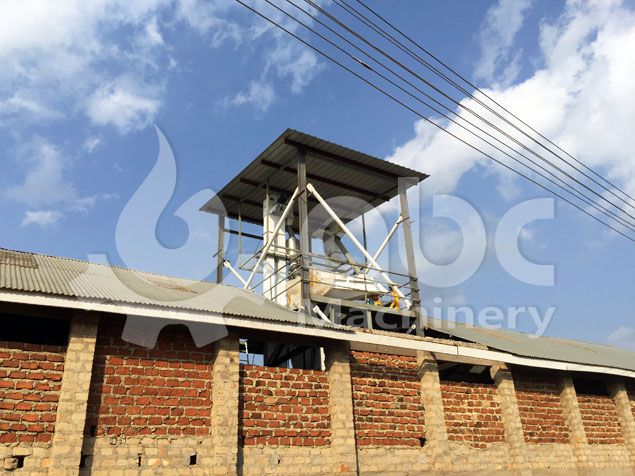 Cleaning Equipment on the Top Floor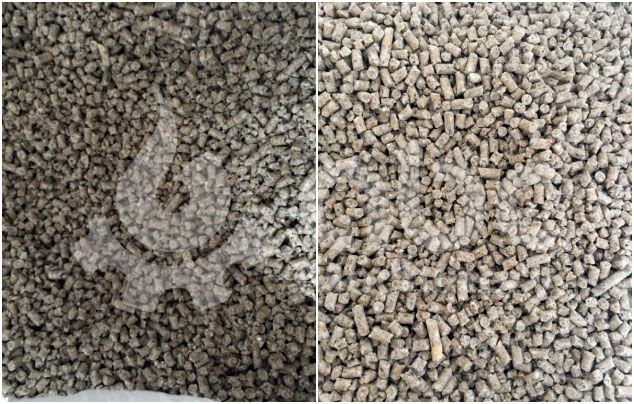 Feed Pellets Manufactured from Test Run

Facts of Chicken Feed Pellet Production
Today, management of industries involved in chicken feeding can attain maximum benefits and at the same time, save cost. What concernes the chicken farmer all the time is the production of feed that is high in quality and that is easily digestible by their animals. With an objective of providing high quality, easily digestible and nutritionally balanced feed, ABC Machinery can offer you the best animal feed manufacturing solution and cost effective processing equipment.
Advantages of chicken feed pellet
Chicken feed pellets can provide a whole codensed nutrition to animals.
They are also easier to transport as compared to traditional fodder.
They are also much more healthier as compared to traditional fodder.
It is due to these reasons that feed pellet mill is gradually gaining popularity. It is also due to the same reasons that our feed industry is dedicated to manufacturing quality and durable pellets to suit your needs. (Related Article: Small Set of Animal Feed Pellet Machine Test Running)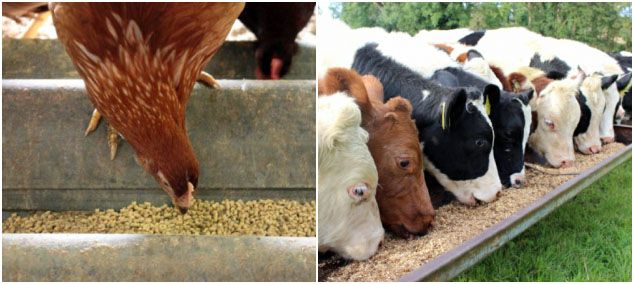 Features of the pellet industry
It has a capacity of 1 ton per hour.
It runs under automatic control hence it consumes low and has a high efficiency.
It procuces pellets with a diameter of about 1.5mm-8.0mm.
Animal Feed Pellet Production Process
The general process of animal feed production that take place are discussed below:
Attaining of Fodder Materials
Raw materials that can be used in the manufacturing of pellet feeds are numerous. Some include; fish meal, corn, alfalfa, soya beans, additives, meat and bone meal, just to mention but a few.
ln this process, a hammer mill is used to grind into powder the raw materials, in order to enhance the pelletizing effect.
ln order to attain a balanced nutrients supply in the feed, a chicken feed mixer is used to mix the various ingredients together.

A ring die chicken feed pellet machine is way more efficient as compared to a flat die feed pellet machine. This is also because a ring die type feed pellet machine is highly suitable for the production of quantity and quality chicken feed pellets. It has an in-built steam collection conditioner that mixes an cooks the materials hence providing quality final chicken feed pellets. The end product is a feed pellet with high palatability, digestibility and nutrition ready for packing. Pellet feed customization is also available. Since chicken feed contains a lot of fibre, it is adviceable to carry out conditioning by providing direct or indirect moisture to soften the pellets. (Related News: Small Poultry Feed Pellet Machine Exported to Bahrain)