Set Up a Poultry Feed Plant in United States of America
If you are making a business plan for setting up a poultry feed plant in the United States, you must be very concerned about the local market situation, feed processing equipment price and the cost of project investment. Here in this article, ABC Machinery will help you make these things clear.
Set Up a Poultry Feed Plant Project in the United States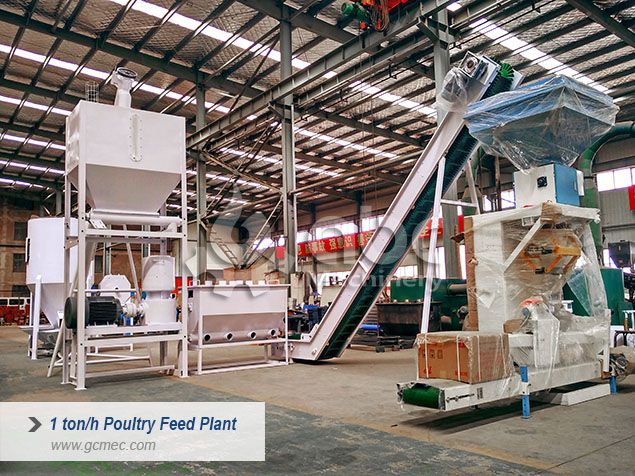 Small Poultry Feed Pellet Production Line
This small feed plant adopts flat die feed pellet machine. It is cheap and have high production effeciency, making it the best choice for farmers and starters of poultry feed making business. If you want to open a feed mill of medium scale, you are recommend to have a look at the following equipment set.

Poultry Feed Manufacturing Unit for Medium Scale Production
The expected growth of the feeds industry is likely to attract new entrants, both big and small. Currently, the feeds industry is dominated by large feed manufacturers or producers such as Tyson Foods and Cargill. However, this does not mean that small scale poultry feed making business have no room to thrive. Entry barriers to poultry feeds industry are pretty low. With moderate capital and government approval, one can start a thriving poultry feed plant. (Project Report: Complete Poultry Feed Mill Project for 10 ton/h production)
Choose the Right Location for your Feed Milling Factory: When starting a poultry feed plant in the US, location is key. This is particularly the case when you are starting a small firm with no national networks. You need to be near both your grain suppliers and the market. That is why it is important that you carry out proper feasibility study and market research before investing in a feeds mill.
Training of Feed processing and Equipment Operation: Apart from factory location, you also need some training of poutlry feed making technology and how to operate the feed production machines. Poultry feeds for various birds have specific portions of different nutrients. When you get the combination wrong you risk producing poor quality feeds that may stunt growth of the birds and, therefore, cause market loss. The easiest way of getting knowledge of nutrient combination in feeds is through training. Most of it is done informally by various organizations involved in feed production. So it is very important to choose an experienced and reliable poulty feed machine manufacturer.

ABC Machinery should be your first choice who can over all around service including trainingand offers you guidance throughout the feeds production process and marketing as well.
Related Post:
Buy Poultry Feed Mill Machine at Wholesale Price >>
Prospect of Starting Poultry Feed Processing Business in the United States
As this analysis shows, invest in poultry feed processing business or opening a poultry feed plant in the United States of America is big but still has a lot of room for growth. The expected growth in coming years presents profitable opportunity for investment by both big and small players. With training and proper location, one can easily run a successful poultry feed processing plant in the US. (Related Post: Start Poultry Feed Production Buisness in India)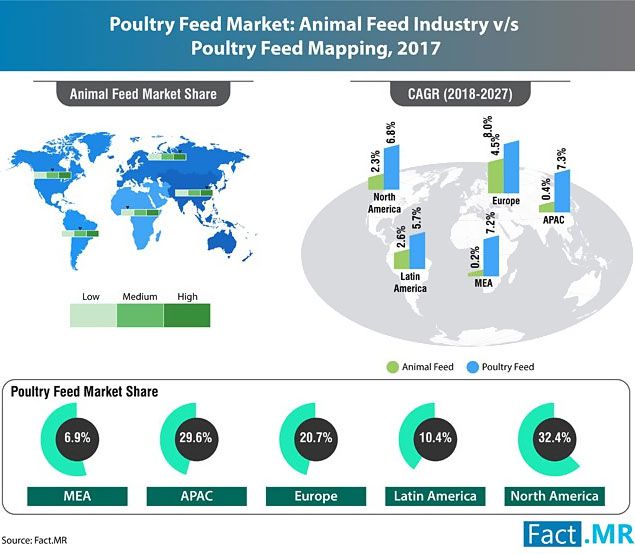 Global Animal Feed Market Share (2018-2027)
Poultry Feed Production Market In The United States
Estimated to be worth $55 billion, poultry feed production industry in United States is one of the biggest in the world. lts value accounts for close to 45% of total animal feeds industry in the US. This high percentage reflects the fact that poultry products such as chicken, turkey, and quail account for around half of America's total meat consumption. To many Americans, poultry products are a relatively cheap source of protein. The popularity of these products has made America to be the world's biggest poultry producer and one of its top exporters.
Thanks to both strong domestic and global demand, each year American poultry feed companies produce close to 60 metric tonnes of poultry feeds. The industry is estimated to grow at a rate of 2.3% per annum for the next five years. This growth is mainly due to increasing per capita consumption of poultry not just in the United States but also in other parts of the world, mainly emerging markets such as India, Turkey, and Brazil.
Factors That Promote The Growth Of Poultry Feed Production
The recent banning of use of antibiotics as a poultry growth promoter also presents a major growth opportunity for poultry feed plant. Farmers will now be compelled to seek new products to quicken the growth of their poultry. Unless an effective alternative to antibiotics is found, farmers will largely resort to increasing their uptake of poultry feeds. This is certainly good news for the poultry feed processing industry. Moreover, the ban makes it a lot harder for foreign producers to export poultry to the US because of the stricter requirements. This leaves room for greater growth of local poultry suppliers and feeds producers as well.