Charcoal Briquette Production Line Invest Analysis
A Charcoal Briquette Machine is a useful machine used in the manufacturing of high-quality charcoal briquette. These charcoals made by charcoal briquette production line is used in industries, like heating, warming, and cooking. The process of charcoal production involves crushing of biomass, drying of sawdust, briquetting and later carbonizing charcoal. The end product-charcoal is liked in the market because of the higher density and good burning performance when compared to firewood and coal.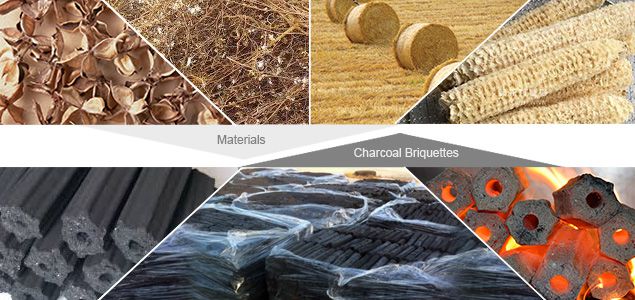 Charcoal Briquetting Types
What Raw Materials Can be Processed by Charcoal Briquette Production Machine?
► Sawdust, Wood branches, Residues of wood, Rice hunk, Peanut shell, Cone stalk, Bamboo, Sunflower shell, coconut shell, Bagasse, Corncob, Palm leaves and other agricultural waste products.

What Shapes Can be Processed by Charcoal Briquette Production Machine?
► Raw materials can be processed into many shapes of charcoal briquettes, mainly quadrangular and hexagon briquettes with the diameters of 40mm, 50mm, 60mm, 70mm, etc. Those briquettes have a same character, that is there is a hole in the middle of the briquettes to improve the carbonization.

If you have questions about the raw materials and shapes of our charcoal briquette machine, please contact us directly, our professional engineers will help you on it.
Charcoal Briquette Production Process & Required Machine
Charcoal is a renewable source of energy that is familiar and commonly used by several people. Of late, many people have established charcoal briquette production lines purposely to invest in its production and earn a living. Now, biomass briquette plant is great investment project with the increasing requirements for energy. Below is the charcoal production line process:


Charcoal Briquette Production Machine
The first step of charcoal production is the selection of raw materials. Some of the raw material you can pick on is straw, the stalks of corn, peanut shell, and the stalks of beans, to name a few. You may also consider industrial wastes like sawdust and wood shavings. (Related Post: Coconut Shell Charcoal Briquette Machine >>)
Selected raw materials should be crushed into small pieces, about 3~5mm, for further process. There are many types crushing machines that can suit different raw materials.
Drying is the third process in a charcoal briquette production line. It is mainly to remove the moisture from the raw materials. The specific moisture content varies from different materials, most of the raw materials is about 8%. Dyring machine has flash pipe dryer that is more suitable for small scale charcoal briquette production line, and rotary drum dryer that is designed for large scale factory.
Then, it is followed by the most crucial process briquetting. In this process, here the carbonized charcoal is pulverized into particles of different sizes considering the function ability assurance of the charcoal powder briquette machine for a better end product. (Related Machine: Briquette Making Machine >>)
Carbonization is the final process where the briquette sticks are put in the carbonization furnace. Carbonization furnaces are categorized into self-ignited, airflow carbonization stove and lifting carbonization furnace.
Features of Charcoal Briquette Production Line - ABC machinery


Charcoal Briquette Production Line
ABC Machinery is a trustable Briquetting Machine Suppliers. The charcoal briquette production line we provide has the many excellent features that make it favourable among users. First, the production line is less stressful as it quickly burns. Also, it is designed in a manner that makes its process convenient minimizing energy loss. Secondly, it has an automated electric device for heating, configures the humidity of the material randomly for stability and efficiency. The original parts of the machine have materials are treated, making them resistant to wear. The device rhymes well with all varieties of biomass raw materials hence maximizing its production. Thirdly, it can process wide range of raw materials (forestry, industrial and agriculture wastes), turn the residues into solid blocks. Fourthly, in structuring, it has a moulding cylinder, which can minimize the force that opposes motion between the machine and its raw materials.
Charcoal Briquette Production Video
Hot Sale Charcoal Briquette Production Line [Project Display]
This is a complete charcoal briquette production plant that is now the most popular among our customers. The capacity is 2tons per hour. Below is some of the details of every charcoal briquetting making machine. Contact us to get the detailed technical parameters and project cost!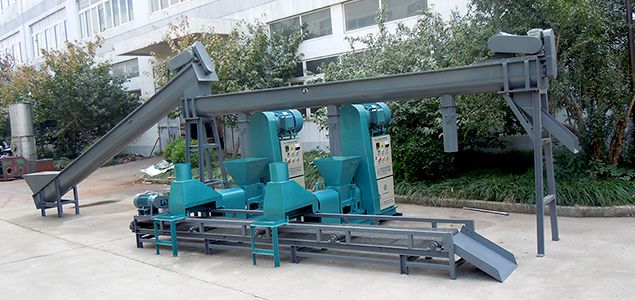 2tph Charcoal Briquette Production Line
Investing Charcoal Briquette Production Line Benefits
In case you desire to invest in charcoa brequetting production line, do not lag, take a step and start with immediate action because it comes with several advantages. For instance, when you invest in this, you will always have the raw material for charcoal production at hand, you will be able to choose a convenient plant site that will help minimize on the cost of transportation hence boosting your profits. Also, the market will expand as charcoal is required in industries, agriculture, heating, and in animal husbandry, to name a few. Lastly, the operation process is not hectic and only takes you several days to familiarize yourself with the entire process.
| | WOOD | WOOD PELLETS | TORREFIED PELLETS | CHARCOAL | COAL |
| --- | --- | --- | --- | --- | --- |
| Mossture Content (wt%) | 30-45 | 7-10 | 1-5 | 1-5 | 10-15 |
| Calorific Value (GJ/t) | 9-12 | 16-20 | 20-24 | 26-32 | 17-28 |
| Fixed Carbon (%db) | 20-25 | 20-25 | 28-35 | 85-87 | 50-55 |
| Volatiles (%db) | 70-75 | 70-75 | 55-65 | 10-12 | 15-30 |
| Bulk Density (t/㎥) | 200-250 | 550-750 | 700-850 | 180-240 | 800-850 |
| Volumetric Energy Density (GJ/㎥) | 2-3 | 7-11 | 15-19 | ~6 | 18-24 |
Investing in charcoal brquette production would be a great choice, especially in some place where have large forestry or agricultural residues, such as South Africa, Philippines, Nigeria, India, etc. If you are interested in building your own charcoal briquette production line to make money, don't hesitate to contact us for latest Quatation!