Small Briquetting Machine Exported to the Philippines
A set of small briquetting machine for sawdust was exported to the Philippines. He is one of our new client, a business man who is planning to start a trail production of sawdust briquettes in the Philippines. View the following photos taken in the packing and loading process to know more about the equiment of this order. (Recent Project: 1ton/h Sugarcane Bagasse Charcoal Machine)
Read more about how to setup a complete biomass briquetting plant >>

Top 5 Wood Briquetting Machine Suppliers
It is far better to take the time and effort of making a calculated business decision in the selection of a briquetting machine supplier, than to suffer the consequences of being let down by one. Here are five Briquette machine suppliers which you could consider when starting a biomass briquettes manufacturing business:

C.F. Nielsen is a well-recognised name in the briquetting industry, and is based in Denmark. The company was established in 1889, and celebrated their 125th anniversary in 2014. They are famous for their biomass briquette press which is used for industrial boilers and home heating stoves. They are the Rolls Royce of briquette press manufacturers, so you will pay the price that goes along with their superior quality.

RUF is the North American subsidiary of Ruf GmbH & Co. KG in Germany, a comparatively new company who've been in the Briquetting business for more than 40 years. RUF are considered the premier provider of industrial briquetting systems in the USA. Their systems are most commonly used for wood and biomass. Their machines are cheaper than the C.F. Nielsen machines, but more costly than the briquetting machinery manufactured in China.
Guru Kirpa, based in India, has manufactured a biomass briquette making machine which resembles the C.F. Nielsen machine, and is available at a significantly lower cost. They have not yet established themselves as a reputable, high quality manufacturer.

E.P. Machinery, also based in China, supply a variety of briquettes making machines at very low cost. If the cost of the machine is the only consideration, then one may be tempted to go this route.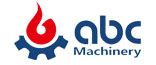 ABC Machinery is a Chinese briquette machine manufacturer with over 20 years' experience in briquette machine manufacturing and turnkey briquetting project solutions, who now export their machines to more than 50 countries. They are establishing a solid reputation for good quality machines and excellent after-sales service.
Choosing the ideal briquetting Machine supplier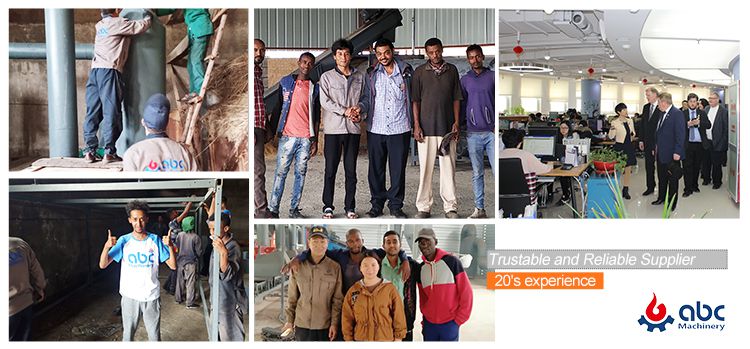 ABC Machinery Technicians On-site Guide Installation Operation
People in the Briquette making business understand the importance of having reliable briquetting equipment that can run for long hours, consistently make good quality briquettes.
3 important considerations when buying a Small Briquetting Machine
The old adage that "you get what you pay for" is often a painful lesson to learn in business. While it is important to keep costs down, buying a cheap machine that breaks down regularly will not only cost money in repairs, but will also cause the owner to lose revenue due to forgone sales.
---
After sales service in the event of a breakdown.
If a Briquette making machine is standing, it is not making you any money, and deliveries may be delayed, resulting in lost sales or perhaps even lost customers. Statistics show that it costs far less to retain an existing customer than it costs to obtain a new customer. If you select a machine which is not locally manufactured, it is important to ensure that there is a solid support base in or near the area in which your business is situated.
---
ls the company selling you a machine or providing you with a solution?
ls the Briquette machine supplier willing to offer assistance with solving problems in the Briquette making process? It is in their best interests that your business thrives, so they should be willing to provide guidance to assist you in maximising your process efficiency and product quality.
Why Did You Choose Us
Equitable price, high performance cost ratio
Good product quality
Delivery on time
Business staff online for you to answer questions
The technician taught the operation hand in hand
......

Video of Biomass Briqutting Machines
Charcoal pellets and briquettes are a type of biomass energy, mainly made from wood waste, such as sawdust, sawdust, wood chips, and other by-products of wood, furniture, and other forest product manufacturers. With economic development and global expansion, the demand for more energy is gradually increasing, and wood pellets and briquettes are included as a new green energy source.
Unlike most wood pellets and briquettes used in the United States for heating residential heating through pellet stoves, most biomass briquettes in Asia are used for co-firing in coal-fired power plants. The main markets for biomass briquetting machines in Asia are in China, Japan and South Korea.
If you are also interested in making biomass pellets and briquettes, please click on the form below to consult us and get all the details of making wood pellets.
equitable price