Bagasse Pellet Mill
Offer Turnkey Solutions and Machine for Making Bagasse Pellets


Make Pellets from Sugarcane Bagasse
The residue of sugarcane processing industry is a kind of fibrous pulp material. This fibrous residue is called bagasse. The residue of sugarcane processing industry is a kind of fibrous pulp material. This fibrous residue is called bagasse. In the past sugarcane bagasse is worthless residue, but now it is an important biomass material which can be used for the production of ethanol and generation of energy. Besides, bagasse is also great raw material for making fuel pellets. About 3 tones of bagasse will be produced when squeezing 10 tons of sugarcane. Bagasse has been dried out of water, which can meet the criterion of pellet raw material.
Small Complete Set of Bagasse Pellets Making Machine
How much does it cost to start a complete production line for producing bagasse pellets? What is the target market of bagasse pellets? These are the common asked questions before develop detailed business plan. ABC Machinery is here to help you on all your doubts and guide on manufacturing bagasse pellets step by step!


Small Scale Complete Equipment for Making Bagasse Pellets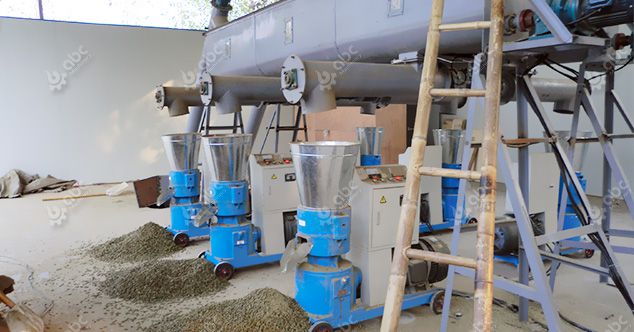 Small Production Line of Bagasse Pellets
The cost of setting up s sugar cane bagasse pellet plant is actually related with many factors such as size and moisture content of raw bagasse, production output, process design, factory layout, degree of automation, etc.
Crushing

: Crush the raw sugarcane processing residues into small pieces, less than 5mm.
Drying: The original moisture content is generally 40%~50%. It should be dried to about 12% to make them suitable for making pellets.
Pellets Extruding: Flat die pellet press is suggested for small scale pellet production, while ring die pellet press is more suitable for medium to large pellet production.
Cooling & Bagging: After the produced pellets are cooled to room temperature, they can be bagged for storage or sale.
large Scale Bagasse Pellet Plant [Project Plan]
PS: You are suggested to build the bagasse pellet plant near a sugar mill, so that you can easy get sufficient feedstock and save cost for transportation.
Sugar Cane Bagasse Pellets Making Process:
1. Crushing → 2. Drying→ 3. Pelletizing → 4. Cooling → 5. Packaging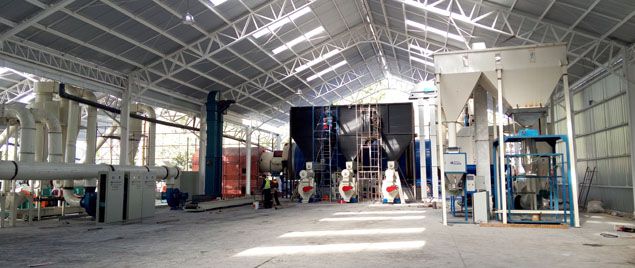 4~5ton/h Biomass Pellet Plant for Reference



Drying Section Under Construction



Biomass Pellet Press Machine
Actually, biomass pellet mill can process many types of biological residues or waste-product of other processes. First of all, a pellet mill is needed. Before pelletizing, ensure the moisture content of bagasse materials are dried down to 10-12%. And grinding the raw material to powder with hammer mill (ø 5 mm hammer mill screen is suggested). After feeding the powder materials into your pellet mill, they will be compressed into pellets by the movement of a die and a set of rollers inside the mill. Specifically speaking, the bagasse powder will be squeezed by the rotary roller from the hole of the die into pellet. And then the cutter outside the mill will cut the granule in the appropriate length between 3 and 5 cm. For a complete bagasse pellet plant, the whole process can be categorized into crushing, drying, pelletizing, cooling and packaging. That is to say, aside from pellet mill, you will need to buy auxiliary machinery including crusher or hammer mill, dryer, cooler and packaging machine to build a total biomass pellet making production line. (Related Project: 1ton/h Bagasse Briquette Plant Setup in South Africa)

There are numbers of suppliers who can offer complete pellet line. Among these supplier, ABC Machinery should be your best choice. We can offer diverse kinds of pelletizing equipment both for small-scale and large-scale production. We has efficiently founded 200 pellet production lines in the domestic and overseas containing high technology.
Business Opportunity of Bagasse Pellet Production
The main producer of sugar cane includes Brazil, India, China, Thailand, Pakistan, Maxico, Colombia, Indonesia, Philippines and the United States.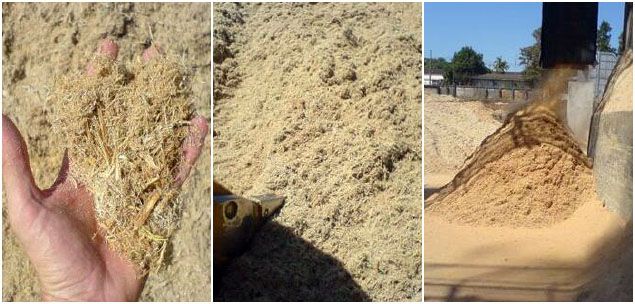 Sugarcane Bagasse After Crushing
The demand of fuel pellets is rising day by day, as the best pellet mill manufacture in China, ABC Machinery has gradually found that making the best of sugarcane waste – bagasse can bring immense potential in biomass pellet industry. It is predicted by the European Biomass Association that until 2020, the European Union need to consume 100 million tons of biomass pellets fuel a year.
Wide Application of Bagasse Pellets
Make Bagasse Fuel Pellets for Burning: Bagasse pellets are mainly applied to industrial production and home warming in household stoves.
Make Bagasse Feed Pellets for Animal feeding: There are two types of bagasse feed pellets, one is hydrolyzed bagasse which is steam treated, the other is natural bagasse. Here is the formula of feedstock: 25% coffee husk, 25% peanut shell, 50% bagasse. (Read more about animal feed manufacturing process >>)
Bagasse Vs Bagasse Pellets
| Product | Moisture(%, dry basis) | Approx. Ash content(%) | calorific value(kcal/kg) |
| --- | --- | --- | --- |
| Bagasse | 18 | 4 | 4.3 |
| Bagasse Pellets | 12 | 4.5% | 4600 |
I am looking for a machine to make pellets from sugar cane baggasse which is the residue from crushing sugar cane .The moisture could be 52 %.
How about the capacity of the machine you want? such as 200kg/h, 300kg/h etc. Then we can suggest the suitable model.