BPM420/508 Pellet Press
Unlike small pellet mill or flat die biomass pelletizer, this BPM Ring Die Pellet Press Machine is specially designed fro medium to large pellet production. It is also definetely the best choice for pellet line with capacity more than 1Ton per hour. Combine multiple ring die pellet presses can make the pelleting output up to 20Ton per hour.
Model
BPM 420
BPM 508
Power (kw)
Main Motor: 90kw
Feeding Machine: 1.5kw
Conditioner Motor: 2.2kw
Main Motor: 110kw
Feeding Machine: 1.5kw
Conditioner Motor: 2.2kw
Packing Size (mm)
2500*1100*1900
2800*1100*1900
Net Weight (kg)
3T
3.7T
Capacity (Ton/Hr)
Sawdust/Stalks
1.2~1.5/1.5~2.0
1.5~1.8/2.0~2.5
There are two types of BPM Pellet Press. One is BPM420 Model and the other is BPM508 Model. The main technical data is listed as following:
Features of BPM Ring Die Pellet Press
This pellet press machine utilizes aerodynamics technology to reduce the temperature of the pelletizing chamber to around 90°C. As a result the machine can operate continuously.
Timing feeder can control the feed to reduce the blockage.
The body is more durable because it is comprised of ductile iron.
Capacity increased by adding another force feeder made from stainless steel. This increases the feed spread area.
It uses the improved U type screw conveyor. Its adjustable feeding speeds allow for continuous feeding without blockage.
It is driven by high precision gears.
Key working parts of the pellet press become stronger after modifying the material with heating processing technology. Main parts are forged. The processing capacity of our ring die is 800-1000MT. The ring die is clasped by quick-discharge clip.

Ring Die Details
Other Advantages of BPM Large Pellet Machine for Sale:
Uses imported bearing (NSK) and seals fort better transmission, stable operating, and less noise.
Has advanced compensation serpentine-spring coupling which are safer, provide a new structure, and lower failure rate during operation.
We hold one patent on ring die and 4 utility model patents on pellet mills.
High efficient, lower power consumption, stable operation and production.
Spare Parts for Model 420 & 508 BPM Pellet Machine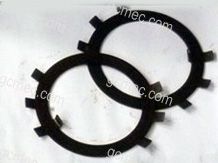 M80 Lock Gasket

Main Shaft

Main Shaft Bearing

Gear Shaft
Delivery and Payment
Delivery time: 15 days after receiving payment
Payment terms: 50% prepaid in advance by T/T, the balance paid by T/T within 10 days after seeing bill of lading by fax or email.
Warranty period and condition
Warranty period: 12months.
After all equipment installed, during the period, any malfunction that NOT causing by man-made or any Force majeure factors(such as earthquake; hurricane, etc.) will respond by seller. Including replacement parts and relevant transport cost. Guide maintain if needed.
If the malfunction or breakdown parts beyond the aforesaid period, seller will supply to buyer the replaced parts in cost price but relevant transport cost bear by buyer.
The Seller's warranty shall not apply and the Seller shall bear no liability for any damage caused to the Equipment as a result of incompliance with the operating rules either technical guidance or contained in the operation manual supplied by the Seller, misuse or any other causes for which the Seller is not responsible.
Thank you for being interested in our products, please kindly to send us an inquiry if you want more information about our ring die pellet press machines.