Diesel Wood Pellet Mill
GEMCO is now the leading pellet mill machine manufacturer and supplier in China. We have specialized in biomass energy making machine for at least 3 decades. We can provide various Wood Pellet Mill and Wood Pellet Production Line to meet customer's different requirements. If you are now bothered by how to choose the right wood pellet machine, please contact us for professional guidances.


Diesel Wood Pellet Mill Machine
Diesel Wood Pellet Mill is designed with diesel engine as the power supply. It has small, simple and compact structure, so it is convenient to move. GEMCO independently develop two types of Diesel Pellet Mills to help you starting a wood pellet business - Diesel Die-turned Wood Pellet Mill and Diesel Roller-turned Wood Pellet Mill. (You may also like PTO Wodd Pellet Mill )
Die-Turned Type Wood Pellet Mill


Diesel Wood Die Turned Pellet Mill
| Type | Power (Hp) | Output (kg/h) | Weight (kg) | Package Size (mm) |
| --- | --- | --- | --- | --- |
| ZLSP 150A | 8 | 50-100 | 180/220 | 1000x500x750 |
| ZLSP 200A | 15 | 80-120 | 210/240 | 1460x750x900 |
| ZLSP 230A | 22 | 120-200 | 280/310 | 1560x850x1000 |
| ZLSP 260A | 30 | 160-250 | 330/360 | 1200x500x1070 |
| ZLSP 300A | 55 | 250-400 | 410/450 | 1220x600x1000 |
The die-turned wood pellet mill with diesel engine is specially designed for wood chips. The maximum output can 250-400kg /H per hour. (Related Machine: Flat Die Pellet Mill>>)
Die-turned type pellet Mill Features
Scientific and reasonable structure design allows simple operation, small floor area and low noise
Dry - in - dry - out production make it easy to make pellets and ensure the high output and low energy consumption
It has high particle forming rate and the pellets produced has high hardness and smooth surface, which is convenient for storage and transportation
The machine is equipped with a variety of aperture molds of 2.5-10mm, which are suitable for granulating different materials and to achieve the best pelletizing effect
Simple operation and less maintenance, safe and reliable
Roller-Turned Type Wood Pellet Mill


Diesel Wood Roller Turned Pellet Mill Machine
| Type | Power (Hp) | Output (kg/h) | Weight (kg) | Package Size (mm) |
| --- | --- | --- | --- | --- |
| ZLSP 200A | 15 | 80-120 | 320/350 | 1460x950x1100 |
| ZLSP 300A | 41 | 250-350 | 850/890 | 2480x700x1100 |
| ZLSP 400A | 55 | 350-450 | 1010/1050 | 2600x800x1300 |
| ZLSP 420A | 62 | 400-600 | 1200/1250 | 2640x700x1500 |
Roller-Turned Pellet Mill Advantages
It adopts diesel engine design, so it can meet the needs of mobile production. At the same time, it is convenient for users who do not have three-phase electricity conditions to use.
Pellet diameter can be arbitrarily selected from 6-12mm, pellets length can be adjusted
It can meet the large demand of customers for commercial biological pelletizing.
Body casting, solid structure and beautiful appearance, long service life, strong adaptability to work.
The appearance is solid, the movement is simple and convenient, the output is high, the energy consumption is low. Simple operation, safe and reliable.
Raw Materials Suitable for Making Wood Pellets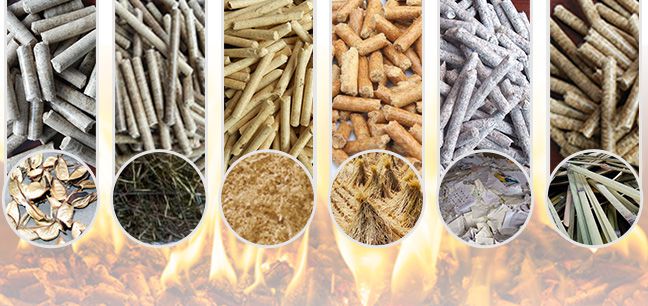 Raw Materials And Pellet For Wood Pellet Machine
Roller-turned diesel driven pellet mill is a green energy equipment designed for small wood pellet manufacturing business by the R&D staff of GEMCO. The output can reach 450kg/h. It is suitable for pressing various biomass raw materials such as miscellaneous wood, pine wood, straw, bamboo chip, peanut shell, etc. (Related Post: Sawdust Pellet Mill >>)
Diesel Wood Pellet Making Machine Working Video
Wood Pellet Mill Manufacturer & Supplier


Diesel Engine Driven Wood Pellet Machine for Sale At Factory Price
ABC Machinery is the high-tech enterprises of manufacturing of biomass molding machinery, biomass pellet machine and copmlete biomass pellet production plant, and other auxiliary equipment. At present, ABC Machinery has 150 employees and covers an area of 65 acres. We are the original manufacturer of wood pellet mill machine, choosing us, you can get high quality equipment and factory price.