5-10 Ton/hour Industrial Feed Pellet Plant
Output: 5-10ton/h;
Application: Large feed pellet making machines can produce pellets tailored to the specific nutritional requirements of different livestock species, including poultry, cattle, swine, and aquaculture.
Raw Materials: Maize/corn, soybean, bran, sunflower oilcake, tiny dried fish, etc;
Main Equipment: Hammer Mill; Mixer; Ring die Feed Pellet Mill; cooler; screener; packing machine; conveyors; automatic control system and batching system.


5-10 Ton/hour Animal Feed Plant at Factory Price
Invest Large Feed Milling Business for Commercial Purpose
As the global farming industry continues to expand, feed pellets are highly valued as a form of critical nutrient supply. Large-scale commercial feed pellet production plants have great potential to meet the needs of livestock and poultry and improve feed efficiency. The market demand is growing and investing in this sector not only supports agriculture but also generates considerable returns for investors! (You may also like: 5 Ton/H Cattle Feed Milling Project)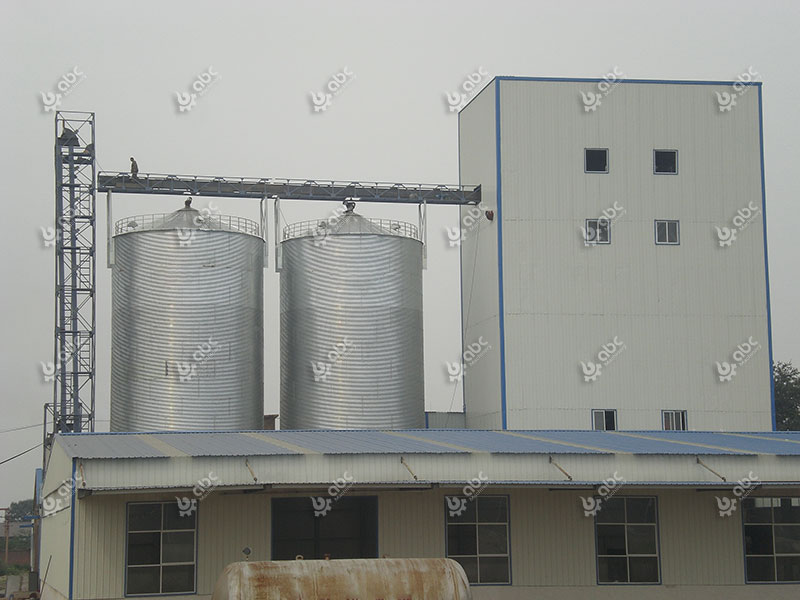 Feed Pellet Milling Plant for Chicken & Cattle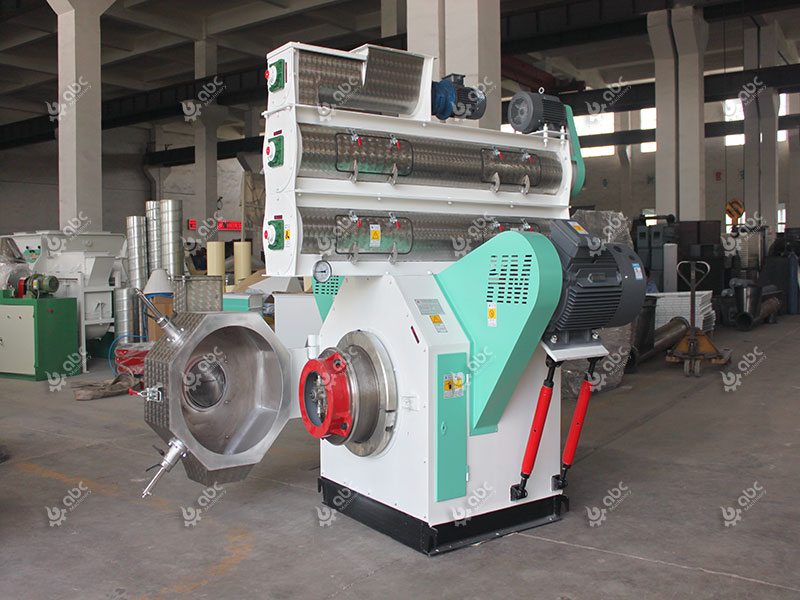 Cost-effective Large Ring Die Feed Pellet Milling Machine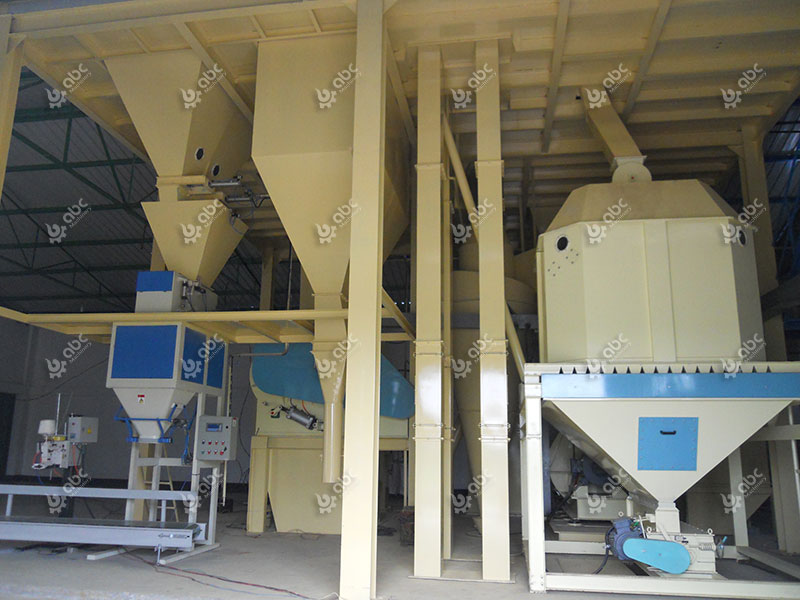 Cooling Machine for Animal Feed Milling Line
Packing Machine for Animal Feed Pellet Production Line
Many people are interested in starting feed pellet production plant business. However, they are ignorant about the detailed steps and prospective costs of setting up a feed pellet making Plant. They are also curious about how much money a commercial scale animal feed pellet plant can make per year. Here at ABC Machinery, we provide the information you may need, please click the button below to tell us about your needs and get more details!

Why Choose a Large Feed Pellet Mill?
High capacity: the production scale of large-scale feed production machine is much larger than that of small-scale equipment, which can more effectively respond to the growing demand of the farming industry and improve production efficiency.

High return: Large feed mill plants are usually equipped with automation and intelligent features, reducing manual intervention, improving production efficiency and lowering operating costs. (Read More: Start a poultry feed pellet production project cost )

Improve the quality and nutritional level of feed for breeding animals: Large-scale feed pellet production plants adopt advanced production processes and technologies, which can ensure that feed pellets meet standard requirements in terms of composition ratio, pellet size and texture. Through scientific feed formulation, it can improve the growth rate, production performance and health condition of farm animals.

Meet different breeding needs: Large-scale feed pellet production plant can adapt to the needs of different breeding animals, including poultry, livestock, aquaculture and so on. By adjusting the feed formula and pellet size, it can meet the nutritional needs of different kinds and growth stages of animals, thus improving the breeding efficiency.

Promote Livestock Health and Immunity: Through scientific and reasonable feed formulation, large-scale feed pellet production plants can provide extensive nutrients for farm animals, enhance their immunity and disease resistance, reduce the disease rate, and thus improve the overall health of the farming industry. (Related article: Table of animal feed composition & nutritional value)
Overall, large-scale feed pellet plants are chosen to ensure high quality and efficient production while fully meeting market demand, thus gaining a competitive advantage in the farming industry.
Our Successful Feed Pellet Plant
Send an Inquiry Now to get project cost, process design, equipment layout details!

Tailor-made Animal Feed Pellet Business Plan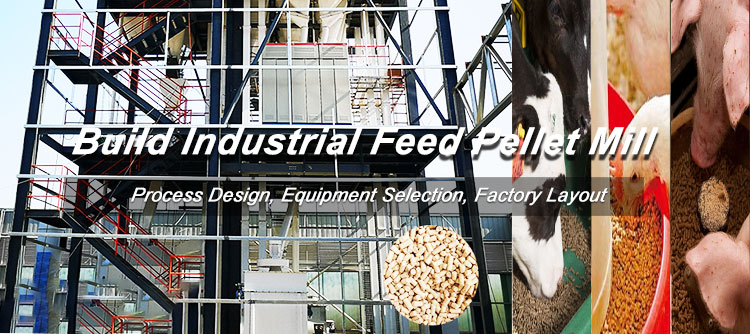 How to Start Large Industrial Feed Pellet Milling Business?
Embarking on a venture in the animal feed pellet mill industry requires a well-crafted and personalized business plan. The roadmap to success involves key considerations, and here we outline essential factors for a customized animal feed pellet manufacturing business plan.
1. Determine Financial Needs
Assess the financial requirements for acquiring state-of-the-art animal feed processing machines. Understand the local and global market dynamics to estimate the investment needed. Consider whether external funding through loans or personal investment is more suitable for launching the business.
2. Select an Ideal Factory Location
The choice of factory location is pivotal. Option for a site with convenient transportation links for seamless access to raw materials and efficient delivery and shipping of the final feed pellets. Develop a comprehensive plant layout covering areas for raw material storage, feed pellet machines, and packaging facilities.
3. Secure Licensing for Feed Pellet Producing Process
Obtain the necessary licenses from governmental authorities and register the facility with local administration. Compliance with local regulations is vital to ensure adherence to policies governing the feed production process, setting the foundation for a successful venture.
4. Invest in Quality Animal Feed Pellet Machines
Carefully evaluate factors such as capacity, investment costs, pelletizing processes, and raw material specifications before selecting the appropriate animal feed milling machines. This step requires thorough research to identify a reliable supplier who can ensure a smooth installation process and operational efficiency while minimizing machinery purchase costs.
5. Operator Training and Safety Protocols
Establish comprehensive training programs and safety education initiatives for operators and workers involved in the feed production process. Equipping them with the knowledge of equipment operations and understanding feed ingredient additions is crucial for a safe and efficient production environment. Many reputable animal feed milling machinery suppliers offer training plans to support the smooth integration of workers into the industry.
6. Develop a Strategic Marketing Plan
Crafting an effective marketing strategy is essential for reaching end consumers. Evaluate the local market competition and tailor your approach accordingly. Identify target markets with high demand and low competition, taking into account regions like Nigeria, India, Russia, Uganda, Tanzania, Australia, Kenya, Mali, and others. A robust marketing strategy will ensure the successful sale of the final feed Pellet products.
7. Customized Business Plan Assistance
ABC Machinery specializes in offering custom-made animal feed pellet production line business plans tailored to individual needs. Leveraging our experience in successful feed milling projects worldwide, we provide detailed information and guidance. Whether you are a novice or an industry veteran, our expertise can help you navigate the complexities of the animal feed milling business.
In conclusion, starting your own animal feed pellet manufacturing business demands meticulous planning and execution. With a personalized business plan from ABC Machinery, you can confidently enter the industry, leveraging our experience to overcome challenges and seize opportunities in the dynamic animal feed market. Contact us for in-depth insights and let us contribute to the success of your venture.