ZLSP 300P Pellet Mill
Pellet Mill Parameters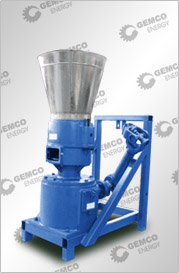 Type: ZLSP 300P
Driven by: PTO (Power Take Off)
Power: ≥55hp
Output: 250-400kg/h
Weight: 305/325kg
Package Size: 1100x540x1000
Application: Widely used for biomass pellets from wood materials, sawdust, farm residues, agricultural residues, rice husk, straw, maize straw, cornstalk, sunflower seed shell etc.

What kinds of biomass materials can be pelletized by our PTO pellet mill?

Our small PTO pellet mill with flat die can deal with various different kinds of biomass materials, including wood chips, wood shavings, pine, peanut shell, bamboo, rice husk, straw, corncob and so on. If you are not sure whether your kind of material can make high quality pellets, ask for "Raw Material Pelletizing Test" now! It is FREE at the present! What's more! If you are beginners for biomass pelletizing, we can help you build tailor-made pellet mill plans.

Attentions:
★
The density of final pellets could reach 1100 kg/m³.
★
Please make sure the max length of your raw material is less than the diameter of pellet die holes.
★
Generally, the moisture content of raw material should be controlled between 10% and 18%. Since different biomass materials have different moisture requirements, the exact value depends on the material you choose.


Small Pelleting Mill for Sale
What is the price for houshold pelletizer?
Thanks for your below inquiry to us ! We are glad to know you are interested in our Houshold Pelletizers. FYI,we have different models of Pellet Mill which are have different production capacities. In order to offer you the suitable model of machine,we would like you to inform us following informations:

1, Are you a Animal Feed Pellets producer or Biomass Pellets maker?
2, What production capacity of Pellets do you need,Kg/Hour?

Please revert us your answers,so as to recommend you our suitable model of Pellet Mill accordingly.