Pellets Machine Line Wood Pellet Production
Wood pellets are small cylinders made from sawdust within the wood pellet production line, which is a process carried out mechanically to introduce the raw material such as forest and agricultural waste to transform it into wood pellets. In a simplified way, it is an ecological fuel with a neutral CO2 balance that helps to protect the environment from the harmful gases produced in common energy and heating processes. Wood pellets are the ecological element that should replace any fossil fuel source that emits greenhouse gases to protect the atmosphere. It is necessary to use alternative energy sources to protect and care for the environment.


Biomass Wood Pellets
Globally, more and more people turn their investment eyes on starting a wood pellet business. But, how the wood pellets are manufactured? What equipment are involved in the wood pellet production process?
Wood Pellet Production Machines & Process
There are 6 processes that are carried out to treat and produce the biomass pellets in biomass pellet mill: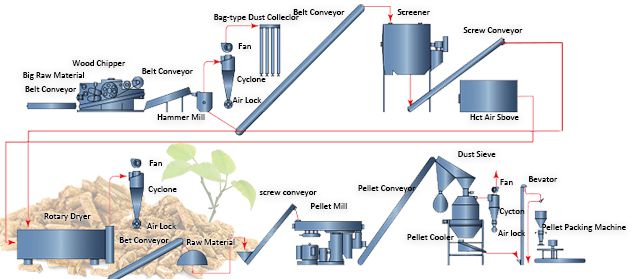 Wood Pellet Production Process
Receive and Prepare Raw Material: To prepare the pellets it is necessary to convert the material into sawdust, for this straw, wood chips, wood logs, forest waste and agricultural waste are used.
Dry Sawdust: Sawdust can store moisture and it is necessary to dry the sawdust to continue with the subsequent processes. For this, the established humidity level is 11% -17%, so it undergoes different drying processes according to the capacity of each machinery. In case the pellet line is less than a thousand kilograms per hour, it is subjected to flow drying. This process can remove 20% of the moisture from the sawdust. However, if it exceeds the capacity of a thousand kilograms per hour, it is subjected to a 3-layer rotary dryer, being a long process, but with great results since it eliminates humidity by 40%.
Wood Pelletizing: The pelletizing process will depend on the capacity, for this, if the capacity is less than 1 ton per hour, the die of the pellet machine must be flat. In case the line is of greater capacity, a ring die machine is needed, which supports a capacity between 1 and 20 tons per hour.
Cool Pellets: After granulating the wood, the granules containing 15% humidity and a temperature between 60-80 degrees are cooled. The short-current cooler lowers the temperature and the humidity of the wood granules to be stored.
Packing: In this phase, the pellets are weighed and packed to hold them against humidity.
Storage: After being packed, the wood pellets can be stored for a long time.
Machinery in Wood Pellet Mill
The complete wood pellet mill plant and wood pellet production process requires different wood pellet machines, including Mixed Chipper, Hammer Crusher, Mechanical Fan, Cyclone Separator, Conveyor, Ring Die Pellet Machine, Dryers, Steam Steam Conditioner, Short Current Cooler, PLC control system, etc..
In additon to large biomass pellet production plant designed with ring die pellet machine, we also provide small pellet plant that is equipped with flat die pellet mill, and mobile wood pelletting plant. If you are interested in building wood pellet production plant project, please contact us to get customized plan!

biomass wood pellet machine for Sales


Ring Die Wood Pellets Machine
Model
BPM25
BPM35
BPM42
BPM508
BPM510
Main Motor
22kw
30*2kw
90kw
110kw
90kw
Feeding Motor
0.75kw
0.75kw
1.5kw
1.5kw
1.1kw
Forced-feeding
Motor
0.37kw
0.75kw
3kw
2.2kw
2.2kw
Capacity
200-250kg/h
500-700kg/h
1.0-1.5 t/h
1.5-2.0 t/h
1.5-2 t/h (Sawdust); 2-3 t/h (Palm Fiber)
Weight
2200kg
3T
3.7T
3.2t
Packing Size
1700*1200*1000mm
1850*1950*1500mm
2150*1950*1900mm
1100*2700*2000mm
1200*2900*2000mm
Raw Materials
groundnut shell, sugarane biogases, caster shells/stalk, sawdust, coffee husk, paddy straw, sunflower stalk, cotton stalks, tobacco waste, mustard stalk, jute waste, bamboo dust, tea waste, wheat straw, palm husk, soybeans husk, coir pitch, etc.
Complete Wood Pellet Production Line Project Installation Video
ABC Machinery is specialized in biomass pellet production plant for decades. Our wood pelletizing projects are exported to more than 20 countries such as USA, Germany, UK, Switzerland, Russia, Morocco, Italy, Chile, Brazil, Thailand, Vietnam, Laos, Cambodia, Indonesia and Malaysia. Below is just one part of our projects, if you want to get more project report on biomass pellet making, please contact us directly!
1TPH Wood Pellet Manufacturing Plant in Thailand
1TPH Wood Pellet Production Line in Italy
1TPH Wood Pellet Production Plant in UK
The whole biomass wood pellet production line has low power consumption, clean environmental protection, low energy consumption and high production efficiency, high pelletizing rate and high quality pellets. For the drying process in wood pellet production line, it is more easy to pollute, we use clean energy as a heating fuel by forming biomass burning or directly use the low carbon sulfur pollution energy such as gas, coal gas, also can use steam drying, heating equipment mainly includes biomass combustion machine, coal stove, biomass gasifier, etc., this not only make full use of client resources, but also can ensure the wood pellet production line can meet the environmental standards. If you have any questions about biomass pellet machine or wood pellet production line, please contact us for more details, like equipment parameters, project cost, facotry layout, and more.