Chicken Manure Pellet Mill

Make Organic Fertilizer from Chicken Manure
Transform the Headache Chicken Manure into Money!
So how to get the good stuff out of chicken manure? Directing at the common problem, we have researched and developed the chicken manure pellet mill unit that can process the chicken manure into pellets due to Chicken manure is a relatively high quality organic fertilizer which include rich nitrogen and phosphorus, and they are conveniently absorbed by the crops .
Set Up a Small Organic Fertilizer Pellet Plant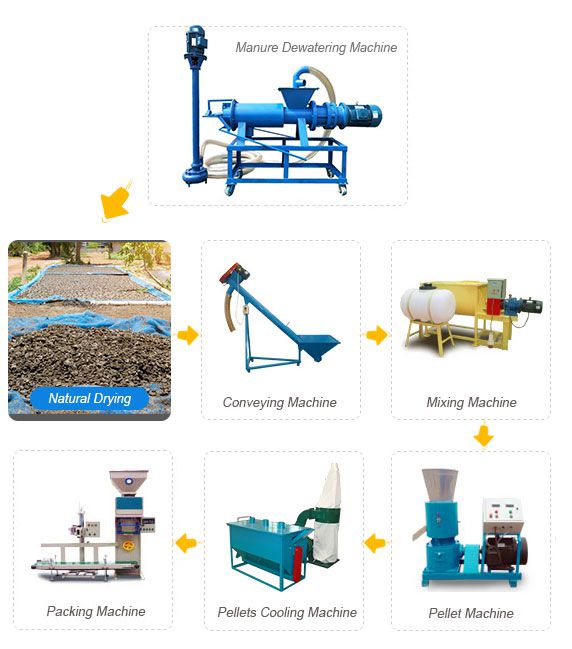 Main Equipments for Small Organic Chicken Litter Pellets Production Line
The complete process of making pelletized organic fertilizer from chicken manure includes:
Chicken Manure / Litter Collection → Manure Dewatering → Natural Drying → Burden Mixing (optional) → Pelletizing → Cooling → Bagging (optional)→ Fertilizer Pellets for Sale


Poultry Manure After Dewatering Process
If you are planning to start a small factory of making fertilizer pellets from chicken litter, you will need manure dewatering machine (dewatering press), conveying machine, pellet making machine and cooling machine. Some equipment such as mixing machine and packing / bagging machine is optional which depends on your situation and requirements.
Why Choose Our Small Chicken Manure / Litter Pellet Machine?
On the one hand, the issue that there is less place to place the chicken manure can be very conveniently managed
On the other hand , it can turn all kinds of manure or animal wastes into the marketable organic fertilizer pellets, so the livestock & poultry farmers can make considerable money as well.

Chicken Manure Pellet Mill for Sale
BEST is shortened form of Anyang BEST Complete Machinery Engineering Co., Ltd. We have developed 4 types of the Poultry Manure Pellet Mill though repeat research and development, which includes electric pellet mill, diesel pellet mill, PTO pellet mill and gasoline pellet mill.
Capacity of one unit: 60kg~800kg per hour
For a manure pellet production plant, multiple pellet mill can be combined for large output.

View details of Small Poultry Manure Pellet Mill >>
Agents Recruiting Now!
---
We are now Recruiting Agents on small pellet mills world wide. If you are interested in our products you are welcome to discuss business cooperation and common development! We can offer all around services for our agents. Furthermore, when we get orders in your country, we will transfer the order to you! Sincerely expect your joining!

Video: Making Fertilizer Pellets by use of Small Manure Pellet Mill
View the pelletizing video below to see how pellets are made by a flat die small pellet machine. Feel free to contact us if you are interested in starting a small scale manure pellet manufacturing factory.
Commercial Manure Fertilizer Pellets Making Business Plan
If you want to establish a large scale fertilizer pelletizing system and need a commercial business plan, we can also give you the best guidance. The following is the complete manure fertilizer pelletizing process flow chart, take this for reference.

Fertilizer Pellets Making Process for Large Complete Production Line
With the chicken farms growing at an extremely rapid pace, the amount of chicken manure is frequently increasing. People are looking for a solution as there is no place to put the manure which is stacked somewhere or anywhere. Years earlier, there is no problem to the chicken manure. Even a farm is small, it has enough place to solve the issue of the chicken manure placement. But with the amount of the chicken farms increasing, it becomes more and more troublesome that the abundant farms start to run out of the place where is spread the manure.
Although, chicken manure is the good raw material for making fertilizer, it is so expensive to send the chicken manure to further place that little farms cannot bear the expenses. Then the redundant manure is thrown to lakes, rivers, and groundwater, potentially posing major risks to water resources. The environment around the farms is also under the influence.
Why Choosing ABC Machinery?

Want to join ABC Machinery as an fertilizer pellet machine agency?
Interested in purchasing high quality chicken manure pellet machine with low price?
Want to get more guidance on making chicken manure pellets?
Want to learn more about solutions about organic fertilizer production and globally fertilizer market analysis?
Want to pay a visit to our factory before ordering?
Do not hesitate to contact us!

All our pelletizing machines are low energy consumption and highly efficient, and the farms won't worry about it occupies a large of areas. It is becoming a trend for the farms to apply the small manure pellet mill around the world. If you are thinking about to know more about the chicken manure pellet making machine and fertilizer system, just send us an inquiry and welcome to consultation.
Is 100% chicken manure good fertilizer for plants? Chicken manure or cattle manure, which is better for making fertilizer pellets?

Both chicken manure and cattle manure is suitbale for making fertilizer pellets. According to the test, the organic matter content of chicken manure is 25.5%, the nitrogen is 1.63%, the phosphorus is 1.54%, the potassium is 0.85%, and the content of three elements in chicken manure is equivalent to 4.5-7.7 times of that in cow dung!

After the chicken manure is thoroughly fermented, it is a relatively high-quality organic fertilizer. The chicken manure has a rich nutrient content. It has a large amount of organic matter and a high content of nutrients.

Do I need to add any addictives during the pelletizing process?
Actually, you don't have to add addictives for making pellets from manure wastes. But if plan to run a business and want to improve the quality of produced fertilizer pellets, you can add some sawdust to get better results.
Is there any moisture requirement for your equipment?
Sure, the moisture should be 10%-20%. If you make pellets for your own use, you can buy a single small pellet machine and dry the manure under the sun.