2 ton/h Cattle Feed Production Unit
Project Name: Complete Cattle Feed Production Unit
Feed Plant Capacity: 2 ton/hour (2 ton feed pellets can be made per hour)
Application: This complete set of cattle feed processing machine is specially designed for making livestock feed pellets.
Other Projects: 5 tons per hour Cattle Feed Plant
Cattle Feed Production Unit Details
The photos below were took during goods inspection before delivery. If you would like more details, feel free to contact us!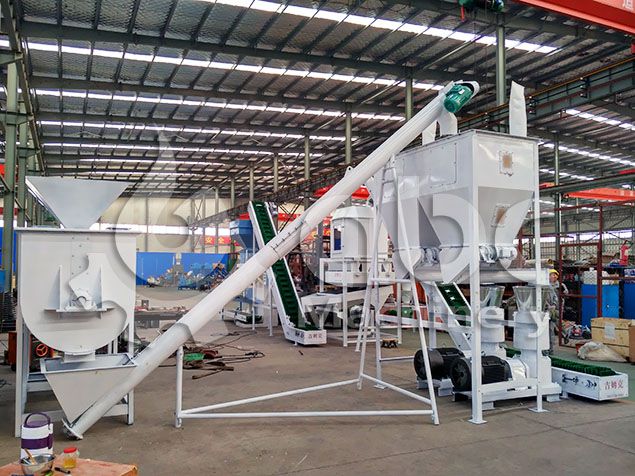 Whole View of the Feed Production Unit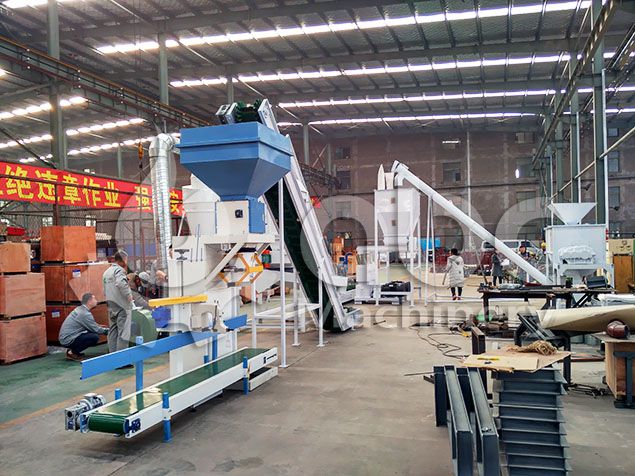 Complete Cattle Feed Line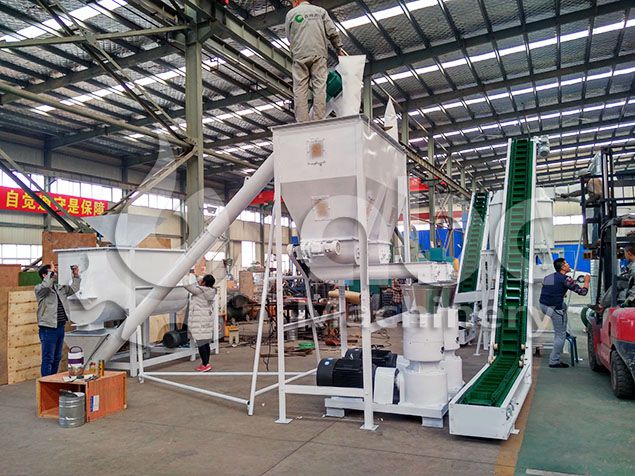 Mixing and Pelletizing Machinery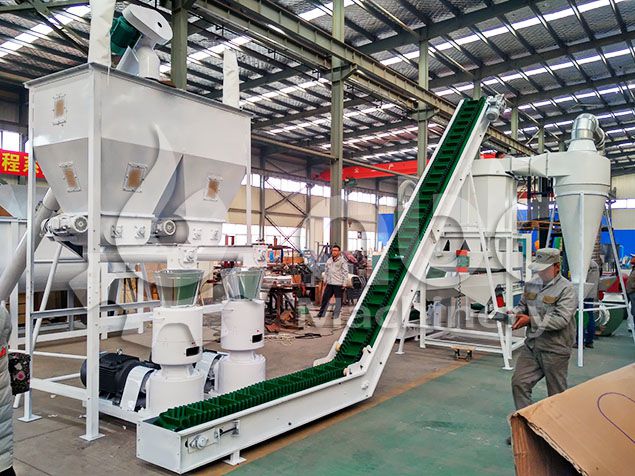 Pelletizing and Cooling Machinery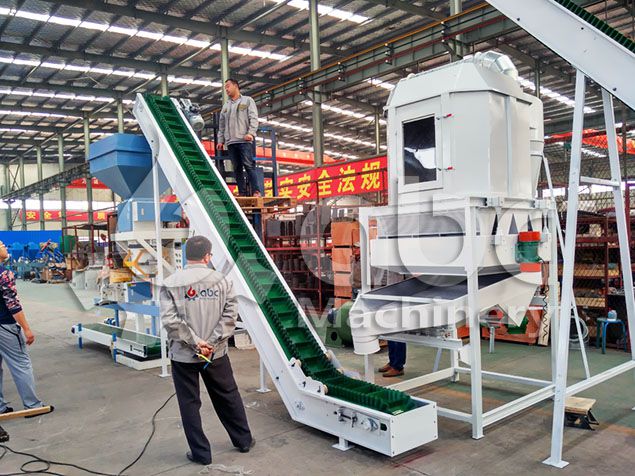 Feed Pellets Cooling and Packaging Machinery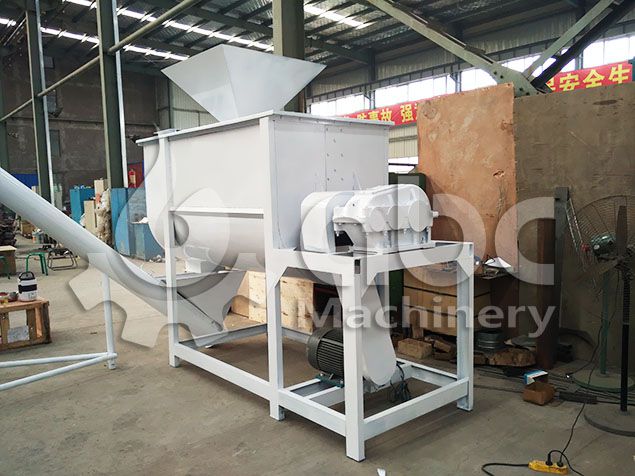 Mixing Equipment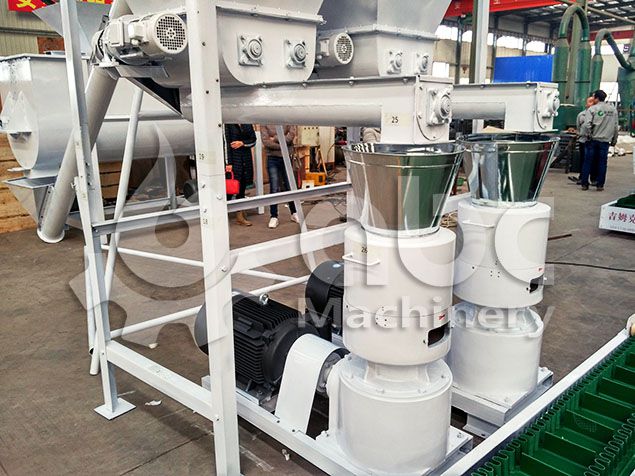 Flat Die Cattle Feed Making Machines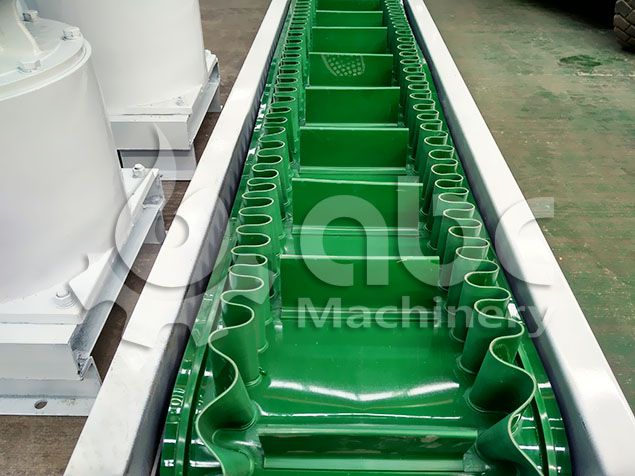 Belt Conveyor Details
Most farm animals such as cows, sheep and pigs among others usually consume about 100 grams of feed pellets per day. Large scale farmers usually utilize technology to process these feed pellets which are then consumed by respective cattle. Certain procedures are often followed in order to ensure proper production of concentrated cattle pellets feeds which are then consumed by the livestock animals. (Recent News: 3-5 tons per hour Animal Feed Processing Plant Shipped to Mali )
Complete Cattle Feed Pellet Production Process
This production unit is not only suitable for processing cattle and sheep feed, but also can be used to make poultry and fish feed pellets. Feel free to contact us to get your customized processing plan with detailed equipment cost!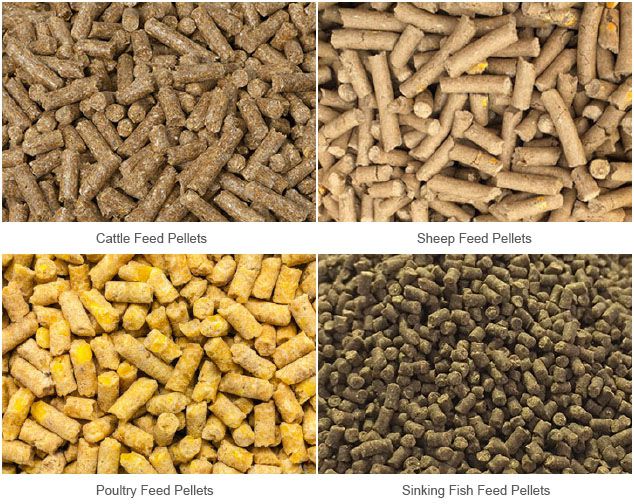 The followings are about the common feed processing machinery and general processes of complete feed production.
Raw Material Storage: This process is often a technical one which begins with the storage of raw materials such crop straws, grains and other additives in large silos.
Cleaning Process: After storage, impurities such as stones, sacks need to be removed in time so as to ensure smooth production of the feed products.
Crushing Process: The raw material is then taken to a crushing area where it is crushed in two stages and placed into batches waiting for the next stage where feed materials are weighed manually and poured into mixing machines.
Mixing Process: At the mixing chamber the feeds are mixed using both continuous and batch methods in order to ensure that the components blend with another perfectly and also for replacing the lost feed formula.
Pellets Making Process: The feed is then pelletized using flat die feed pellet mill or ring die feed pellet mill which ensures that the material is heavily densified in desirable sizes.
Cooling Process: In the end, the feed pellets will be cooled to between 75-85degrees. The size of an individual farmer can determine the type of feed cooler. Sieving machine is also needed as the sieving process is able to separate powder from finished feed pellets in which the pellets are packed while powder goes back to pelletizing process.
Here is a small feed production project you might be interested in:
1 ton per hour Animal Feed Pellet Production Plant in Uganda

4 Types of Cattle Feed Pellets
There are about 4 types of cattle pellets which includes:
Forage feed that consists mainly of grass, grain straws, hay and stalks.
Complete feed is another one which composes of all the forms of nutrition including proteins, additives, coarse meals and roughage.
Concentrated feed is mainly suitable for herbivores in order to supplement the nutritional quotient that lacks in animals such as sheep, cows and others. It is usually the main source of nutrients for livestock and poultry.
Premix feed is normally composed of additives which ensure either cattle gets enough nutrients, prevents diseases and proper quality of feed. These pellets are normally produced and used for about 1-6% of a livestock feed ration.