Making A 2-3 TPH Crude Wood Pellet Production Business Plan in Serbia
Wood pellet production line is the best choice for pellet production business in Serbia. It requires a relatively simple business plan and will be a successful business plan. Buy factory price sawdust pellet mill from professional manufacturer or supplier, learn to process high-quality wood pellets and get FREE guidance to setup wood pellet production projects for business in Thailand, United Kingdom,Chile, Russia, New Zealand, Canada etc., at low cost.
Starting a Successful Wood Pellet Production Plant Business in Serbia
This is a brief project report for the setup of a 2-3 ton/day Log Pellet Production Plant in Vlasotince, Serbia. The project is a small to medium sized complete log pellet production including splitting, chipping, screening, crushing, drying, pelletizing, cooling and packaging processes designed and built specifically for processing wood pellets. If you are about to start a biomass pellet fuel plant or invest in a wood pellet making project, please take the following project as a reference.
Pictures Display: 2-3 Tons/day Log Pellet Manufacturing Factory in Serbia
The cost to set up such a middle-sized 2-3TPD wood pellet processing plant in Serbia is $70,000 to $150,000. The price is highly dependent on the process design and the equipment included. Contact now to get your customized project plan and exact cost. ( Related article: How to start a biomass pellet processing plant? )

Factory Price Wood Pellet Processing Line [Hot Sale]
Parameter Table of Some Ring Die Pellet Mill
Model

Capacity (Ton/Hr)

Sawdust / Stalks

Power (kw)
Dimension (mm)
BPM420
1.2~1.5 / 1.5~2.0
90+1.5+2.2kw
2500*1100*1900(2300)

BPM508

1.5~1.8 / 2.0~2.5
110+1.5+2.2kw
2800*1100*1900(2300)
ABC Machinery is a professional manufacturer and supplier of factory-priced small, medium and large pellet mills and the best service from process design to after-sales service. Feel free to contact us for more information about wood pellet Production Line for sale!

How to Make the Sawdust Pellet Production Busines​s Plan in Serbia?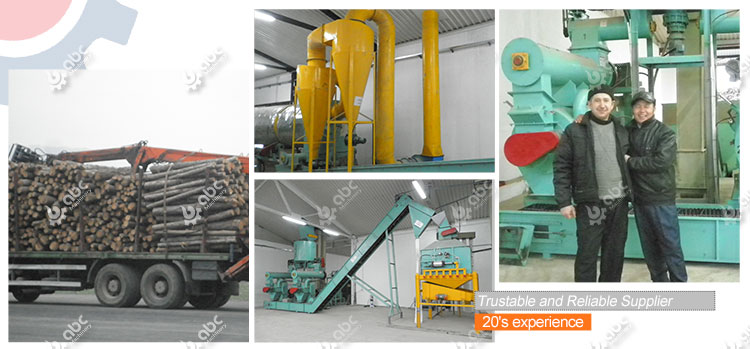 How to Make Serbian Sawdust Pellet Production Business
This pellet production plant is designed to process logs into wood pellets with a capacity of 2-3 tons per hour. The line includes a splitter, chipper, sifter, drum dryer, separation bin, 2 sets of ring die pellet mill (BPM420), cooler, and packaging machine. Upon request, our engineers designed a unique line for our client in Serbia. This is our customer's first pellet plant, and if this plant runs well, he will develop another larger scale pellet plant to produce pellets from other different raw materials.
Advantages of Establishing a Log Pellet Processing Plant in Serbia
Geographical advantages: beautiful Vlasotince, Serbia, 300 km from Belgrade, where there are rich forest resources.

Sales to the country and abroad: The uses of the produced wood pellets are residential heating and domestic energy, as fuel for boilers or thermal power generation. In addition to meeting the national demand, sometimes it is also exported to neighboring countries.

Government support: Wood pellets are a green and sustainable energy source and enjoy national policy subsidies in many countries.
To sum up, more and more investors are planning to start their own wood pellet processing business locally due to the many advantages of wood pellet production process. If you want to know more details about pellet processing plants and get a business plan for setting up a pellet processing plant, please feel free to contact us!