Vertical Pellet Machine

Make Pellets from Various Wood / Biomass / Crop Wastes
This vertical type pellet machine is launched by ABC Machinery lately. It is designed and manufactured for making pellets from rice husk / hull, rice stalk, corn straw,, cotton stalks, alfafa straw, peanut shells, bamboo powder, and palm fiber, Empty Fruit Bunch (EFB), sawdust, etc.
BEST Pellet Machine for Making Pellets from Crop Stalk & palm Fiber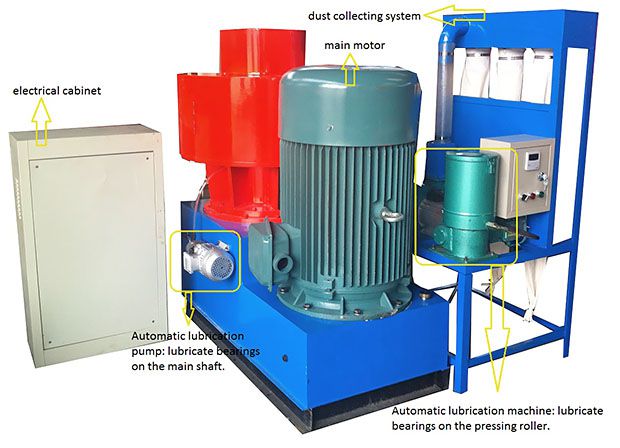 Vertical type Wood Pellet Machine Structural Design
| Model | Power (kw) | Capacity (ton/h) | Size (m) | Weight (kg) |
| --- | --- | --- | --- | --- |
| GC 450 | 55 kw | 0.8-1.2 ton/h | 1.4*0.75*1.55 | 2200 kg |
| GC 550 | 90 kw | 1.5-2 ton/h | 1.9*0.95*1.8 | 4000 kg |
| GC 800 | 160 kw | 2-3 ton/h | 2.5*1.35*2.1 | 6500 kg |
| GC1000 | 200 kw | 3-4 ton/h | 2.65*1.45*2.1 | 8000 kg |
This vertical pellet machine adopts unique "4-8 rollers" structure design, which greatly increases the press rate and boosts the pellet production. The pellets are extruded from the inside out. The pellets manufacturing process combines centrifugal force with extrusion, which can increase production out ensure the hardness and density of final biomass pellets at the same time. The pressing die is based on "Vertical Double Layer" design.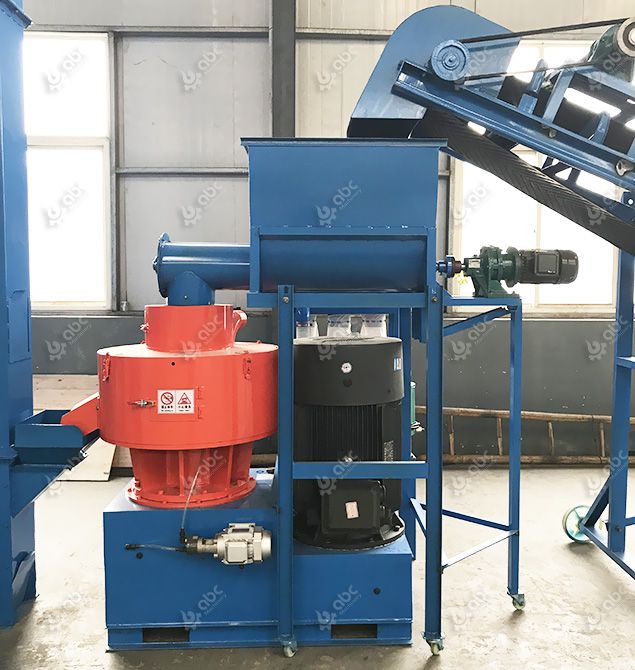 Vertical Biomass Pellet Mill in Complete Pellet Plant
Features of this Vertical Pellet Machine
Reasonable structure design and stable pellets making performance.
Adopt high precision gear transmission, equipped with automatic hydraulic circulating oil system, ensures the service life of the gearbox and the working stability of the pellet machine.
Vertical Motor: The mounting hole is centered on the output shaft and evenly distributed around, which makes the wood pellet making machine run with greater power and stability.
Fan System: It is located on one side of wood pellet machine. The operator can easily control its working time. Its main function is to help remove dust and steam.
The main working parts (press roller and pellet die) are made of high quality alloy steel, and are heat-treated. The hardness can reach above 52, which not only assure the pelletizing effect, but also enhance the service life.
The two pressing dies can use the same aperture to increase the service life of the work piece, but also can use two different aperture to save the cost to buy another press die for making different sizes of biomass pellets (wood pellets, bamboo pellets, palm fiber pellets, rice husk pellets).
Business Opportunity: Making Pellets from Crop Straw / Stalk?

Here let's take rich husk pellets production business for example. Rice husk/straw is a great raw material for making biomass pellets which can be widely used as biomass fuel in many fields. Rice husk pellets can be burned in traditional stoves, furnaces, boilers, pellet stoves and other heating systems. The development of rice husk pellet production can not only ease the environmental pressure caused by fossil fuel combustion, but also the best way to deal with agricultural waste. (You maybe also interested in making pellets from coffee husk >>)
Start Your Own Rice Husk Pellets Making Business


Complete Pellet Mill Plant for Small to Medium Scale Biofuel Pellet Production
The biggest market advantage of rice husk pellets business is abundant cheap resources and high value finished products, which means high profit margins. Let's focuses on the combustion effect comparison between rice husk and rice husk pellets. Compared with rice husk, the combustion of rice husk pellets is much cleaner. When burning directly, the ash content is around 15%~16%, while after be extruded into pellets, it can be decreased to 6%~7%. (Read more about how to make rice husk briquettes?)
Rice Husk Vs Rice Husk Pellets (ash content when burning)
Rice Husk
15%~16%
Rice Husk Pellets
6%~7%
Rice husk is consist of inner glume and outer glume. Generally, golden yellow in color, 5mm~10mm in length, 25um-30um in thickness. The bulk density of raw rice husk is about 96-160kg/m3, which can greatly increased after been pelletized.
ABC Machinery is a reliable pellet machine manufacturer and supplier, offering high-quality rice husk pellet making machines. Just as rice husk, maize stalk, it is also wisdom to turn groundnut shells, sawdust and many other kinds of biomass wastes into biofuel pellets. Contact us now! Our service team will help you with the details and costs of pellet production.