Demo Video: How Coffee Pulp Pelletizer Works?
Recently, a demo video of coffee pulp pelletizer was taken for one of our client in Swiss. He is looking a small scale pelletizer for processing coffee husks (capacity 250kg/h). He is very interested in our flat die wood pelletizer but still worried about the quality of final pellets. So he send us two bags of his raw material: one is pure coffee husk, and the other is coffee husk mixed with 10% sawdust. We made a test run with these two kinds of materials by use of our small pellet making machine. Then, the test video and pellets photos were send back to him for reference. Beyond doubt, he is very satisfied with the result.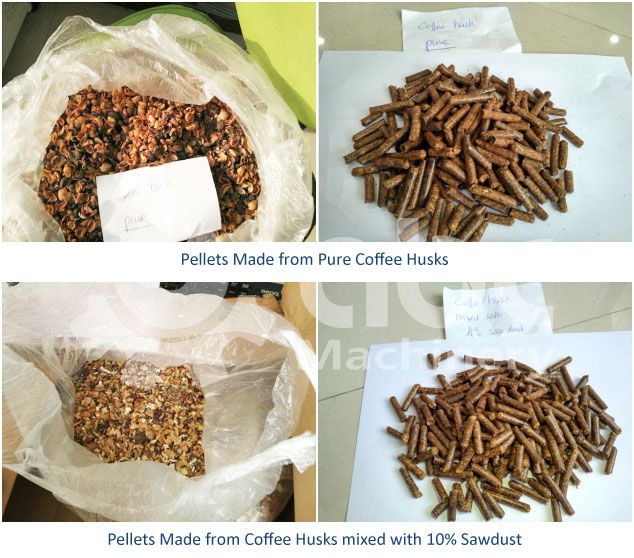 Demo Video of Coffee Pulp / Husk Pelletizing Process
View the video and photos below to know more about coffee pulp / husks pelletizing process.
Video 1: Raw Material - Pure coffee Husk
Video 2: Raw Material - 90% Coffee Husk and 10% Sawdust
coffee Pulp / Husks Pelletizing Guidance
The process of pelletizing coffee husk (including drying, crushing, cooling and packing) is similar to that of other biomass materials. In oder to work premium coffee husk pellets, it is necessary to follow the next tips.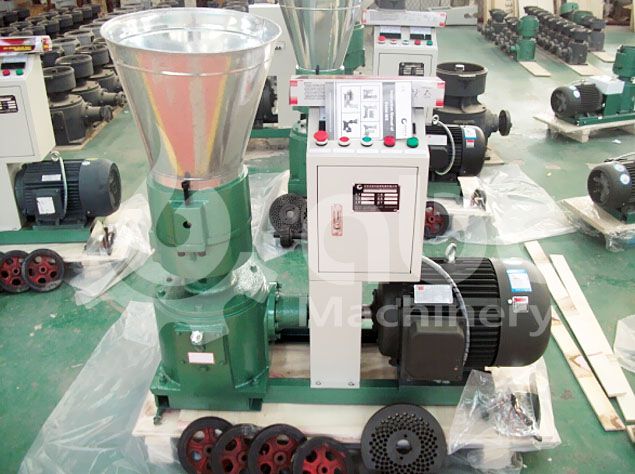 Small Husk Pellet Mill

To cut production costs: choose a place in proximity of coffee husk raw material production
To increase calorific power follow the formulas:
a) 4.50% bagasse + 25% peanut shell + 25% coffee husk
b) 3.25% corn cob + 75% coffee husk
c) 2.50% corn cob + 50 % coffee husk
d) 1.75% corn cob and 25% coffee husk
Why is coffee husk considered a good biofuel?
Wood sawdust is the most commonly used type of pellet fuel and is generally made from compacted sawdust. The main advantages of wood sawdust are its high calorific power, density and simplicity in terms of usability. Although not as good as wood sawdust, coffee husk shares some characteristics of wood and this alone makes it a good candidate for biofuels. In addition, by use of biomass pelletizer machines, the pellets made up of coffee husk are uniform and have the same size and shape — these features make it easy to use. Another characteristic of coffee husk is its composition: it contains a some lipids and proteins which contribute to the increase in its calorific abilities. (Related Equipment: Rice Husk Pellet Making Machine)
Where can Coffee husk pellets be Used for?
Centralized steam boilers and boilers
Power Plants
House Hold BBQ Rack
Co-fire together with coal (in some industrial places)
The Supply of Global Coffee Husks
Vietman and Brazil are some of the biggest coffee producers and exporters in the world. When millions of coffee cherries are processed, they produce agricultural waste like coffee husk / pulp / shell. Being extracted from coffee, coffee husk is rich in organic matter and contains caffeine, tannin and also lignocelluloses materials which give this substance a great potential when it comes to generating energy through coffee husk pellets. As a matter of fact, more and more power plants are beginning to use coffee husk pellets in order to generate energy and electricity in a sustainable manner — Brazil is a country that represents this usage of coffee husk. Besides power plants, coffee husk pellets can be used for home, hospitals and schools heating, cooking and others.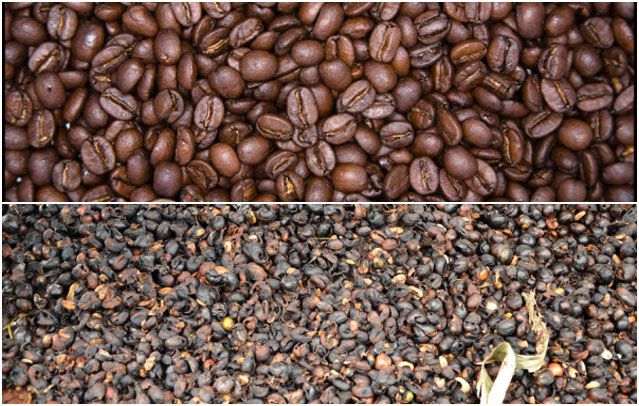 How much coffee husk is there available Around the World?
Coffee is of fundamental importance to the economies of Brazil, Vietnam, Columbia, India, Ethiopia and others who have land and water availability, and low labour costs. In Brazil only the coffee production from 2008 — 2013 averaged almost 3 million tons. The amount of the waste from coffee ranges from 30% to 50% of the weight of total production. Worthless to mention, coffee has a huge market demand and there is huge potential to the use of coffee husk pellets.