Biochar Briquette Production Line
Many people asked us for help on how to choose the right briquettes making machine to set up their biomass briquette plant for business. Speaking of buying biomass briquette machinery, it is all depends on the property of your biomass raw materials, factory site conditions, your requirement on final products and your project cost budget. ABC Machinery, the top briquetting machine suppliers in China, offers turnkey projects of biomass briquetting to support your biomass fuel business. If you have any questions about briquetting plant setup, don't worry, just tell us your requirements and our professional engineer will help you make the best and detailed project plan.
Biomass Briquettes Or Biochar Briquettes?
▶ 500~5000kg/h when using punching type briquette machine. (The end product is solid briquettes which is not suitable to be processed into charcoal)
▶ 200~1000kg/h when using screw type briquette machine. (The end product is hollow briquettes which is suitable to be processed into charcoal)

| Starting Briquetting Business | Produce Biomass Briquettes | Produce Bio char Briquettes |
| --- | --- | --- |
| Briquettes | Solid Briquettes | Hollow Briquettes & Biochar Briquettes |
| Briquettes Production Process | crushing → drying → briquetting → packing | crushing → drying → briquetting → charring/carbonizing → packing |
| Project Report | 3TPH Glycyrrhiza Briquette Production Line Setup in Tajikistan | 1TPH Sugarcane Bagasse Charcoal Briquette Manufacturing Plant in South Africa |
For the ones who want the build a complete biomass briquette plant for manufacturing biomass briquettes, you should know the main process, and then you can choose the right equipment to low briquetting plant setup cost. Your production line generally includes four main processing sections: crushing, drying, briquetting and packing. What needs to be emphasized is that these four sections are not always necessary in all cases. Some of them are optional such as crushing, drying, and packing process. (Read more: Rice Husk Briquette Machine Price >> )


Setup Biochar Briquettes Making Plant
The "bio char" here refers to charcoal briquettes which are carbonized biomass briquettes. It means that you need to make biomass briquettes firstly and then carbonize the briquettes by adding charring/carbonizing section to charcoal production line. There are two options: add carbonization furnace or build charcoal kilns for starting a charcoal briquette business.

Main Equipment Included in Biomass Briquetting Plant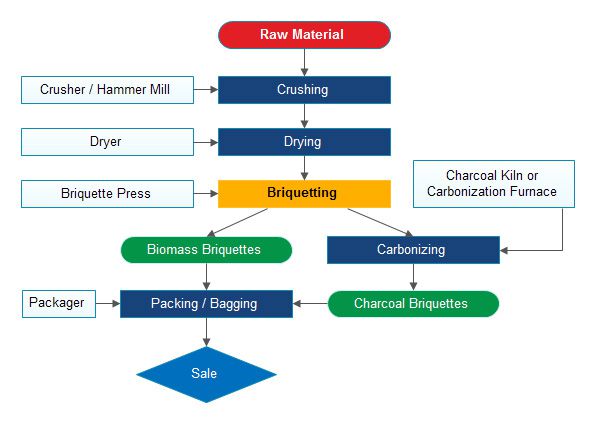 Biomass Briquettes Manufacturing Process Flow Chart
Crushing Machine: To meet the requirement of briquetting process, the raw materials need to be crushed to less than 3mm.
Drying Machine: The raw material moisture is required be around 15% before feed into the briquetting machine.
Briquetting Machine: If you plan to make hollow briquettes or charcoal briquettes, choose the screw briquette making machine. If you plan to make solid biomass briquettes, punching briquette press is what you need.
Charring / Carbonizing Equipment: Choose the charcoal brick kilns or carbonization equipment based on your situation.
Packing Machine: The finished briquettes can be packed if you need.
Waste Gas Collection System: Our biomass briquette plant can strictly meet the Environmental Protection Rules in most countries.
Setup Briquetting Production Plant - Turnkey Project Supplier

Biomass Briquette Making Plant for Sales
How to set up biochar / biomass briquette plant? What's the cost? HOT Sale biomass briquette plant setup offered by biomass briquette plant setup manufacturer or supplier - Guide on process of biomass briquette production and How to start biomass briquette plant business with limited cost in Tanzania, Egypt, Morocco, Ghana, South Korea, etc.
Biomass Materials Suitable for Biofuel Briquettes Making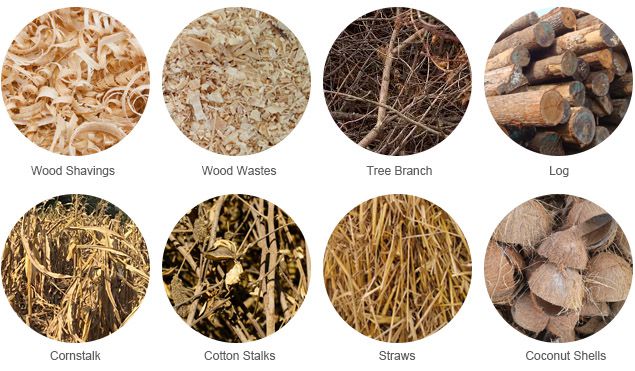 Biomass Materials Suitable for Briquetting Business
Wood Processing Residues: Logs, branches, wood chips, wood blocks, wood shavings and sawdust, etc.
Crop Wastes: Stalks and straws such as wheat straw, cornstalk, cotton stalk, mustard stalk, rice husk, soybean husk, etc. Husks & shells such as groundnut / peanut shell, coffee husks, rice husk, coconut shell, etc. (Read more: Coconut Shell Charcoal Briquettes Making Machine >>)
Other: Bamboo, palm fiber, bagasse, etc.
Since we have rich experiences in biomass fuel processing, if you are not sure about your raw materials, just contact us to get briquetting testing or our similar project report for your reference. The equipment we provided is guarantee the most favorable factory price! Massage us through blow inform to get latest promotion price list!