British Client Ordered Pellet Mill Spare Parts 100% Prepaid
On May 6, 2015, one of our British Customer pay in full for our pellet mill spare parts including pellet die and roller.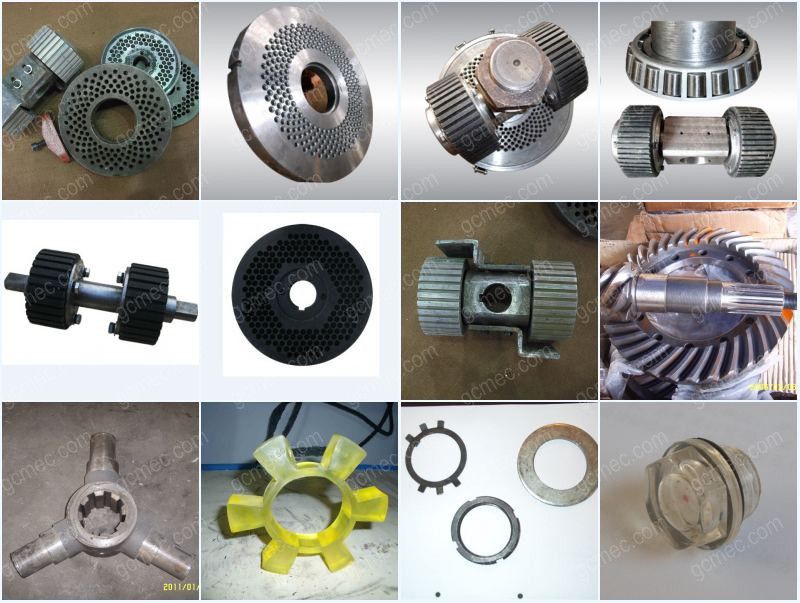 There are various different types of pellet machines for sale on the market. Different types have different spare parts. To make you can get the original spare parts for your pellet mill. When choosing pellet mill manufacturer, it is important to chooose the one that can offer all kinds of spare parts afterwards. Flat die pellet mill for example, the common wearing parts are dies and rollers. If the manufacturer can't supply these spare parts separately. Then you can hardly find the match ones from other places.
GEMCO offer both pellet machienry and components. We can offer you standardized pellet mill spare parts, so that you can replace the spare parts such as die and roller with ease, dismounting devices and grease gun for lubrication. Below is the most common parts of flat die pellet machine.
Why Choose GEMCO Pellet Mill?
GEMCO owns professional technical patents, making the spare parts perform better.
Our quality department will ensure each parts meeting the quality standards.
The key pellet mill parts are made of alloy steel to strengthen the durability of pellet press.
Main components go through heat treatment to make the surface oxidation resisting.
The pellet die can be customized to making pellets with different length and diameter.
Large- scale and timely supply of our pellet mill parts is available.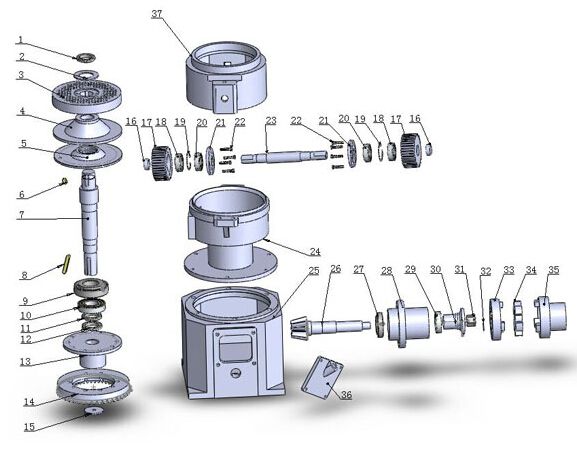 Spare Parts List of Pellet Mill
| Item | Description | Qty |
| --- | --- | --- |
| 1 | Round nut | 1 |
| 2 | Flat Pad | 1 |
| 3 | Die | 1 |
| 4 | Disc of throwing stuff | 1 |
| 5 | Dust cover of principal axis | 1 |
| 6 | Flat key of type A | 1 |
| 7 | Principal axis | 1 |
| 8 | Flat key | 1 |
| 9 | Tapered Roller Bearings 30309 | 1 |
| 10 | Bearing 6208 | 1 |
| 11 | Round nut | 1 |
| 12 | Round nut | 1 |
| 13 | Big gear seat | 1 |
| 14 | Big gear (43) | 1 |
| 15 | Check Ring for axis | 1 |
| 16 | Check Ring | 2 |
| 17 | Pressing Roller | 2 |
| 18 | Bearing 6205 | 2 |
| 19 | Check Ring for Hole | 2 |
| 20 | Bearing 6205 | 2 |
| 21 | Bearing Cover of press roller | 2 |
| 22 | Hexagon Head Screw | 8 |
| 23 | Wheel Shaft | 1 |
| 24 | Spindle Box | 1 |
| 25 | Gear Box | 1 |
| 26 | Gear Shaft | 1 |
| 27 | Tapered Roller Bearings 30207 | 1 |
| 28 | Pinion Seat | 1 |
| 29 | Bearing 6206 | 1 |
| 30 | Splined sleeve | 1 |
| 31 | Castle Nut | 1 |
| 32 | Cotter Pin | 1 |
| 33 | Passive Coupling | 1 |
| 34 | Elastic Cushion | 1 |
| 35 | Active Coupling | 1 |
| 36 | Cover of observation window | 1 |
| 37 | Upper Box body | 1 |