Feed Pellet Line
Application: Large scale feed mill plant / feed factory / cultivation factory; Ideal feed milling production line for high yield and high automation fodder production.
Main Feature: Compact structure / Resonable craft / Convenient installation / Simple operation / Low maintenance cost / Low investment. Feed pellet line which can produce 3000-10000 T powder materials or feed pellets per year. The complete pelletizing process includes raw material receiving, crushing, batching, drying, feed pelleting and packaging. During milling, the nutrition of feed pellets will not lose.
Flowchart of Feed Pellet Milling Production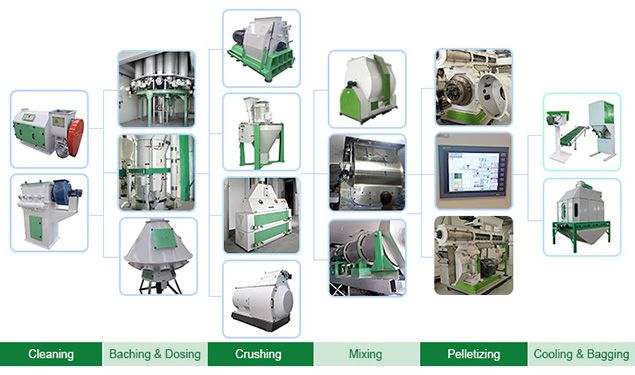 We supply turnkey solutions of feed production, from evaluation, design, project management, process engineering to procurement local manufacturing, installation, commissioning, after sales service, and financing (price & cost control). We study every details of the pelleting solution, so that to ensure you get the best feed milling equipment, best service and best plan.
Details of GEMCO Feed Pellet Line
| | | |
| --- | --- | --- |
| | | |
| Raw Material Receiving System | Crushing System | Batching System |
| | | |
| Pelletizing System | Bagging System | Auxiliary Section |
Feed pellet line/plant is also called feed pellet production line. A complete feed mill plant or feed pellet line generally includes silos for raw material storage, raw material receiving system, first batching system, mixing system, second batching, crushing system, pelletizing system, cooling system and bagging system.
Planning to build an animal feed pellet mill plant? GEMCO, a reliable pellet milling equipment manufacturer with years of experiences in fodder feed pelletizing can offer exactly what you want! Here, you can get specific feed pelleting plan for different animals, including cat, dog, turtles, shrimp, fish, ducks, chickens, sheep, pig, cattle and so on. GEMCO can also offer solutions for wood pellet making. Feel free to contact us if you want to know more details.

Related Equipment of Feed Pellet Line
Feed pellet line is generally consisted of feedstock crumbler, hammer mill, dryer, mixer, feed pellet mill, cooler, packing scales, etc. Tell us your raw material, requirements of capacity and budget for the plant. Then GEMCO can design a suitable and specific solution for you. To ensure the success of your business, we will provide detailed solutions including material storage, pretreatment, crushing … pelleting, cooling, packaging and waste disposal.
| | | | |
| --- | --- | --- | --- |
| | | | |
| Feed Milling Equipment | Bucket Elevator | Crumbler | Distributor |
| | | | |
| Grading Rotary Sieve | Hammer Mill | Mixer | Pulse Dust Collector |
| | | | |
| Screw Conveyor | Vertical Spout Magnet | | |
Feed Pellets Vs Feed Mash and Traditional Foddor
Compared with feed mash or traditional fodder, feed pellets are clearer, healthier and more convenient to transport. Feed pellets can provide condensed nutrition for livestock. Due to these advantages, feed pellet milling is getting more and more popular in recent years. GEMCO Feed Machinery can make durable fodder pellets with a lustrous surface for you!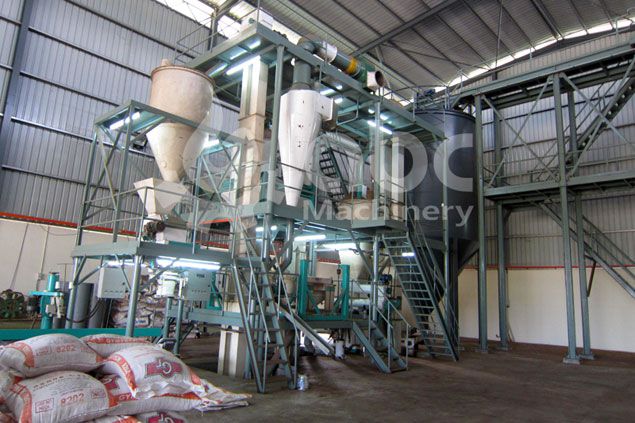 Abroad Projects of GEMCO Feed Pellet Milling Plant
G1 Solutions Inc.; CA, USA (90000 ton/year feed mill plant)
L.T.D. Caucasus Agro International; Georgia (30000 ton/year feed production)
Alhassan Farms; Ghana (30000 ton/year poultry feed milling production)
Ngawi K.A.B.; East Jawa, Indonesia (50000 ton/year cattle feed mill line)
Hum Huat (Sarawak) Sdn. Bhd.; Malaysia (6 ton/year mash feed plant)
Al-Taqua Co.; Egypt (30000 ton/year poultry feed mill)
PT Jadi Mas; Indonesia (30000 ton/year compost pellet mill)
Emman Farming Enterprises Limited; Zambia (90000 ton/year cattle feed mill)
Domestic Projects of GEMCO Feed Pellet Line
Shangdu Feed Co., Ltd (Liuhe Group) (360,000 tons/year)
Xinzheng Yongtai Feed Co., Ltd (120,000 tons/year)
Shangdu Group, Longhu Keji Feed Co., Ltd (120,000 tons/year)
Lanzhou (Gansu) Dabei Agricultural Feed Co., Ltd (60,000 tons/year)
Anyang Dabei Agricultural Feed Co., Ltd (30,000 tons/year)
Taiyuan Dabei Agricultural Feed Co., Ltd (30,000 tons/year)
Luoyang Feed Co., Ltd (Zhengbang Group) (90,000 tons/year)
Tianjin Tiaozhan Feed Co., Ltd (90,000 tons/year)
Shangqiu Huipu Feed Co., Ltd (60,000 tons/year)
Weishi Lvfeng Feed Co., Ltd (60,000 tons/year)
Henan Longbao Feed Co., Ltd (120,000 tons/year)
Jinzhou Feed Co., Ltd of Liuhe Group (60,000 tons/year)
Shandong Yishui Zhengxiang Feed Co., Ltd (60,000 tons/year)
Henan Dade Aquatic Feed Factory (Zhengzhou) (120,000 tons/year)
Linyi Feed Factory of Shandong Mengfa Feed Group (60,000 tons/year)
Shandong Weizun Feed Co., Ltd (180,000 tons/year)