Buy Floating Fish Feed Making Machine from Reliable Manufacturer at Factory Price
The fish feed making machine and technology will differ from that of terrestrial animals. Besides, different types of aquatic animals have their feeding and living habits at various stages of their growth.
Aquatic Feed VS Terrestrial Animal Feed
Aquatic and terrestrial animal feeds differ quite a lot. This is brought about by the differences in their living environment, physiological function, and living habits. The processing of aquatic feed differs from the terrestrial feed, such as cattle feed or poultry feed. This is because that aquatic feeds need stability in water to reduce pollution of feeds to the water environment and prevent the loss of nutrients. The crushing fineness of aquatic feeds is higher to improve digestibility since aquatic animals have a short digestive tract and low digestive enzyme activity.


Different Kinds of Fish Feed Pellets
Main Feedstuff for Processing of Fish Feed Pellets: Wheat flour, wheat bran, corn, rapeseed oil cake, cassava, barley flour, vitamins, salt, fish powder, soybean oil, micro-elements, etc.

Fish feeds are categorized into three types:
Floating fish feeds
Sinking fish feeds
Slow sinking fish feeds
Floating Fish Feed Pellet Making Machine for SALE
Complete fish food production line is composed of fish feed mill, crusher, mixer, dryer, cooler and other equipment. It is used to produce high quality and nutritious fish feed from raw materials, such as corn, maize, grass, molasses and other grains. ABC Machinery is a reliable fish feed machine manufacturer with decades of experience in field of feed processing equipment and project.

Main Equipment for Setting Up a Floating Fish Feed Plant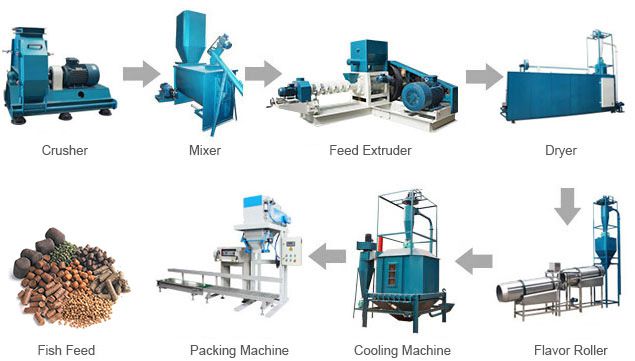 The produced pellets are unique in flavor, rich in nutrients, fine in texture and can be customized in sizes, which makes it the most favorable feed for goldfish, tropical fish, catfish, shrimps, and other animals. More important, the capacity is very practical and scientific, suitable for small or medium scale fish farming.


If you are planning to start your own feed making business (tilapia, catfish, shrimp, etc), feel free to contact us! Our service team can help you on customized business plan, feed granulating process design, equipment selection, feed mill layout, and fish feed manufacturing technology.
Commercial Floating Fish Feed Manufacturing Process
Main processing stage of Fish Feed Factory: Feed Dosing system, feedstuff crushing, mixing, conditioning, pelleting or extruding, drying, spraying, cooling and bagging. Don't hesitate to contact us whenever you are interested in setting up an animal feed manufacturing company !
Selection of Raw Material
When selecting raw material for the processing of the fish pellets, keep in mind that the final product should have stability in water. The main nutrient component is the starch with a content of 10% to 15% for sinking fish feeds and over 20% for floating fish feeds. Generally, starch content can be between 5% to 60%. Carbohydrates in extruding fish feed pellets act as an emulsifier, suspending agent and adhesive.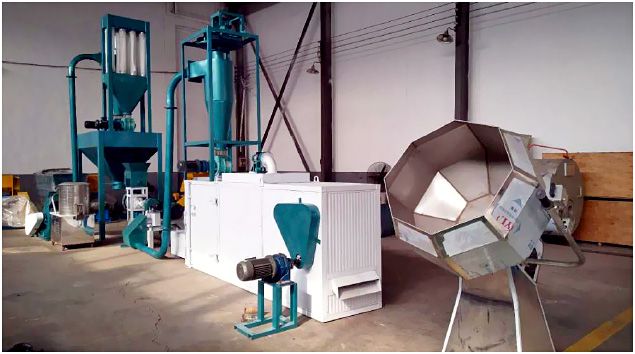 HOT Sale Fish Feed Making Unit in Our Factory (150kg/h)
The crushing process is used to reduce the size of raw material to the desired size. Hammermill is commonly used in 150-700kg/h fish feed productiuon while water drop crusher is used in 1-10 ton/h fish feed production. Large scale aquatic feed manufacturing factories generally adopt secondary crushing process where it starts with normal crushing, then ends with fine crushing.
This process is vital in the production of fish feeds. Physical properties of the ingredients determine how fast or slow you will complete this process. When adding ingredients to the mixer, it's good to start with larger ingredients and finish with smaller ingredients like minerals, vitamins, and drug pre-mixture.
A liquid of up to 10% is generally allowed in the mixture. Before adding the liquid or oil, ensure that dry ingredients in the mixer are properly mixed (dry mixed). You will need to mix again (wet mix) after spraying the liquid or oil at the top of the dry mixture. However, some fish feeds may require moist raw material. The commonly used fish feed mixer is the horizontal twin screw mixer.
Before making the fish feeds, you can choose to add water and heat to the powdery material. This will help to kill pathogenic bacteria, improve water resistance, and digestibility. This process may not be necessary for ordinary fish production, as the price is much higher. Actually, conditioning is done on wet type fish feed extruders.
Fish Feed Pelletizing or Extruding
There are two main types of machines used to make fish feed pellets.
Common Feed Pellet Machine: Fish feed making machine for producing fish bait and sinking fish feed. Compare to making poultry or livestock feed pellets, the machine for making fish feed has a higher compression ratio. Related News: Catfish feed making machine in Nigeria
Fish Feed Pellet Making Machine (Extruder): Used for processing all kind of aquafeed (semi-humid fish feeds, sinking fish feed, floating fish feed and slow sinking fish feeds). This this kind of fish feed extruder machine is mostly used to produce high-grade aquatic feeds. The price and cost of production is reletively higher than the normal pellet press.
Aquatic feeds are expected to have anti-corrosive properties to prevent the mildew of fish feeds. In fish feed making factories, they do this by reducing the feed moisture by a 3-layer drying machine. Usually, the content of moisture in these feeds is controlled below 11.5%. The good thing about this method of anti-corrosion is that it does not interfere with the quality, pH, composition, and the water quality of the feed.
A drum type sprayer is used to spray the heat sensitive components and the edible oil. The vaporous liquid is sprayed when the pelleted feed fall to contact with droplets in the air fully. This external spraying is done to:
a) Atomize the liquid as much as possible. - The design of the spray nozzle plays a critical role here. This is because the liquid distribution in the particles will be uniform when there are smaller droplets of atomization.
b) Match the weight of the particles and liquid material.-The water solubility of spraying liquid prevents loss into the water since the process of outside spraying is a continuous operation process.
Fish Feed Pellets Cooling
After spraying, the fish feed pellets are conveyed to a counter-flow cooler for cooling. Counter-flow cooler has several advantages in the processing of floating fish feed pellets such as small air volume, high automation, small floor area, and low power consumption.