Diesel Pellet Mill
Rice Husk Pellets
Rice Bran Pellets
Pine Wood Pellets
GEMCO diesel pellet mill adopts flat die structure design. This small type pellet mill is hot sell for homemade pellets. Its small size and diesel engine make it movable and very convenient to move around. The key parts of machine is a flat die and a pellet roller. While pelletizing, the well prepared biomass materials fall down to the area between the pellet die and roller. Then the pressure between the die and roller will compress the materials through the holes in the die. Then, on the other side of flat die, density fuel pellets will be extruded and cut into pre-determined length and then fall out of the pellet mill machine. Buy electric pellet mill >>
Parameters of Diesel Pellet Mill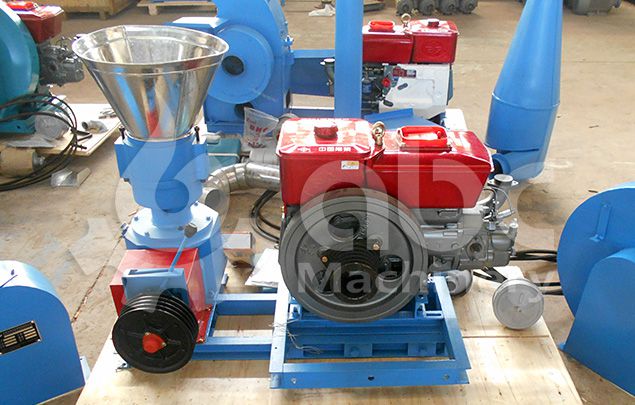 GEMCO Diesel Pellet Mill
| | | | | |
| --- | --- | --- | --- | --- |
| Type | Power | Output (kg/h) | Weight (kg) | Package Size (mm) |
| ZLSP 150A | 8Hp | 50-100 | 180/220 | 1000x500x750 |
| ZLSP 200A | 15Hp | 80-120 | 210/240 | 1460x750x900 |
| ZLSP 230A | 22Hp | 120-200 | 280/310 | 1560x850x1000 |
| ZLSP 260A | 30Hp | 160-250 | 330/360 | 1200x500x1070 |
| ZLSP 300A | 55Hp | 250-400 | 410/450 | 1220x600x1000 |
The diesel engine of this pellet mill is designed with 2 batteries, which makes the machine start easily even in cold winter. You can install a 24 Volt electric starter on this machine with if needed. This machine is safer than other types on the market since its transmission shaft is supported by two tapered roller bearings that can withstand larger two-way axial force and radial force.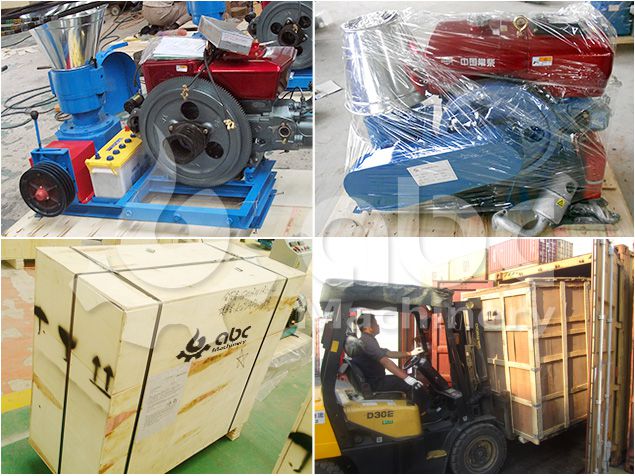 After goods inspection, the equipments will be packed well before delivery. Customized cases and containers, door to door delivery are also available.
Pelletizing Video: How to Make Pine Wood Pellets with Our Equipment
Features of Diesel Driven Pellet Mill Machine


Flat Die & Roller
Ideal choice for making pelelts in the areas lacking electricity (on the farm or outside in the open air).
Compact size make it portable than other pellet mills.
It can be used to pelletize many different kinds of biomass materials: stalk, sunflower husk, straw, wood chips, sawdust, etc.
No binder or additive is needed while pelleting.
Incredible low price. Some people may think that used pellet mill is a good choice for individual pellet making, but the fact is that buying a new one is not that expensive. This desiel pellet making machine is specially designed for mini or small scale pellet production, and the price is affordable for most families.
Our diesel pellet mills are designed with a clutch so that to ensure quick stop in case of emergency.

Hi i would like to inquire how much is the zlsp-d 268 30 hp diesel type pelletizer. Hope to hear your response. Thank you!
The latest price of diesel pelletizer was sent to your email, please check!
I am looking for a small size wood pelleting machine.
The product cataloge of our small pelleting machine was sent to your email, please check!
Do I need a three-phase power socket to connect your diesel engine pellet mills?
There are two ways you can connect our flat die small pellet mill to a power socket., including the ones driven by diese enging. A mini pellet mill can support a single phase or three phase power socket. Nevertheless, larger sized pellet mills come supporting only the three-phase power socket. The client can also ask his or her supplier to customize the motor to support their preferred option of power connectivity.
Is there a prescribed size or amount of moisture needed for the material before going into the wood pellet mill?
Yes. The moisture levels in the material set to go into the mills should be 15% or lower. It is advisable to dry your materials before processing them in the wood pellet mil. This is a general rule of thumb supported by all wood or sawdust pellets making machines irrespective of where they were fabricated. On the other hand, the material size should be 6mm. If your material size is large, you may have to process the material through a hammer milling machine first to reduce the size and thereafter process it again using the pellet making machine.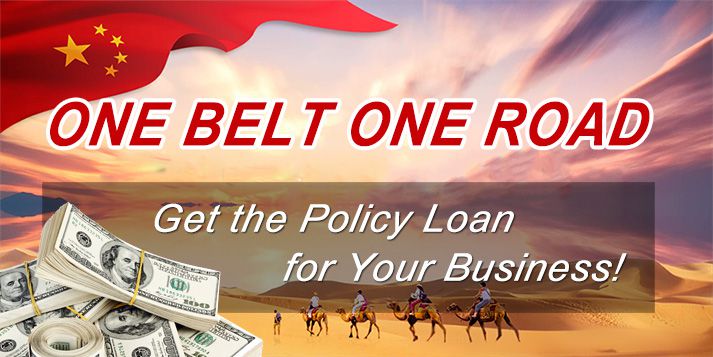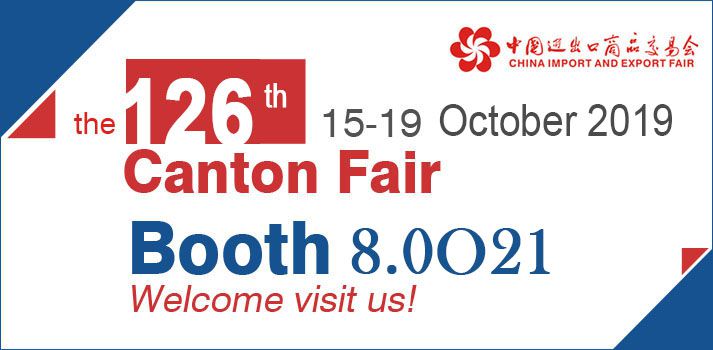 Hot Products
Latest News
Our Projects