Make Fuel Pellets From Horse Manure & Stable Wastes
With the advent of modern technology, living became fast-paced. People get to do scores of undertakings because of expedient machines. Nevertheless, technology can also signify an ominous revolution. It is but the high time that people use these machines for organic outcomes. One particular example of this is the pellet machine. Numerous organic wastes can be used for fuel production because of a pellet machine. (Related Product: Small Pellet Mill for Chicken Manure >>)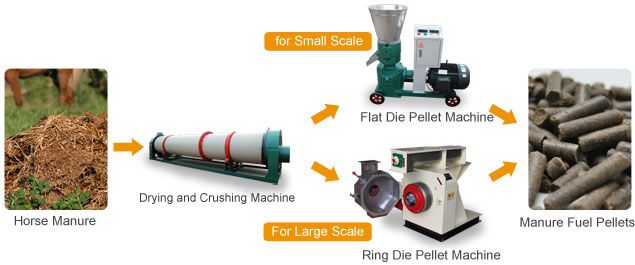 Horse Manure Pellets Making Process and Related Equipments

Horse Manure Pellets – Good Fuel as Oils
We have experimented with making pellets out of horse barn wastes. Because the waste is dried first, it loses any urine smell. Also, during the making of the pellet, the heat encapsulates the pellet. When you burn the pellets, they smell like firewood burning.

Fuel pellets from horse manure and stable waste are as good as fuel oils. To boot, these pellets produce lower fuel emission and residues. People must start living organically not only to save the environment but to combat health risks brought about by using artificial products. (Related News: Ring Die type Manure Pellet Machine Ordered by Mexican Client >>)
How to make Biomass Pellets from Horse Manure or Stable Wastes?
Biomass pellet fuels are but one of the many organic products at our advantage. Fuel pellets may be made from different compressed biomass. Examples of organic matter are the horse manure and bedding waste. Since horse manure combined with the bedding material contain the huge amount of energy, the end-products are comparable to fuel oils. How practical it is to know that people do not have to spare much in coming up with fuel pellets. Production of fuel pellets using horse manure and bedding waste follows an uncomplicated process. When the manure and bedding waste are ready for disposal, these materials must be dried up.


Horse Stable / Barn Wastes
Dry Up the Manure and Stable Wastes
Air-dry is ok. But drying up can take time. We can offer a remarkable drying system for a rapid facility of the production process. When the materials are completely dried, these can now be even out into 6mm or 8mm fuel pellets. These are now then ready for use.