ZLSP 150B Pellet Mill
Pellet Mill Parameters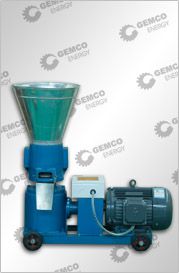 Type: ZLSP150B
Driven by: Electric Motor
Power: Three phase 5.5
Output: 50-100 kg/h
Weight: 95/110 kg
Package Size: 800x450x700
Application: Widely used for biomass pellets from wood materials, sawdust, farm residues, agricultural residues, rice husk, straw, maize straw, cornstalk, sunflower seed shell etc.

What kind of furnace pellet fuel use?
Q: Could you tell me what kind of furnace pellet fuel use? What's the difference between traditional combustion furnace and wood pellet furnace?
A: For home use or other kinds of small boilers, special pellet combustion stove is needed, such as pellet fuel furnace, pellet stove. For medium to large pellet combustion, there is no need to use special pellet furnace. You can continue using original coal-fired boiler. Only a few parameter adjustments are needed to make. Ash handling device can be simplified and sulphur removal process can cancel completely.
If you use pellet stove or boiler for home warming, this small homemade pellet mill is quite suitable for you. With this small pellet mill, you can easily make your own fuel pellets from fallen leaves at home.
Hi im interested in a home use pellet mill to make wood pellets for my pellet stove...please message me a price list of your home machines..I live in Salmon Arm B.C. I would also like to no how much for shipping as welll please and thank you.
We are glad to know you are interested in our Home Use Pellet Mill Machines,as per your requested we are enclosing you the Quotation Sheets of our Pellet Mills for your reference in this mail attachment. Please check which of our Pellet Mills are you interested in? So as to offer you our details information accordingly.
I would like to make wood pellets for my home as well as my family and freinds.I would like to know if any of these machine will do so .Do these machines accept wood chips or sawdust.
Our Pellet Mills are specialized in making pellets,thus we would like to inform you our machines are meeting your requirements. Your material of sawdust is no problem for our machine,while if your material of wood chips are in bigger size,you need a Hammer Mill to crush them into small size,and then you could make pellets by our Pellet Mill. BTW,we also supply the different model of Hammer Mills,so if you are interested in them please let us know,we would offer you promptly.