6TPH Complete Sawdust Pellet Making Line in Malaysia
Project Name: 6TPH sawdust Pellet Production Line
Production Output: 6 ton per hour
Project Location:Malaysia
Raw Materials: Wood blocks, wood shavings and sawdust (local wood)
Included Main Machinery: Wood Chipping Machine, Hammer Mill,drum dryer, Pellet Machine (BPM508 ring die pellet), Pellets Cooler and Pellet Packing system.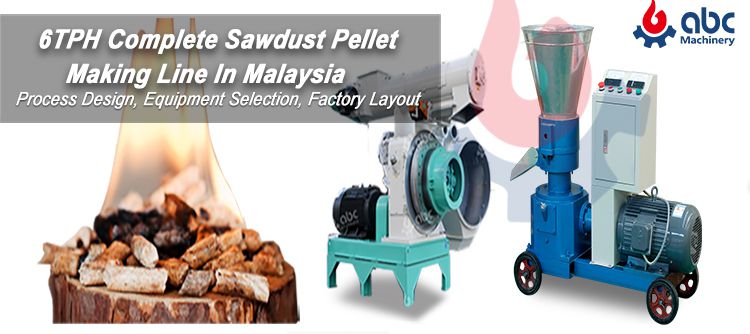 6TPH Sawdust Pellet Making Production Line Setup in Malaysia
This wood pellet plant production project was invested and built in Malaysia by WORLDBIO ENERGY SDN.BHD. Our client is a professional engineer with a strict attitude during the whole construction process.They demanded everything to be perfect and the final product to be of high quality. In this 120 tons pellet plant, they chose the most advanced ring die pellet mill, pre-processing crushing section, drum dryer, etc. Each area gives the customer a quality final product.
If you are interested in ring die pellet manufacturing machine to build biomass pellet manufacturing plant for wood chips, wood blocks, bagasse, waste straw, etc., please check our commercial ring die pellet mill >>.

Complete Steps of Sawdust Pellet Processing Line
Steps for making wood pellets
Crushing: The raw material used in the pellet making process must be crushed to a very small size. Usually it has to be small enough to fit into the mold. If the material is more than one inch, it must first be crushed. Wood chips or other small pieces can be reduced even further with a hammer mill.
Material convery: Once the material has been crushed, it needs to be transported to the dryer. There are several ways to transport this material, namely screw conveyors, conveyor belts and vacuum systems. Of these, screw conveyors are the most common method of transport.
Drying: Before making the pellets, make sure that the raw material is dry. Depending on the raw material used, the moisture content should be between 10-20%. In order for the pellet making process to work properly, the raw material should have the right amount of moisture.

Drying the raw material to the right amount of moisture content is essential for making high quality pellets.

Mixing:

Mixing of the raw materials is a crucial step in order to produce pellets of equal quality.

Raw materials with the same moisture content and density do not need to be mixed. Other materials coming out of the dryer may not have the same moisture content or density, and if there are inconsistent materials, they should be mixed in batches, usually drums and mixers.
Adjustment : Before pellets can be produced, the material must have the correct properties. Many materials contain enough natural lignin to be able to glue together. Other materials may require the addition of additional additives, such as vegetable oils.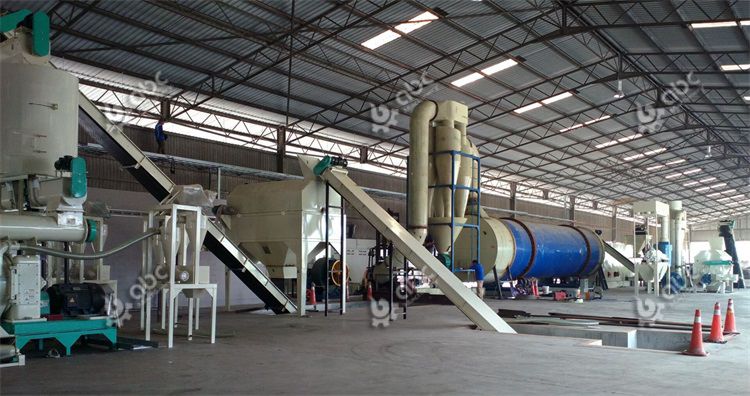 Complete Sawdust Pellets Making Production Line
If the moisture content of the material is too low when it comes out of the dryer, add moisture, or blend material with a higher moisture content.Some ingredients require more heat and pressure to make pellets, so they must be heated in advance. Generally, using a dryer will be enough to heat the raw materials. However, in some large pellet plants, the raw materials are heated with dry steam.
Pellet production processing: There are two basic types of pellet mills, flat die and ring die.
With a flat die pellet mill, the relative movement of the press rollers and the die grips, compresses and compacts the material into the die hole, which is then cut through the die hollow to form pellets or blocks.
Ring die pellet mill has a ring die. Through the ring die and pressure roller extrusion, squeezed into the ring die hole to form, and constantly extruded to the outer end.

Sieving: Not all pellets are usable. Some will break into small pieces. These small pieces must pass through a sieve. Depending on the quality and consistency of the pellets produced, they may also be sieved by pellet size.
Cooling: When the finished pellets leave the pellet mill, they are hot and also release water vapor. Therefore it has to be cooled and dried. The most common method is natural air drying, sometimes by means of their blower or fan. Care must be taken to dry too quickly to prevent cracks.
Pellet conveying: Once the pellets have cooled, they are conveyed to the packaging equipment. Screw conveyors are not used in this process, as they can damage the pellets. Usually a bucket elevator is used.
Packaging: Storage of the pellets. By this step, the pellets are finished and ready for use. However, in most cases, they need to be stored and transported to the consumer. The pellets must be stored away from moisture. If the pellets absorb moisture, they will swell and expand and become useless.
Pellets are usually sealed in plastic bags. For most consumers, the bags are an easy size to carry. Large bags weighing up to one ton can also be used for large equipment. They are stored directly in large silos and shipped in bulk to consumers.
Video of Complete Sawdust Pellets Making Production Line Working

The customer was quite satisfied with the quality of our machines and the professional team of engineers. In addition, he highly valued our attentive and timely after-sales service. Learn more about the wood pellet making process and construction plans for making your own pellets plant, please do not hesitate to contact ABC Machinery!