Small Pellet Press Line
Welcome to ABC Machinery, here we supply kinds of small pellet press machines, the output of which can range from 50 KG/H to 300KG/H. If the output can't meet your needs for sale or using, then we sincerely suggest you could think about the pellet press line.
Build Your Own Small Pellet Press Line
As the biomass pellets or animal feed producer the range of products your customers may need is large. Therefore, you need a pellet press line which can process different raw materials into biomass pellets or livestock feed to meet almost all customers' needs.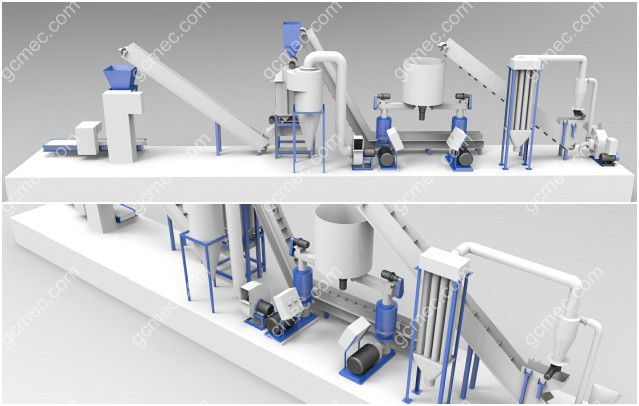 Small Scale Pellet Press Plan / Mini Pelletizing Unit
Then building a small pellet press line, which includes hammer mill (crusher), conveyor, flat die type small pellet press, pellet cooler and bagging machine (optional) is essential. The capacity of our small pellet press line can range from 500 KG/H to 800 KG/H. Below are two types of small pellet press we can supply. The left one is electric pellet press and the right one is diesel driven pellet mill.

The equipment used in our plant is based on the original equipment developed by Lister over 50 years ago. It is worth mentioned that this pellet press line can produce pellets of a very high quality and the design of it is highly efficient. It makes the small pellet press plant excellent for the production of biomass pellets but also livestock feed because of the vertical design of the pellet mill and horizontal position of the die and rollers. Our pellet press machinery, which is the flat die pellet press, is also based on a horizontal die position and we claim better material flow for low density materials.
Read More: Industrial Pellet Mill Plan
The small pellet press line is carefully designed by our engineers to ensure to produce high quantity pellets but cover less areas and use less energies. The pellets can be widely used for heating at home and factories or feeding animals. In addition, any kind of biomass materials can be used in the small scale pellet line, such as wood, peanut shell, bagasse, castor shell, straw, grass, sawdust, coffee grounds, rice husk ,sunflower shell ,tobacco residue, leaf mustard stalk ,bamboo, jute residue, wheat-straw, palm shell ,coconut shell ,dregs of decoction ,etc.
Mini Pellet Mill Unit for Sale

We acknowledge that our pellet plant can meet every client's need. We can provide the customized pellet press plant depending on your special requirements. If you are interest in this small pellet press line or want to know other kinds of pelletizing unit such as mini pellet plant, just send an inquiry to us. Welcome to consultation and we are at your service!
Please give the details of a full pellet mill to process 1 ton of cashew shell every day.
Detailed solution is sent to your email, note to check please!
Can I make pellets from groundnuts shells?
Yes. This small pellet press plan is suitable for pelletizing groundnut shells.
I need pellet mill and hammer mill to start a small business of pellet production made of wood and not from animal food. In the beginning I have to produce at least 1200 kilos in 8 hours. NO less than that. I would like you to suggest me 2 machines that will make this amount of production (1200 Kilos in 8 hours) possible. I would like you to give me a price including the transportation, customs and everything else needed to get the machines in front of my door. I know it is hard for you, but trust me it is much harder for me.
Thank you in advance. I am looking forward for your answer.
Yes, we have send the detailed project plan to your email, please check it.
Regarding Door to door offer,please inform you address in details,in order we can check it with our forwarder.
Please don't hesitate to email us if you have any problem.
Hello, We are a Portuguese company interested in your Small Capacity Complete Pellet Production Line (flat die pellet) product, can you send us the product specifications as well as the quotation. Best regards
According to your requirements , used the falt die pellet mill and small capacity , our newly study small mobile wood pellet plant is suitable for you. It lncludes the underframe Electrical control cabinet , air fan. For the packing machine and the dryer , we can provide you separately. The total power is 35.05kw and the total weight is 1948kg. The detailed quotation is sent to your email, please check.

If you have any questions , please tell me freely.